Male', Maldives, 19th July 2022 – There's much to savour during your island escape at Alila Kothaifaru Maldives, whether it's enjoying a meal with ocean views or engaging in crafted culinary experiences infused with Maldivian culture.
The resort's all-day dining beachside main restaurant, Seasalt, serves coastal Mediterranean cuisine with Middle Eastern influences. Not to be missed are the restaurant's signature salt-baked fish dishes featuring homemade sea salt produced by the culinary team. The sea salt is produced from the pristine sea water that surrounds the island of Kothaifaru, which is collected, filtered and reduced to a brine and then air-dried to create crystallised flakes.
Combining two essential ingredients in Maldivian cooking, salt and spice, the culinary team produces two handcrafted salts: original sea salt, a core ingredient at Seasalt Restaurant; and Mirus sea salt, the foundation of cocktails and cuisine at Mirus Bar, which can be sipped in eight island-inspired signature cocktails, including the must-try Chili Margarita.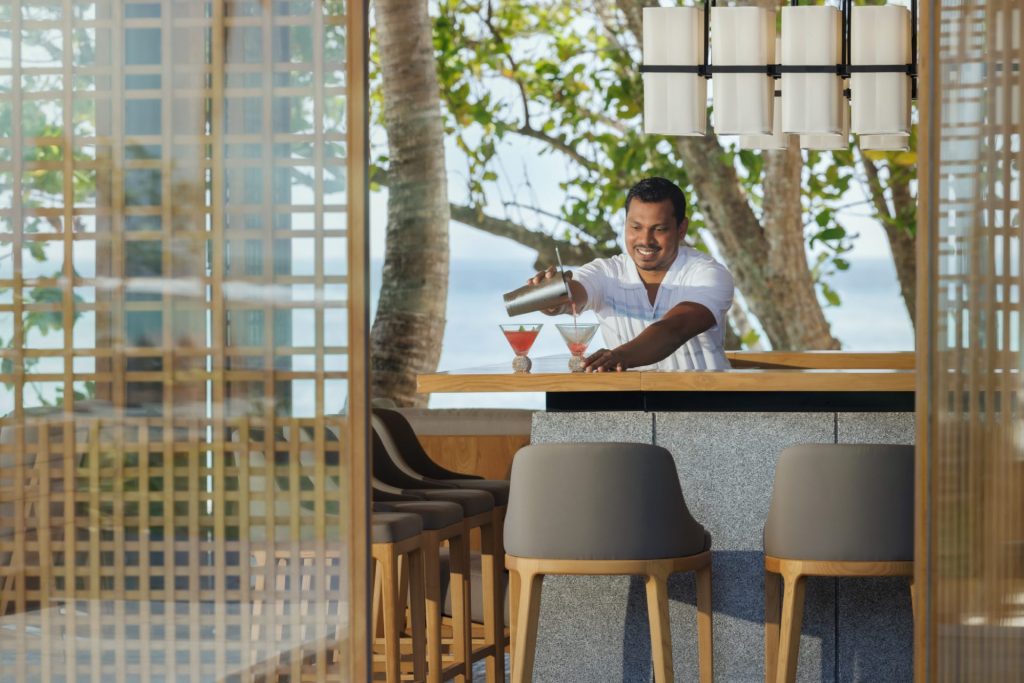 Craving a taste of Japanese food? Enjoy a mouthwatering Japanese-inspired menu at Umami restaurant prepared in a teppanyaki theatre with a premium selection of organically grown vegetables, Wagyu beef and sustainably sourced fish and seafood. The adjoining Yakitori Bar is the place to be to indulge in sundowners, from Asian-inspired craft cocktails and mocktails to fine Japanese sakes and spirits, amidst delicious aromas from a robata grill.
Beyond dining and imbibing, guests also have the opportunity to learn about new cuisines and cultures under the guidance of the resort's resident chefs and mixologists in two interactive Alila Experiences. In the Secrets of Maldivian Cuisine cooking class, you can try your hand at making traditional Maldivian dishes like fish curry and Kopee Fai Mashuni, learning about the ingredients and preparation methods. Once finished, your sumptuous meal awaits to be enjoyed overlooking the gentle waves. Over at Mirus Bar, you can also have a go at concocting world-class cocktails the Maldivian way in the Mix It at Mirus mixology class, mastering a few simple tips that can elevate your cocktail-making skills.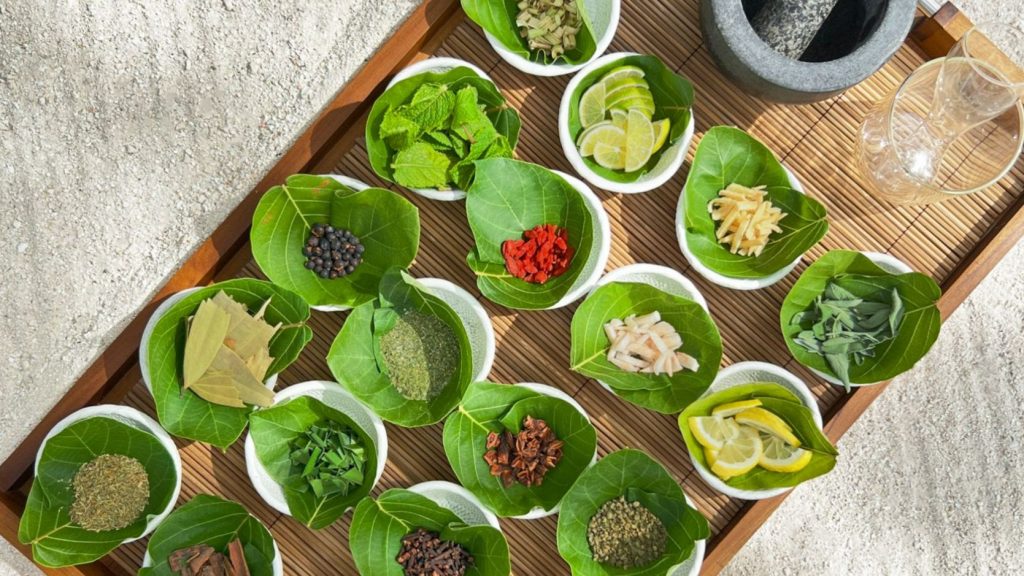 Spicing Up Afternoon Tea


Pibati café provides light bites and comfort food that are convenient to grab and go en route to an excursion. It's also the place to enjoy a refreshing afternoon tea paired with traditional sweet and savoury Maldivian snacks. For a healthy twist, you are invited to blend your tea with a choice of Asian herbs and spices. Take your pick from 20 herbs and spices such as ginger, galangal, goji berry and pink peppercorn as your table host introduces you to traditional mixing principles to produce potent blends that will soothe your palate while protecting your health.
For coffee lovers, Pibati's signature Plant-Based Latte offers a healthier yet equally delicious option that can be made with your choice of soy, coconut, almond, rice or oat milk. The healthy options don't end there. With people all around the world becoming more conscious of clean and healthy living, our executive chef and his culinary team have created a Wellness Menu that embraces a holistic and healthy approach to living by offering real, clean and whole foods that are as close to their natural states as possible.
This is just a taste of the culinary experiences that await at Alila Kothaifaru Maldives – the starting point for spending quality moments with your loved ones and creating special memories in the Maldives.