Male', Maldives, 25th July 2022 – MMPRC / Visit Maldives has kicked off a destination visibility campaign with Singapore Airlines (SIA). The joint campaign between Visit Maldives and SIA targets the USA market and will continue from July to August this year. So far this year, the USA ranks as the 6th top source market for the Maldives, with 43,653 tourist arrivals as of 20th July 2022.
Based at Singapore International Changi Airport, Singapore Airlines is one of the largest airlines in the world. The airline flies to more than 62 destinations in 32 countries and offers a variety of classes. SIA's current market share from USA's Los Angeles International Airport and San Francisco International Airport to Velana International Airport is 13%. It is the 4th largest carrier in terms of market share to the Maldives.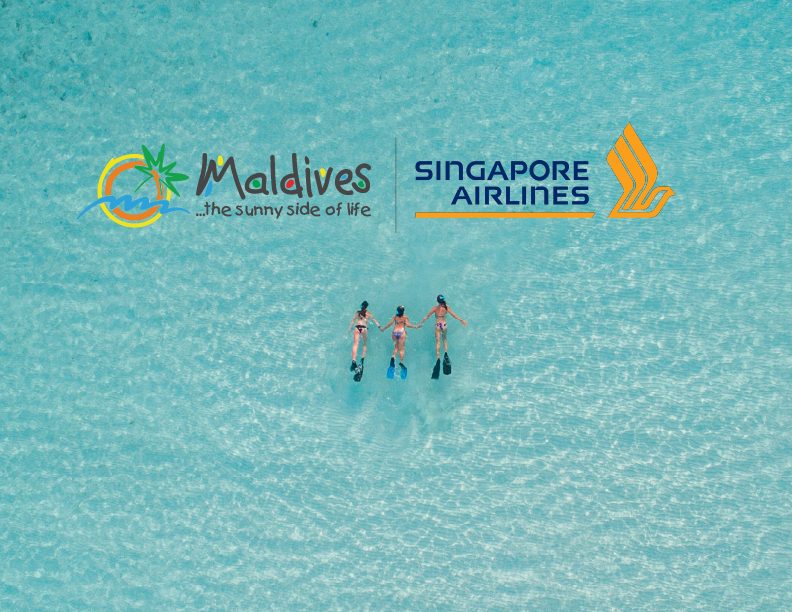 This campaign will focus on driving conversion among in-market travel intenders, at key moments in the research and booking process. It aims to encourage travel to the Maldives with the comfort of SIA's products and services, as well as enhanced health and safety measures with #SIACares.
Destination visibility for the Maldives will be increased through websites and social media accounts of Expedia, Skyscanner and Pinterest, where advertisements will be placed and potential travelers will be redirected to book flights to the destination via  SIA. This campaign will help to tap into audiences of travel-indenters and utilise their granular targeting capabilities to influence and influence convert customers from Expedia. Skyscanner will be used for high-impact placements and effective formats to reach travelers, providing them with relevant contextual information and recommendations in the exploring, planning and purchase stages. Additionally, for the duration of the campaign, qualified traffic will be sent to the SIA site through Pinterest in order to increase bookings.