Male', Maldives, 6th October 2022 – The prestigious Tourism Golden Year Gala Evening on the occasion of the 50th anniversary of tourism in the Maldives was held on 3rd October 2022 at Kurumba Maldives (previously known as Kurumba Village), the country's first resort opened in 1972.
The Gala Evening was attended by President Ibrahim Mohamed Solih, First Lady Fazna Ahmed, Vice President Faisal Naseem, the Speaker of the Parliament, former president Mohamed Nasheed, Chief of Justice Uz. Ahmed Muthasim Adnan, Minister of Tourism Dr. Abdullah Mausoom, Ministers, Members of Parliament, leaders of the tourism industry and more.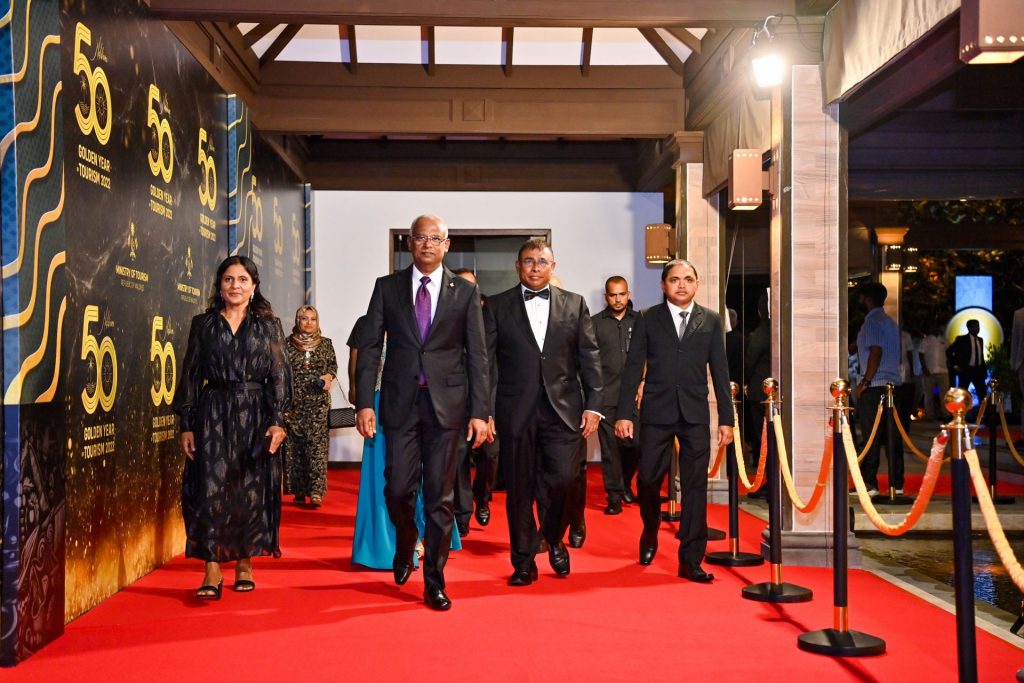 To conclude the Golden Year Celebrations, the President awarded the newly introduced President's Tourism Gold Awards to 77 individuals, honouring those who have made significant contributions to the tourism industry over the last 50 years. Amongst the recipients were the Speaker of the Parliament, former president Mohamed Nasheed, Vice President Faisal Naseem, and Tourism Minister Dr Abdulla Mausoom, in recognition of their hard work to promote the country's tourism sector. The 3 pioneers of tourism – Mohamed Umar Manik, Hussain Afeef, and Ahmed Naseem – and leaders of Maldivian tourism industry were presented with awards as well.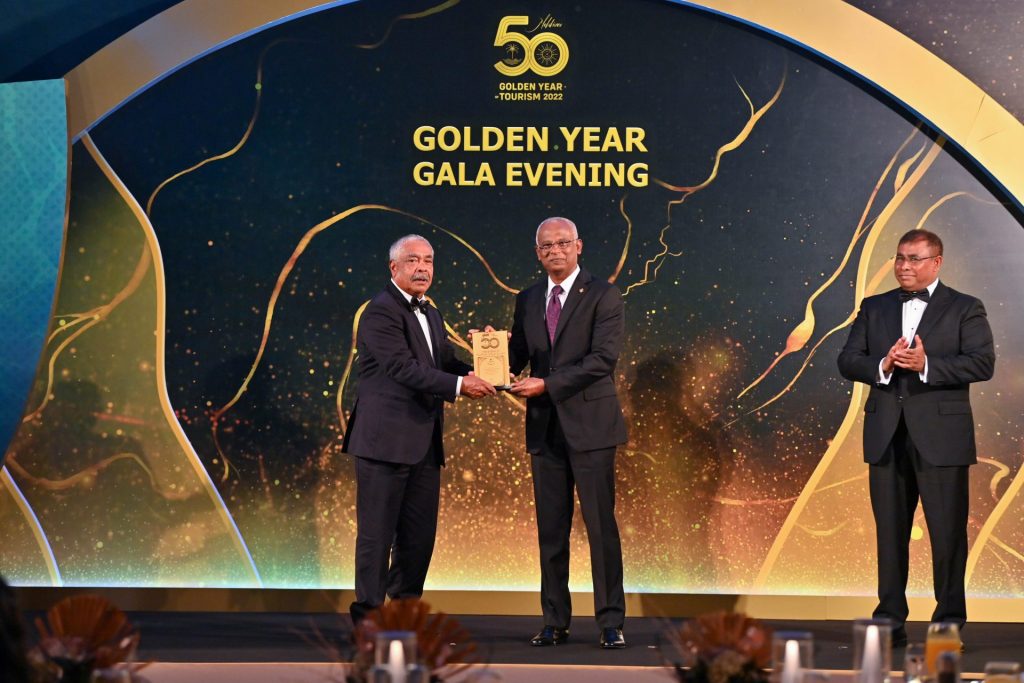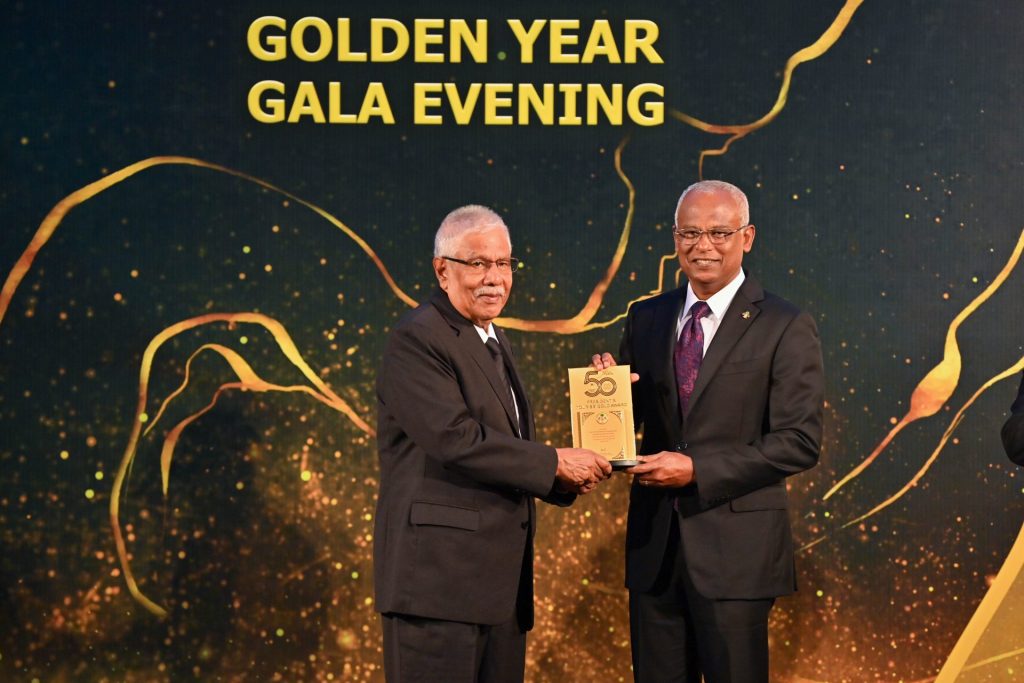 Many of the leaders present at the Gala Evening, including the President, Mohamed Umar Manik and MMPRC's CEO and MD, Mr. Thoyyib were invited on stage to deliver a few remarks on the success story of the Maldives.
The evening's closing remarks were given by the Minister of Tourism, Dr. Abdullah Mausoom. "In 2021, CNN termed Maldives tourism the international success story of the globe. That is a major achievement. Everyone, all the Maldivians, have contributed to this. The President has mentioned on many occasions that we should maintain our main strength of giving Maldivian hospitality. Pioneers, investors, support industries and all employees have contributed to this success. On this Golden Jubilee occasion, I thank everyone in the tourism industry of the Maldives.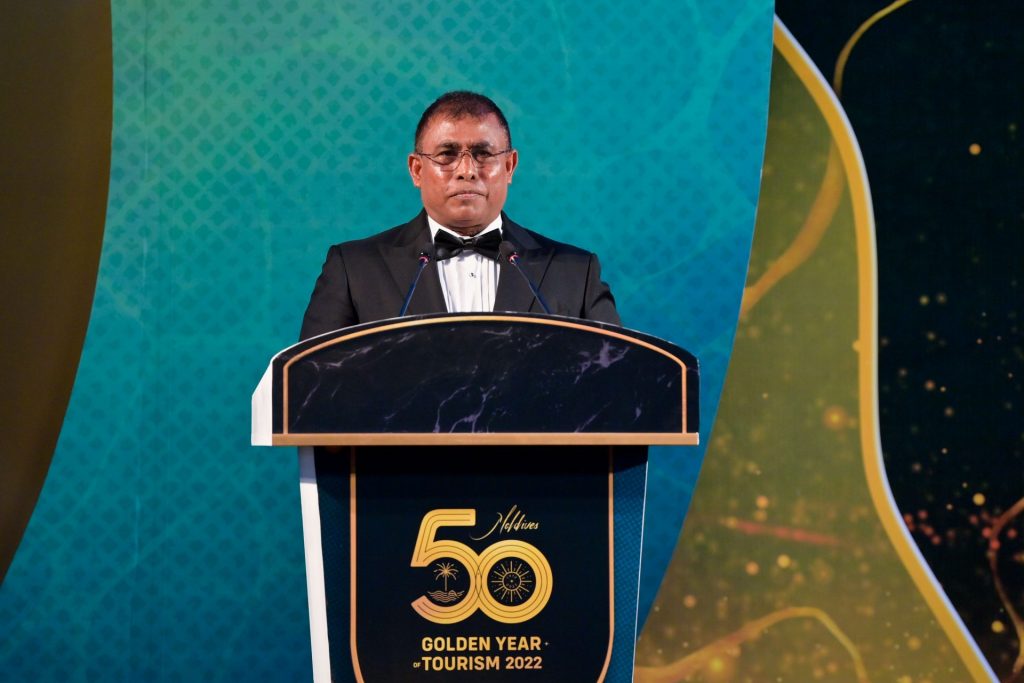 "Today, one of our pioneers, M.U. Manik, has stated very clearly that tourism is the core of our economy. It is the engine of our economy, and therefore, we have to say it is a true success. Tourism has definitely contributed to national development as well. Another success factor people measure is whether tourists who visit Maldives comeback. Yes, they do. That's why we were able to sail through after the tsunami. That's why we were able to sail through the pandemic. Because Maldivian hospitality is so strong, people have a lot of attachment with our staff members."
Furthermore, he said the new direction the Ministry is taking hopes to give the benefits of tourism to the people. He ended his speech with the hope that Maldives Tourism will continue to flourish and shine through and remains a top destination in the future as well.