Photo credit: Shifaz shamoon
New research by ESTA, visa Waiver processing firm shows that the Maldives has ranked fifth place in countries that have lost the highest percentage of GDP due to loss of tourism with 6.9% GDP loss.
The research was done using data from the World Travel and Tourism Council and The World Bank, to find out which countries have been affected the most experiencing the biggest revenue lost and the countries with the highest percentage of GDP lost due to coronavirus pandemic.
There is no doubt that the travel and tourism industry took the biggest hit due to the coronavirus pandemic, with international borders closed, forcing the number of airlines and tour operators to halt operations and implement travel restrictions.
In 2019 the global travel and tourism contributed USD 8.9 trillion to the world's GDP. However, due to the current pandemic and implemented travel restrictions, many countries and their industries have been severely affected due to the lack of tourism. The research shows that the financial impact of Covid-19 on world tourism has resulted in a total revenue loss of $195 billion worldwide in the first four months of 2020.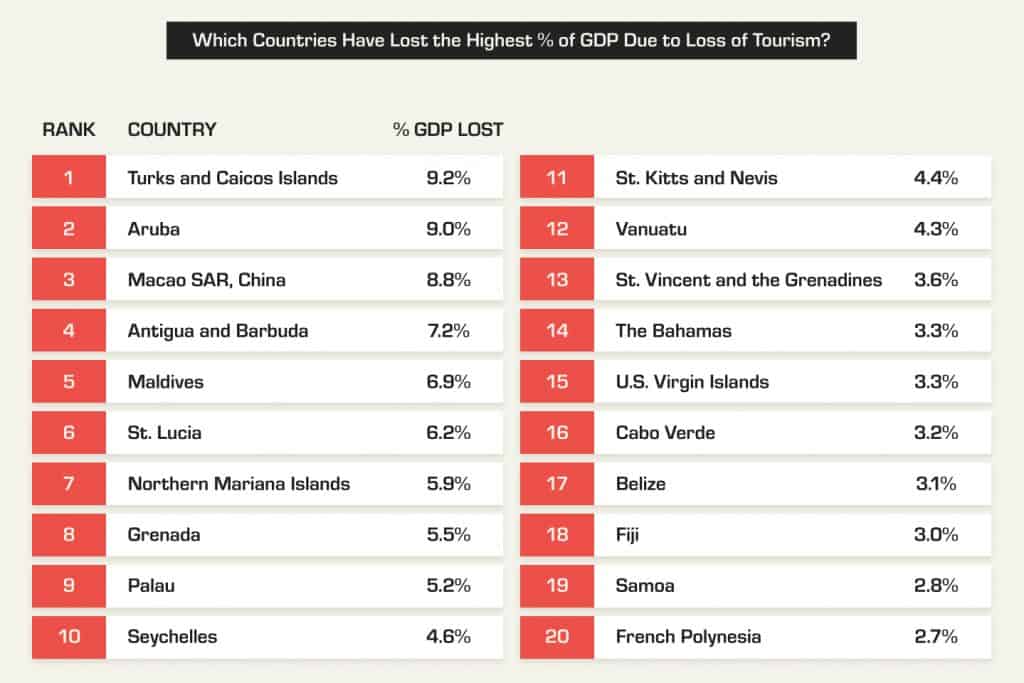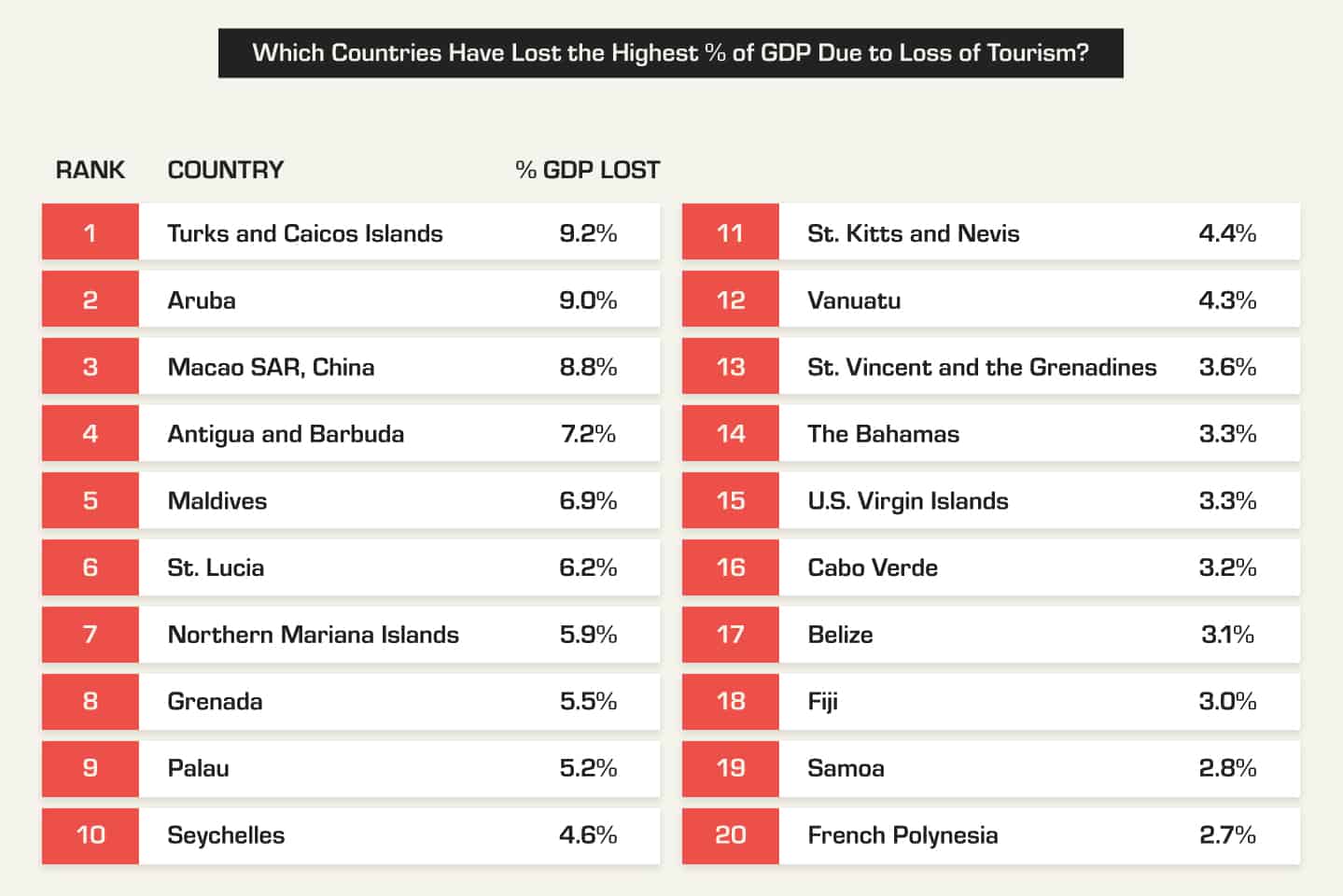 According to the research, the Caribbean is the worst effect country, with half of the top 10 countries with the highest percentage of GDP loss belonging to the region.
In 2019 the Caribbean recorded more than 31 million visitors and more than half of them were tourists from the US. However, due to the travel restrictions related to the pandemic, the number of tourist arrivals has significantly decreased, which once accounted for 50-90% of the GDP for most of the Caribbean countries.
Caribbean region contributes to 50% of those who have suffered the highest percentage loss in GDP, with the Turks and Caicos Islands, Aruba, Antigua, and Barbuda, St. Lucia, and Grenada all ranking in the list of the top 10 worst affected.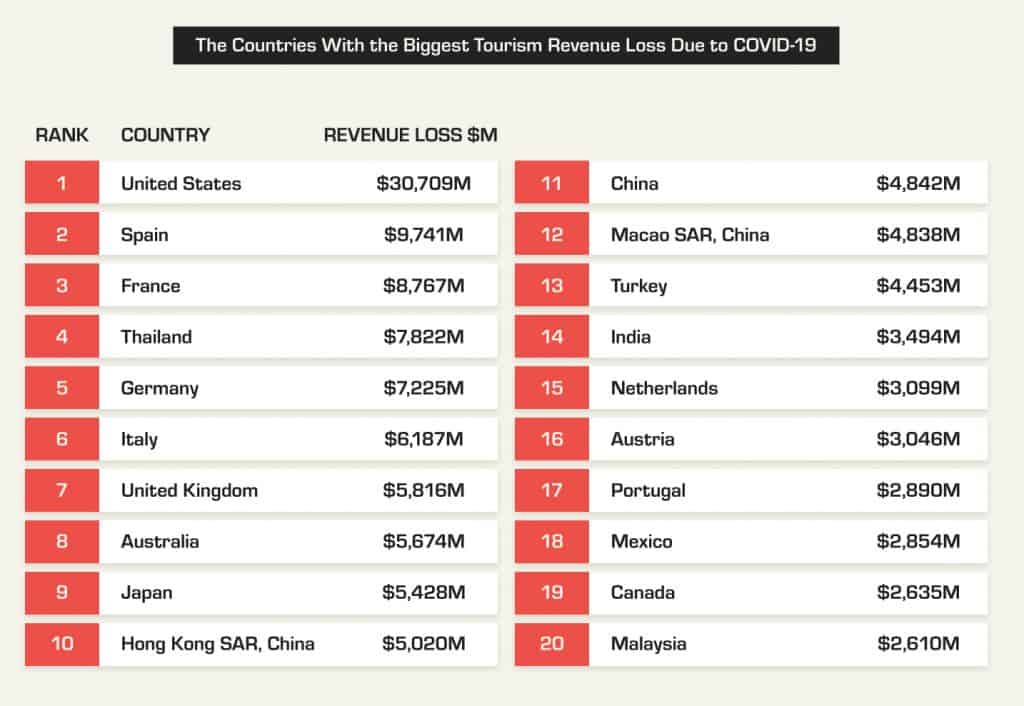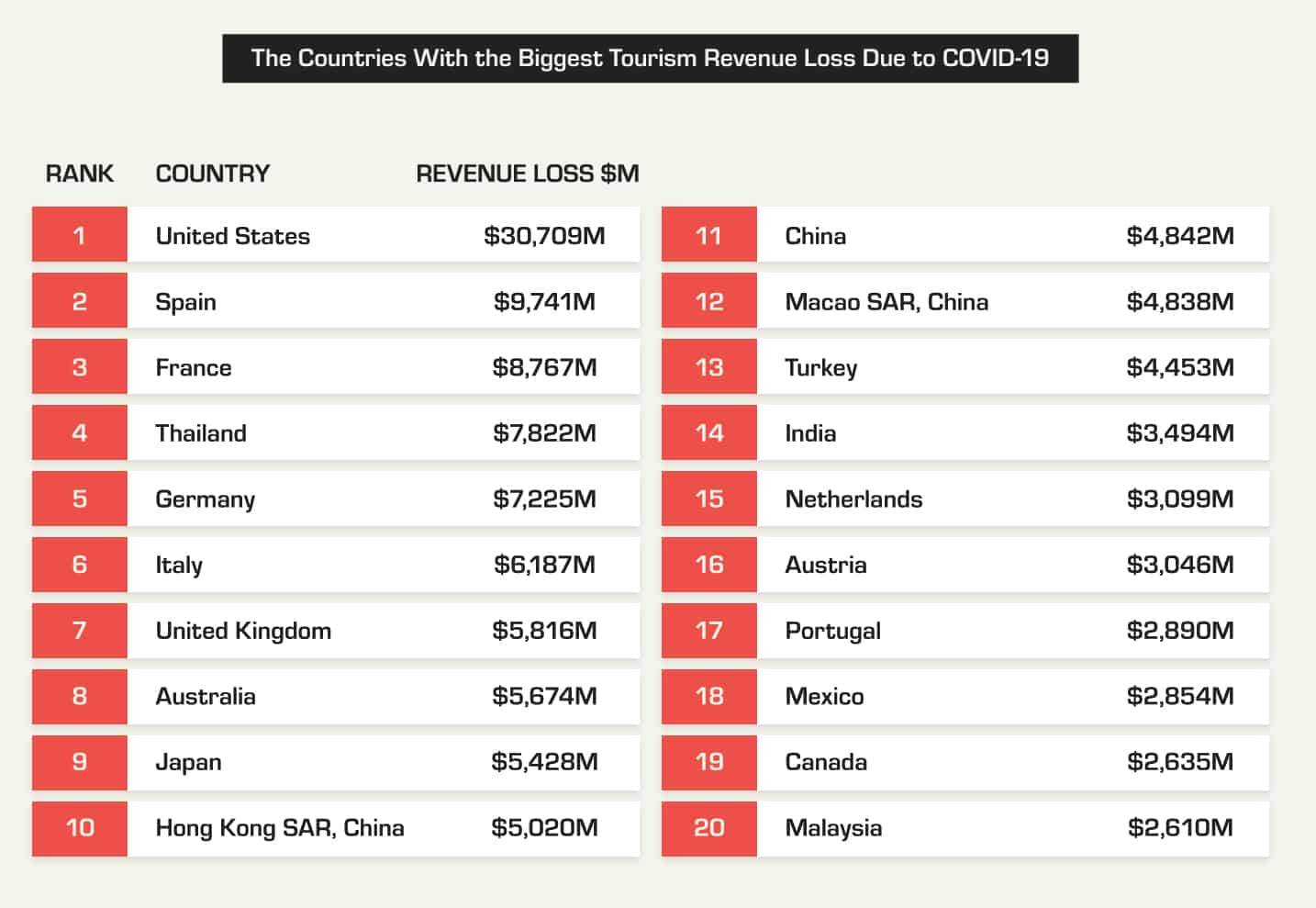 According to the research,  Europe ranks the highest contributing to 50% of those which have suffered the biggest losses in tourism revenue, with Spain, France, Germany, Italy, and the UK all ranking in the list of the top 10 worst affected.
In June, the international tourist arrival reported a 98% drop, with Spain recording the largest revenue of $9.7 billion. Just as tourists began returning to the popular holiday destination, a rise in Covid-19 cases meant the UK imposed a quarantine warning against anyone arriving back from Spain as of the end of July. This new rule indicates that Spain's loss in revenue will continue increasing as tourism slows once again.
France is the world's most visited country with over 89 million tourists each year, but the impact of Covid-19 has resulted in a total revenue loss of $8.8 billion. This significant loss makes it the third country in the world with the most revenue loss caused by the global pandemic and the second in Europe 
Jayne Forrester, Director of International Development at Official ESTA, said, "The last few months have undoubtedly been extremely difficult for the travel and tourism industry. In the midst of the global pandemic, many popular holiday destinations have had to close their borders to tourists and the financial impact this has brought on world tourism has not only impacted all countries around the world but also airlines and travel operators, As travel bans have started to ease off from July, we only hope that we see no more significant losses to one of the largest growing sectors in the world."