Sun Island Resort & Spa has 462 beautifully furnished rooms offering harmonious views. All rooms have mainstream amenities and accessories and are conveniently equipped for the modern tourist. Wake up to the sounds of birds and simply take a few steps before plunging into the turquoise waters of the Indian Ocean.
The Maldives is synonymous with love and romance, making it the ideal place for a wedding or honeymoon. When it comes to weddings, the resort offers everything you need for an elegant and fun celebration. The resort has already received Agoda's prestigious 2020 Gold Circle Award (GCA), denoting exceptional service. Agoda.com offers this prestigious award to hotels and resorts that have proven their place among the best, providing excellent value, service, and flexibility to guests.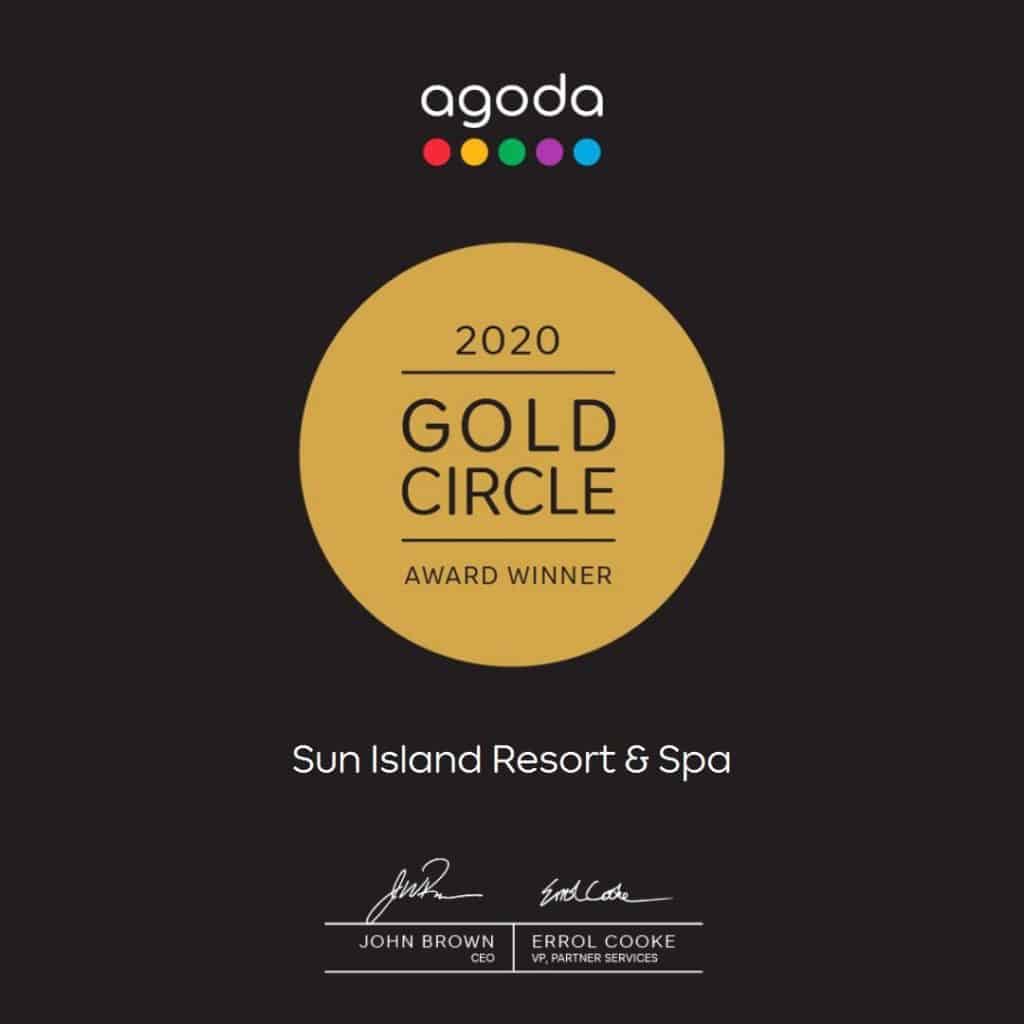 Sun Island has also received a score of 9.1 out of 10 when winning the Booking.com's Traveller Review Award for 2021; an award that exemplifies exceptional guest experiences. Hotel.com's 'Loved by Guests Award 2021' was awarded as well to the resort for high guest rating scores, and the prized Holiday Check Award granted based on customers' ranking of the world's most popular hotels.
Sun's General Manager, Abdulla Fathhey – who also recently received the title of the 2020 Best General Manager of the Maldives by the World Luxury Awards in recognition of his commitment to excellence and outstanding achievement in luxury hospitality – is thrilled with the success of his resort.  Abdulla says, "These awards, collectively, are an honour bestowed to us by our wonderful guests. I am forever grateful to all our guests for their loyalty to Sun Island and their appreciation of our staff for providing exceptional service at all times.  For the past year and to date, especially throughout these trying times, our staff has been extraordinary in stepping up to ensure guest safety and comfort. I am fortunate to be a part of a winning team and will strive to merit these recognitions with the continued support and encouragement from our beloved guests".
Reflecting on what these awards mean to staff, Director of Rooms, Abdulla Faiz said, "These awards mean a lot for all of us at Sun who are working day and night to meet the expectations of our guests. These awards that are based on guest reviews are testimonies of guests' genuine appreciation of our services. Such recognition of our service by guests brings joy to our hearts and meaning to our service".
Photo Credit: Visit Maldives