The Changi Airport Group in Singapore recognised SriLankan Cargo with a "Cargo Service Excellence Award" at a ceremony during the 'Let's Talk Cargo 2021' conference held recently in Singapore.
SriLankan Airlines has been nominated by the Cargo industry partners in Singapore and shortlisted by a panel of judges as one of the three recipients of the 'Excellence Award' alongside Singapore Airlines and Cargolux.
This award was presented for providing superior customer service and delivering swift and innovative solutions for the movement of Cargo through the Changi Cargo hub. SriLankan was also a recipient of another award – "Top 5 Airlines by Absolute Cargo Growth" affirming its commitment further at the Changi Airline Awards 2020.
Since the outbreak of the Covid-19 pandemic last year, SriLankan Airlines was one of the first few airlines that recommenced flights to Changi at a time when global air travel nearly halted.
Since last April, SriLankan Airlines has grown to operate direct services to five other destinations namely Chennai, Mumbai, New Delhi, Kuala Lumpur, and Melbourne apart from Colombo. During this time, the Airline helped carry vital cargo including medicine, medical equipment, Personal Protective Equipment (PPE) and urgent courier material. Additionally, SriLankan Airlines facilitated transferring critically ill patients for medical treatment to Singapore as well as supporting Sri Lankan exporters to freight produce including 'Sri Lankan Crab' which is popular in Singapore. The Airline also joined hands with the SriLankan High Commission in Singapore by offering special rates to SriLankan companies based in Singapore to popularize SriLankan products.
SriLankan Airlines Head of Cargo Chamara Ranasinghe stated, "It is extremely encouraging to see the efforts taken by the cargo team both in Singapore and the head office are recognized for "service excellence" during an unprecedented tumultuous period in the history of the airline industry. While the journey has not been an easy one, it has been well worth it! SriLankan Cargo is focused on further developing its contribution towards providing seamless logistics solutions in the region."
SriLankan Airlines, Regional Manager Southeast Asia and Australia Mohan Meegolle, accepting the award on behalf of the Airlines stated, "We strive to provide consistent and superior customer service to our partners offering swift and timely solutions at competitive rates. We are glad that our efforts have been recognised by the cargo fraternity in Singapore and the Changi Airport Group".
During the past ten-month period, SriLankan Airlines has also helped repatriate over 1500 Sri Lankans from Singapore as well as from other Asian countries via the Changi Air hub.
Changi Airport Group thanked SriLankan Airlines for the contribution made to the air cargo industry during this unprecedented period. Moreover, SriLankan Airlines operates its longest Cargo scheduled operation via Singapore with a 36-hour flight time with five intermediate stops in three countries.
Changi Airport is one of the biggest hubs in the world with an annual movement of 68 million passengers and 3 million metric tons of Cargo and 382,000 aircraft movements. Changi Airport is currently rated the World's Best Airport by Skytrax, the first and the only Airport in the world to do so for eight consecutive years.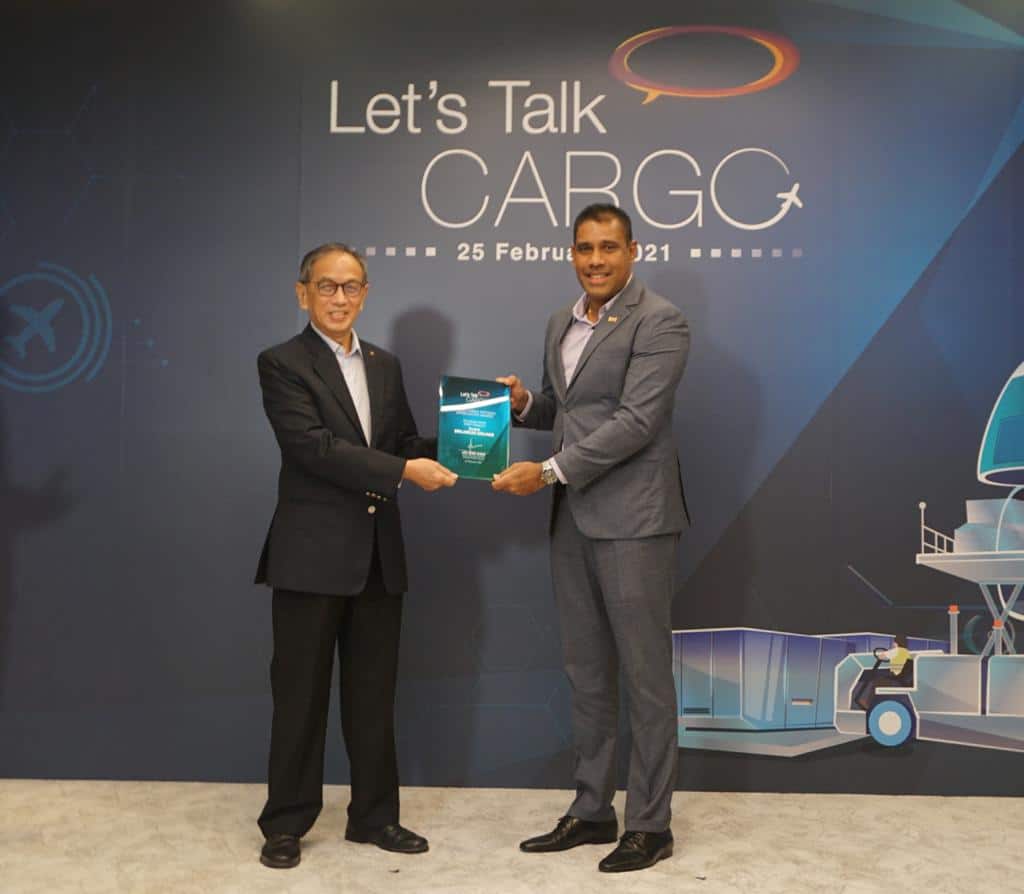 In Photo: Mohan Meegolle accepting the award from Wong Woon Liong – Senior Advisor Changi Airport Group.