From the Indian Ocean to East Asia, 11 resorts under The Lux Collective umbrella celebrate Global Wellness Day with a 10-hour virtual wellness festival. Wellness activities will be streamed on the resort's respective IGTV platform at different times throughout the day, based on Mauritius's time zone (GMT +4).
On 12 June, friends of LUX* Resorts & Hotels, SALT Resorts and Tamassa Resorts will be able to tune in to highlights that include paddle yoga, scenic bicycle tour of Chongzuo's famed Karst formations, and traditional Mauritian Sega Zumba dance. Here is the list of what will be on offer.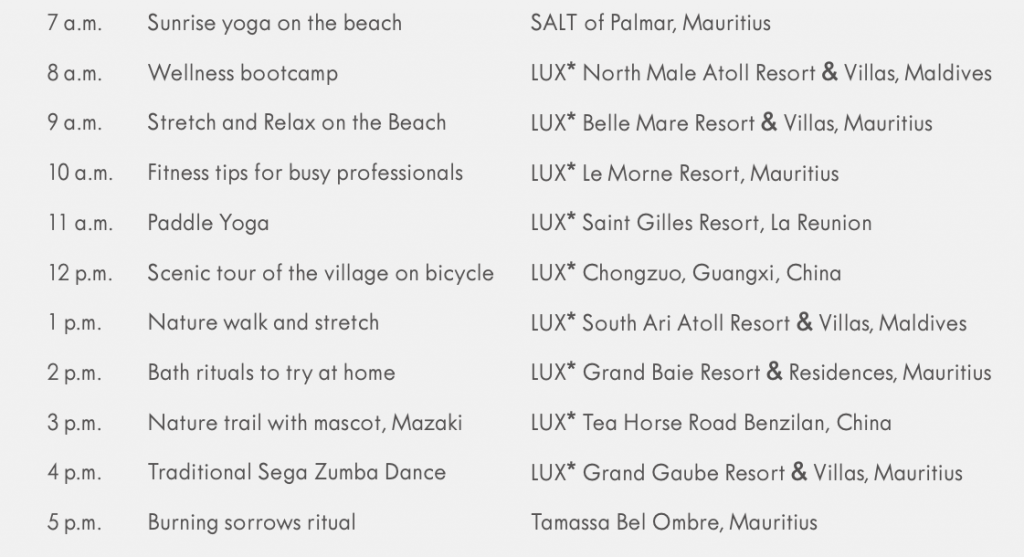 True Wellness is Connecting Within
This Global Wellness Day, each resort will also launch a wellness-focused, one-of-a-kind Collectable Experience that is designed to change the way we travel. Curated by our travel experts on the ground, these experiences will immerse guests into the destination through connecting within and with the wider natural world.
The Spirit of Island Living
LUX* Le Morne Resort takes guests on a snorkelling exploration on a traditional Mauritian pirogue. A beloved team member of the resort serves as a local guide who will regale with incredible tales of the land and its history. Take a garden-to-glass cocktail class in the resort's herb garden, followed by a vegan dessert course. End your rejuvenating vacation with plogging at the Black River Gorges National Park, a tropical forest home to over 700 species of endemic flora and fauna as well as endangered wildlife, for a stronger body and cleaner environment. 
Luxury Outback
Start your day with a sunrise horse ride before cooling off with homegrown coconut water at the LUX* Belle Mare Resort & Villas' onsite farm, Aubergine. Pick and prepare your own body scrub using herbs and plant extracts grown on the farm and indulge in a 75-minute spa experience at the Farm Shed. A healthy lunch prepared by the resort's chef awaits after.
Hug Me Honey
LUX* Grand Gaube Resort & Villas in-house honeybee apiary brings its own honey direct to the resort's menus and LUX* Me Spa. Visit the eight hives home to approximately 240,000 bees and learn more about the resort's beekeeping efforts. Create your own honey scrub followed by a signature honey cocktail before enjoying a honey-paired dinner curated by the executive chef. Guests will also be given a beekeeping kit on how to build your own urban beehive back home.
The Sea's Healing Powers
Immerse in a holistic wellness experience at LUX* South Ari Atoll Resort & Villas. Reconnect with Mother Earth through a grounding ceremony before snorkelling out to the coral farm with the resort's marine biologist to learn about the vital components of thalassic fauna in the marine ecosystem. Relax after the swim with a 30-minute marine salt body scrub followed by a 45-minute back and neck massage using organic Maldivian sand poultice. Embrace the sunset with a healing meditation session on a traditional dhoni to complete your spiritual journey.
Life on the River
Embrace a slower pace at LUX* Chongzuo, Guangxi starting with an exploration of a local village by the river. Embark on a bamboo raft and drift down the Mingshi river whilst sipping tea and watching the wildlife and local people go on their daily life. Wake up to the sun rising over the heart-stopping beautiful Karst formations with a sun salutation and a locally sourced lunch in the open fields. There is no better way to connect with nature.
Wellness in the Wild (Lijiang, Sangushui and Benzilan
Embark on one of the most unforgettable off-grid journeys in the world. Start your wellness journey from LUX* Tea Horse Road Lijiang with a pu'er tea tasting workshop. Feel your stress leave your shoulders as you relax into the tranquil surroundings before tucking into a plant-based Naxi-style dinner inspired by the season.
Depart the next day for a three-hour drive to LUX* Tea Horse Road Sangushui where you will be taken to the forest for a quietening yoga and meditation session surrounded by natural springs.
Wake up refreshed and leave for LUX* Tea Horse Road Benzilan. Before arriving at the resort, stop at the beautiful Napa Lake nestled in the valley of a high mountain plateau 3,200 metres above ground. Home to the rare black-necked cranes in the winter, Napa Lake changes with the seasons and each brings with it stunning, unparalleled views. A plant-based traditional Tibetan dinner with locally grown wine will be served back at the resort. On the final morning, end the journey with a sunrise yoga by the pool and a leisurely lunch served with yak butter tea.
Mindfulness the SALT way
Detox with a plant-based lunch at SALT of Palmar before getting pampered with a wrinkle-smoothing SALT facial. Once your physical self is taken care of, be spiritually transformed with a hike in Bras D'eau Forest for a spot of nature bathing. A guided tour with the resort's wellness coach with meditation and gentle stretching will prepare you for Brahma Kumari experience that will leave you feeling rebirthed.
A Sweet Escape in Nature
Tamassa Bel Ombre offers guests a chance to enjoy the great Mauritian outdoors whilst basking in the warmth of the sun, hike along stunning trails, take dips in waterfalls and natural pools and watch the sun set from the edge of a volcanic rock cliff. Pay respect to Mother Nature by planting an endemic tree and indulging in a plastic-free, plant-based picnic lunch.
For more information or to make a reservation, email [email protected].