Surveys has shown that summer bookings for this year are less than a quarter of those seen before the pandemic as travel restrictions dampen confidence in foreign travel.
According to flight data firm Forwardkeys, the outlook for international air travel this summer is set to be just under 23% of pre-pandemic levels as travel restrictions dampen the confidence in in foreign travel.
Asia Pacific took the greatest hit affected with only 7% of pre-pandemic levels of visitors. China and Thailand both have just 2% of pre-pandemic bookings for this summer, while Australia has 10%. Although Japan is hosting the Olympics this year and are at 4%, they aren't welcoming any travelers for the spectacle.
Countries such as Greece and Iceland have been consistently vocal about opening up to international travel for the tourists who have been vaccinated – shows better recovery this summer with 49% and 35% pre-pandemic bookings.
One region with a significant number of tourists is the Caribbean and Central America. The Dominican Republic and Aruba are seen leading the way with 83% and 108% of 2019's travel flow. Following closely behind is Mexico with 86% of previous levels – driven by US citizens travelling to Mexico. Countries which have remained open to travel throughout the pandemic has also benefited greatly; the Bahamas is currently expecting 81% of 2019's travel numbers and Puerto Rico is on its way for 140%.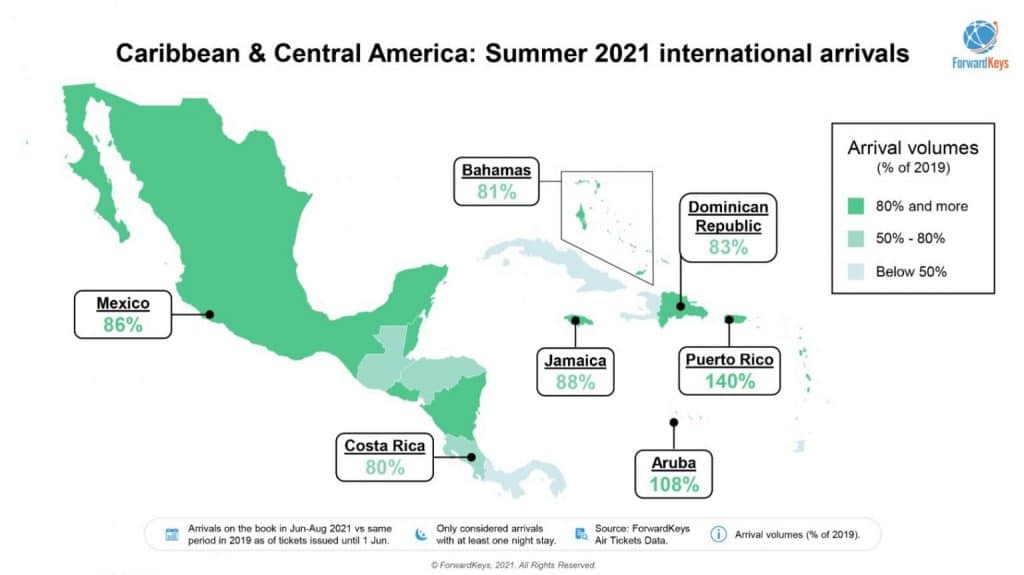 Summer bookings to parts of Africa such as Ghana 73%, Nigeria 73% and Senegal 77% is holding up relatively well as international travel is supported by those looking to visit family in the region.
ForwardKeys VP Insights Olivier Ponti said: "It is now clear that for most of the world, a summer holiday abroad is a dream; and a staycation is the reality. Travel businesses in general, and airlines in particular, will face more substantial losses, as many countries combat Covid-19 by closing their borders and imposing severe restrictions on flying internationally. However, certain destinations, particularly in Central America and the Caribbean, which are highly dependent on tourism, are taking an alternative approach. By requiring vaccination and/or proof of negative Covid-19 tests, they are showing the world that it is possible to have a summer season."
The results suggest unwillingness to travel internationally is more impacted by governmental restraints and travel restrictions than by fear of Covid-19. Countries which has expressed a willingness to welcome travelers are seeing higher levels of planned international arrivals, while those with a closed approach are among the hardest hit.
Photo Credit: See from the sky