The Maldives has achieved 1.3 million tourist visitor milestone on 27th December 2021, despite the setbacks the tourism industry faced due the pandemic. We would like to congratulate all industry stakeholders and government bodies and the hardworking members of the industry for this achievement, for it would not have been possible without their dedication and perseverance.
A colorful celebration was held today at Velana International Airport to mark the arrival of 1.3 millionth visitor, Contantin Stelian Emil, from Romania. Mr, Emil was welcomed by the minister of tourism, Dr. Abdulla Mausoom, Chief Executive Officer and Managing Director of Maldives Marketing and Public Relations Corporation (MMPRC/ Visit Maldives) Thoyyib Mohamed, along with officials from Ministry of Tourism, Maldives Airports Company Limited, and Immigration.
In a small interview during the ceremony Mr. Emil, noted that this was his second time visiting Maldives and that he will be spending 7 nights in Bandos Island Resort. Mr. Emil, his spouse and children were presented with gifts on behalf of MMPRC, the Ministry of Tourism, and other stakeholders.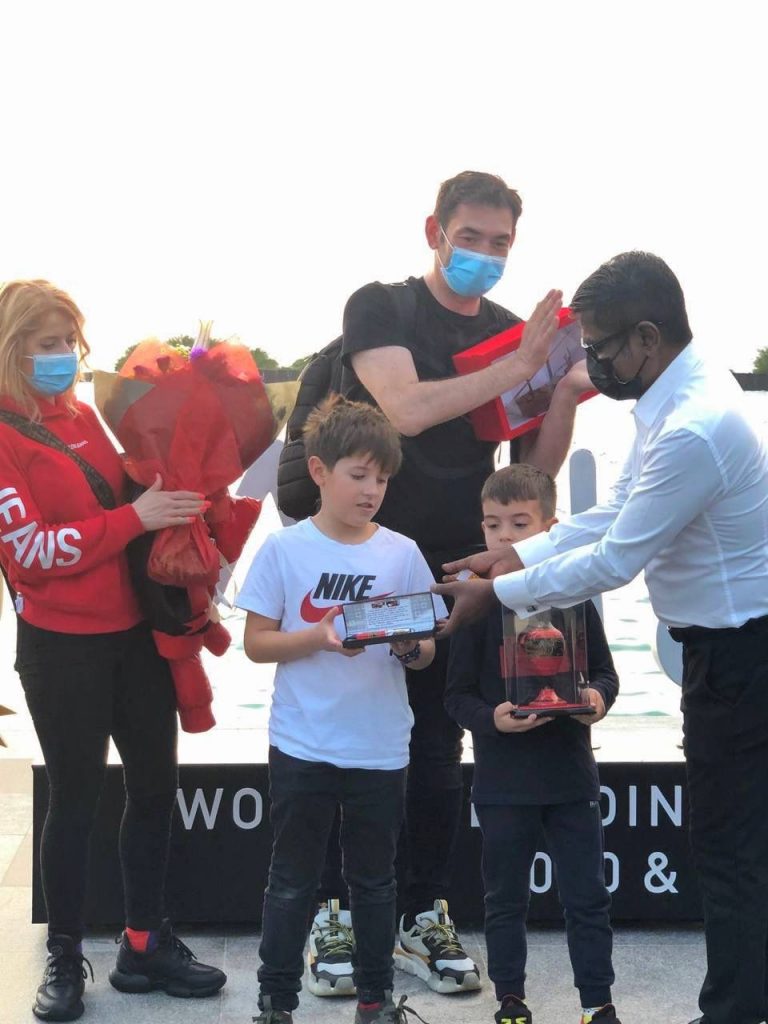 Speaking at the ceremony Dr. Abdulla Mausoom noted that this is a remarkable achievement and the target for the upcoming year 2022 is to achieve 2 million tourist visitors. "This is another remarkable milestone achieved! Yesterday we celebrated National Unity Day and we recorded the highest number of tourist arrivals yesterday since the opening of border surpassing 7000. We celebrate this success today because of all the hard work done in union by The Maldives Association of Tourism Industry (MATI) and other tourism associations"
Applauding this momentous achievement, the CEO and MD Thoyyib Mohamed noted that it is the joint effort of all tourism industry stakeholders which allowed the Maldives to ease into the new normal and achieve this and other milestones during 2021.
"Despite all the challenges, 2021 has been a great year for the Maldivian tourism sector, achieving many milestones and receiving many accolades and awards, one of which was the prestigious World Travel Awards leading destination 2021 title. Reaching 1.3 million visitors is not a small achievement considering how volatile the global tourism situation has been throughout the year. This is all thanks to the consistent and courageous efforts of all frontline workers, the government, ministries, MMPRC, other stakeholders, NGO's and associations. We have many plans for the next year and will hopefully bring in even greater achievements as we proceed."
Today we turn another page of the remarkable success story of Maldives tourism!