As Spring approaches in the Northern Hemisphere it is a good time to reflect on ways to renew wellness at Amilla Maldives. A season of transformation and hope? Here are some general tips on how to celebrate spring with not just food, but also attitudes for a healthier life.
Wellness means different things to different people and there is a wide variety of things that give us joy and peace in our minds. It is also a perfect time to renew our minds through time in nature. After being confined inside, not just during the winter period but also after the long times of the pandemic it is important to find outdoor spaces that make you pause and breathe deeply.
Of course, wellness is intrinsically linked with food. Spring is a great time to cleanse our bodies of the heavier foods that are often eaten in colder months. Consider some cleansing tonics that include citrus, turmeric and coconut charcoal. If you don't already start your day with warm water and lemon juice,then this could be a great new start. Spring brings wellness through food by giving us a bounty of fresh vegetable growth with delicate lettuce and crunchy asparagus for example. In desert countries many fruits, such as avocado flourish. This is a perfect time of year for nourishing our bodies with the vitamins and minerals fresh produce gives. Seaweed is perfect companion to fresh foods, and it gives a plethora of health benefits.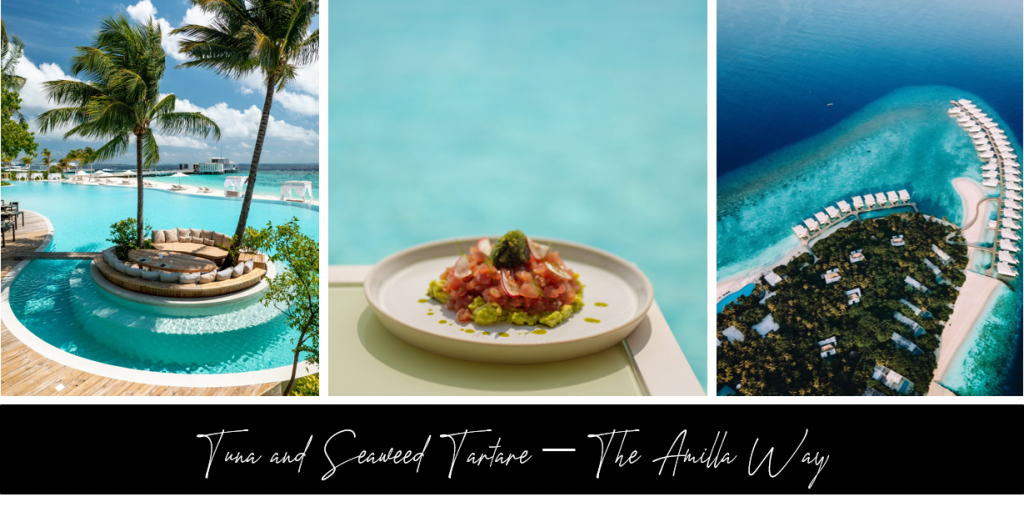 The recipe here for tuna tartare is also delicious as an avocado tartare, with fresh lime juice squeezed on top, for those following a vegan or vegetarian lifestyle.
Tuna and Seaweed Tartare
Ingredients:
80 gr fresh tuna
40 gr avocado
Lime zest and juice
2 gr chopped spring onion
Dill and sliced radish to garnish
Salt & pepper
Seaweed Tartare
10g Wakame seaweed dried
5g Capers
2 nori sheets
5g spring onion
Green oil
100ml Olive oil
Small bunch parsley
Method:
To make seaweed tartare, soak the nori and wakame until soft. Drain and chop all ingredients together.
To make the green oil blend olive oil and parsley together and fine strain.
Dice the tuna and place in a bowl with lime zest ad juice, salt and spring onion.
Chop the avocado and lightly mash with a fork, add salt and pepper and lime juice, place on the plate
Put onto the plate avocado round shape. On top arrange the tuna Place the one seaweed tartare in a middle. Add the garnish dill tips & red radish and green oil dribbled around