The Ministry of Youth, Sports, and Community Empowerment has concluded the most prestigious awards of the Maldives Sports Awards 2022. Minister Youth, Sports, and Community Empowerment, Mr. Mahloof said the award ceremony is held for the purpose of recognizing and celebrating local athletes working for the development of the sports sector and bringing a good name to the country.
With the introduction of the annual Maldives Sports Awards 2022, the reach of tourists to the Maldives will increase resulting in the upliftment of the local economy. With the introduction of more high-profile sporting events such as the SAFF Championship and Maldives Sports Awards, Maldives is poised to grow its sports tourism business.  The United Nations World Tourism Organization (UNWTO) describes sports tourism as one of the fastest-growing sectors in the travel industry.
An increasing number tourists are interested in sports activities during their trips whether sports are the main objective of travel or not. Major sports events such as the Olympics and World Cups or even minor events can be a catalyst for tourism development if successfully leveraged in terms of destination branding, infrastructure development, and other economic and social benefits. According to a new market report by Allied Market Research, the global sports tourism industry was pegged at $323.42bn in 2020. However, it is expected to reach $1.8 trillion by 2030, growing at a compound annual growth rate (CAGR) of 16.1% from 2021 to 2030.
President Solih presented the most prestigious awards at the ceremony, including the Special Recognition Awards conferred on Md. Zahir Ahsan Russel, the Minister of Youth and Sports of Bangladesh; Namal Rajapaksa, the Minister of Youth and Sports of Sri Lanka; Al-Kadi Badr Abdul Rahman, the Vice Minister of Sports of Saudi Arabia; Ahmed Nazeer, the Honorary President of the Maldives Tennis Association; and Hussein Afeef. The award was conferred on individuals who had promoted societal progress and change through sports.
The Lifetime Achievement Award was awarded to 15 individuals in recognition of their long service in sports, and the Sports Icon Award to 16 international sportspersons for their role in creating positive social change through sports.
Vice President Faisal Naseem presented the awards to the male and female Most Promising Athletes of the Year. They were joined at the ceremony by senior government officials, athletes, and top sportspersons from across the globe. Held to recognize, encourage and celebrate Maldivian athletes, the awards ceremony saw the presentation of 108 awards in 18 different sports.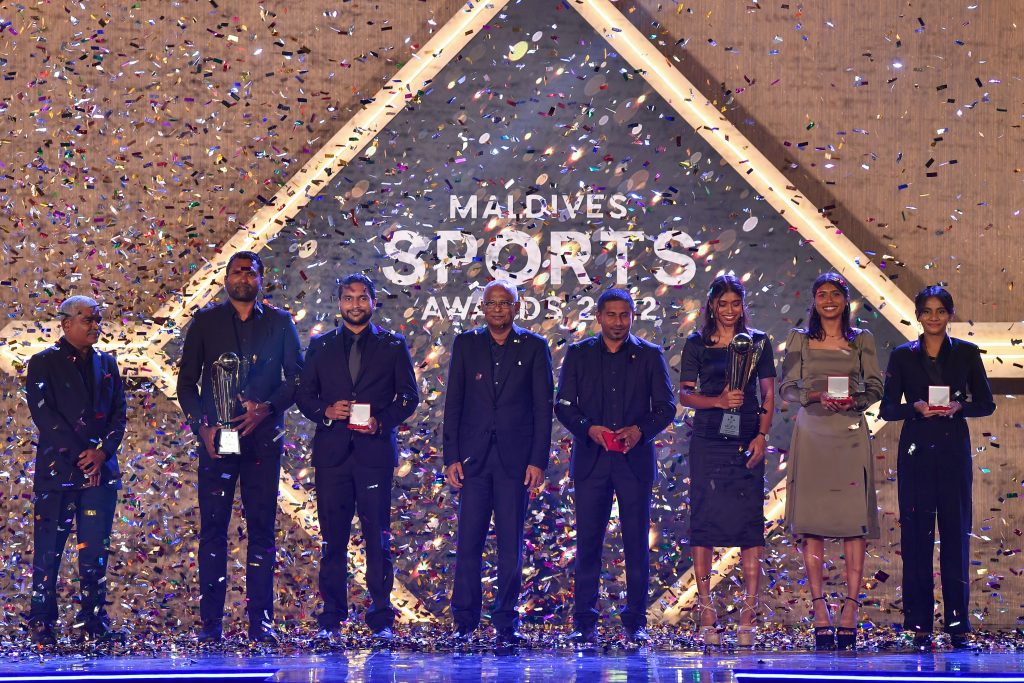 The Gala was held in conjunction with a music show here national and international stars performed. Bollywood start Shan and local artists, Nish Band, Safoora with so blue and Naikko performed on 18th March.
Winners of this prestigious award include:
Aminath Rabaab Ibrahim won the best athlete of the year award for Netball (Female)
Zayan Ziyau wins the best athlete of the year (male) and Asifa Jaufar won the best athlete of the year (female) for Shooting
Mohamed Moosa won the best athlete of the year award for Bodybuilding
Ali Khushruwan Ahmed won the best athlete of the year award for Bodyboarding at the
Adam Nasif won the best athlete of the year award for Cricket
Mohamed Shuaau won the best athlete of the year award (male) and Nihaya Ahmed won the best athlete of the year award (female) for Chess
Hussain Zayan Shaheed Zaki won the best athlete of the year award for Badminton (Male) and Fathimath Nabaha Abdul Razzaq won the best athlete of the year award for Badminton (Female)
Moosa Munsif Ahmed won the best athlete of the year award for Table Tennis (Male) and Fathimath Dheema Ali won the best athlete of the year award for Table Tennis (Female)
Adam Naseem won the best athlete of the year award for Volleyball (Male) and Hawwa Rashida won the best athlete of the year award for Volleyball (Female)
Abdulla Faih Fazeel won the best athlete of the year award for Tennis (Male) and Naba Nishan won the best athlete of the year award for Tennis (Female)
Ismail Azmeen won the best athlete of the year award for Carrom (Male) and Aminath Vidhadh won the best athlete of the year award for Carrom (Female)
Hussain Areef won the best athlete of the year award for Surfing (Male)
Hassan Shaz Mohamed won the best athlete of the year award for Pool Billiard (Male) and Aminath Fathuhee won the best athlete of the year award for Pool Billiard (Female).
Mohamed Firunas Abdulla wins the best athlete of the year award for Handball (Male) and Nashfa Amira won the best athlete of the year award for Handball (Female)
Ali Imaan won the best athlete of the year award for Swimming (Male) and Aishath Sausan won the best athlete of the year award for Swimming (Female)
Hamza Mohamed won the best athlete of the year award for Football (Male) and Aminath Leeza won the best athlete of the year award for Football (Female)
Abdulla Amzar Mohamed won the best athlete of the year award for Basketball (Male) and Fathimath Rishma won the best athlete of the year award for Basketball (Female)
Table Tennis star Fathimath Dheema Ali was crowned as the most promising athlete of the year (female)
Maldives Para-Badminton athlete Hawwa Eashal Riyaz won the specially-abled athlete of the year award (female)
IOIG Bronze medalist Mohamed Mazin won the specially-abled athlete of the year award (male)