As part of the resort's commitment to a sustainable future in tourism, and CSR activity toward supporting the local community, Kuda Villingili Resort Maldives presented Ramadan gifts for the people of Thulusdhoo on 26th March 2022. The management of Kuda Villingili, the Council, and senior members of Thulusdhoo partook in this special event. The community of Thulusdhoo likewise opened an invitation for the staff of Kuda Villingili to enjoy a 'Maahefun' on the island. Morgan Martinello, the General Manager of Kuda Villingili, expressed, "We wish to nurture and strengthen the bond between these two neighbouring islands in the future."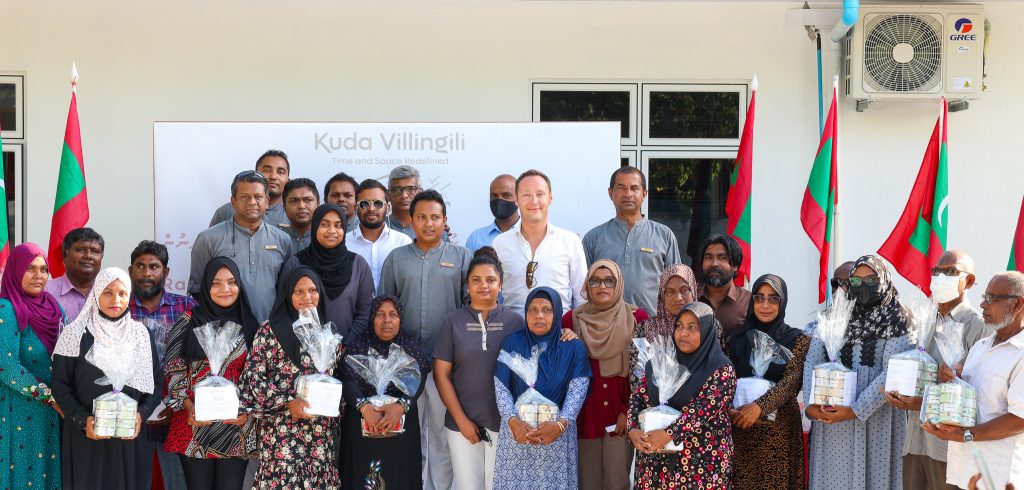 About Kuda Villingili Maldives 
Located a mere 30-minute comfortable speedboat ride away from the Velana International Airport, Kuda Villingili Maldives embraces cultural diversity by designing its 59 beach villas and 36 water villas in an Asian eclectic style, further enriched by the local arts and fabrics. The open-plan spacious villas and Suite offer 180-degree view of the vast Indian Ocean, positioned both on the sunrise and sunset side of the island.
The resort developed its food & beverage concept to offer guests a unique gourmet journey. From The Restaurant that serves as a breakfast venue which converts to three dining venues in the evening, to The Hawkers, which presents three restaurants catering to distinct specialty cuisines. All the restaurants at the resort provide an experience one should not miss. Spice entices guests with Indian-Arabic dishes, while East offers Oriental-Thai, and Med brings an Italian-Mediterranean touch. Mar-Umi has primarily been a favourite of the guests, serving South American cuisine during lunch and mouth-watering Japanese-Peruvian dishes in the evening.
Kuda Villingili Maldives offers its guests a unique, experience-driven journey, where time and space are redefined. The resort is home to an idyllic beachfront Spa, a fun-filled kids club, and one of the longest pools in the Maldives at 150m. Stylish sunbeds, cabanas, and a bar encircle this spacious azure pool where one can take a dip in the jacuzzi, do a marathon swim, or enjoy with the kids at the shallow end. Spend time with loved ones, make up for lost times, strengthen friendships, or forge new ones ー whether guests are traveling as a couple, family, group of friends, or alone, Kuda Villingili is a slice of paradise where everyone is welcome.