Male', Maldives, 8th December 2022 – The island council presidents of eleven islands in Baa, Noonu and Haa Dhaalu atolls presented a new and radical vision of improved waste management in their islands to government ministers and MPs on 3rd December 2022, committing to measures that will reduce island waste and pollution. 
The island council presidents of the 'Namoona' islands (Namoona means 'exemplary' in Dhivehi) signed the commitments and presented them to ministers at a high-level meeting to celebrate the Soneva Namoona programme, following a two-day workshop hosted at Soneva Fushi in October to plan the next phase of the programme.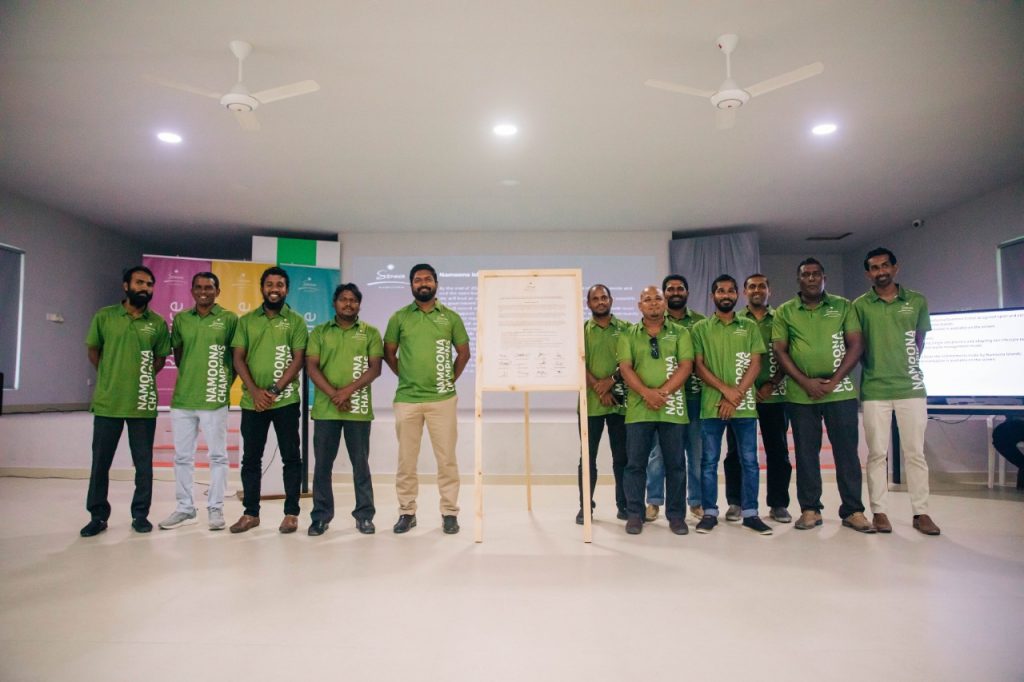 The island council presidents, in their written commitment, pledged to:
Segregate, clean and collect all recyclable solid waste on their islands, and end the open burning of non-organic waste, by the end of 2023.
Lead an ambitious phase-out of single use plastics on the islands.
Hire and train waste management specialists and share their knowledge to other islands.
Support inter-island initiatives such as the Alun Balun re-sale market to encourage waste reduction.
Cabinet ministers Aminath Shauna, Minister for Environment, Climate Change, and Technology, Minister of Tourism Dr. Abdullah Mausoom, CEO of Local Government Authority, Ms. Afshan Latheef and Chair of the Parliamentary Committee on Decentralization MP Ali Niyaz, witnessed the signing of these commitments at the high- level event, held on Baa Kihaadhoo. In addition to those commitments, the island council presidents called on the government to do more to reduce single use plastics that litter the islands and help islands better manage waste.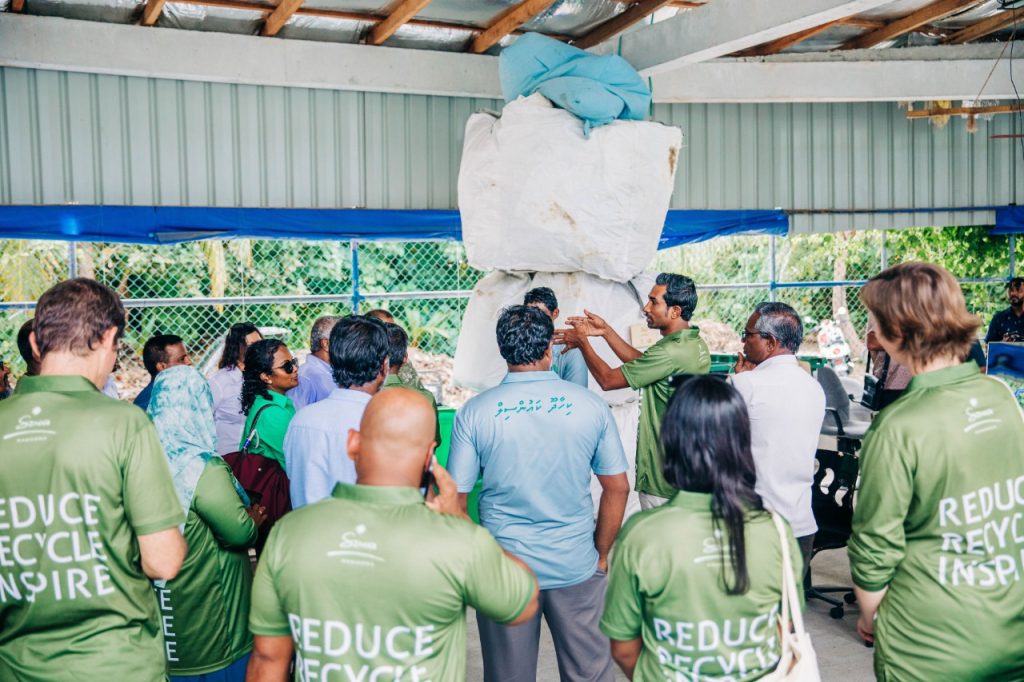 The council presidents presented 13 policy recommendations to the government, including:
1. State companies should stop producing bottled water, which produces huge amounts of plastic waste and undermine trust in the domestic water supply.
2. Ensure the safety of water provided to households and publish water quality test results to improve public trust. Provide public water filling stations in all islands, in schools and public spaces.
3. Single use plastic water bottles should be banned in resorts from 2024, and the provision of alternatives to single use plastics for other items, such as amenities and drinks, should be included in resorts' operating licenses.
4. WAMCO should stop accepting unsegregated non-legacy waste from islands as a way to incentivise island-level waste management best practices.
5. Enforce regulations that ban the dumping of waste at sea.
Azhoora Ahmed, President of Soneva Namoona NGO, shared, "The policy recommendations we are sharing today are drawn from the shared learnings of the Namoona islands. These are priceless insights reflecting the reality of refining sustainable management practices in the Maldives. Today's dialogue is a step on a journey that we hope will center local community experiences at the heart of government policy."
After observing how households on the island are segregating their household waste, the delegation toured Kihaadhoo's Eco Centro, a revamped waste management centre. They learnt how the community implemented the 'Shore to Open Water Series' (SOWS) swimming programme, that aims to nurture ocean stewardship through water confidence, community, and competition. The programme has trained 26 people from seven Namoona islands to become swimming and water rescue instructors.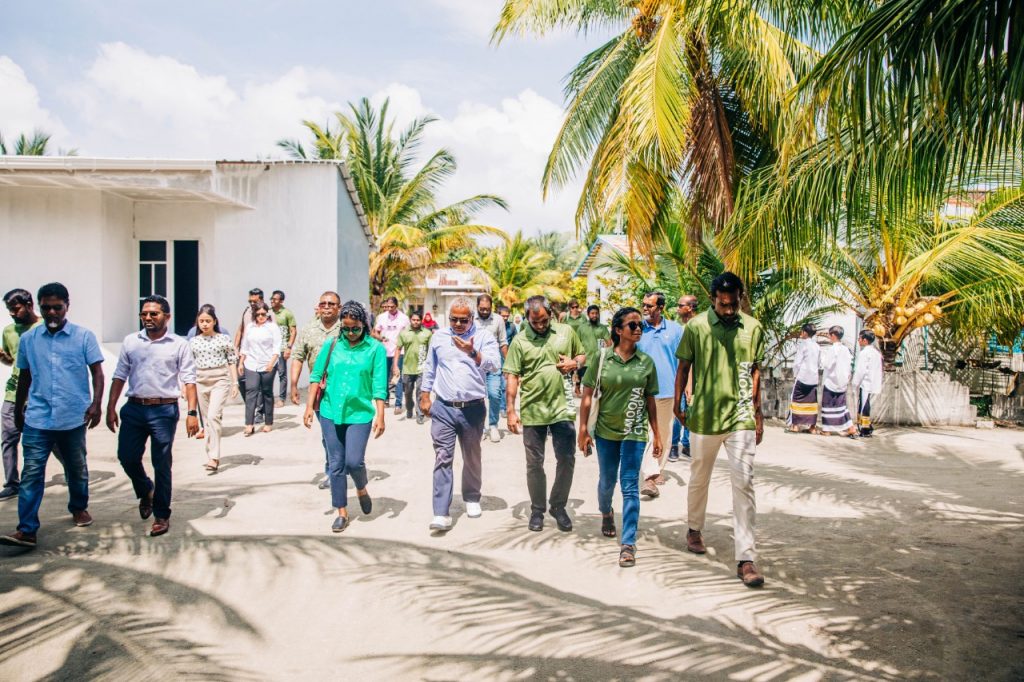 Speaking at the event, Minister Shauna said: "I take onboard these recommendations and thank the councils and Soneva Namoona for the thought they have put into formulating these. This is a good example of local communities, civil society and private sector and coming together to innovate and solve the huge challenge of waste management in the Maldives."
The delegation concluded their visit with a tour of the 'Alun Balun' resale market, an initiative founded by the women's development committees of Namoona islands in Baa Atoll to sell second-hand goods that rotates between the seven islands of B. Maalhos, Dharavandhoo, Kihaadhoo, Dhonfanu, Kudarikilu, Kamadhoo and Kendhoo.