Male' Maldives, 2nd March 2023 – This March, "Kula Kula" festival will be held at Oaga Art Resort, Maldives, taking inspiration from the Hindu festival of Holi and the Brazilian Rio Carnival, both being renown for the celebration of music, dance, and color that brings people together from all over the world.
The 3-day festival is to be held from 7th to 9th March 2023. One of the main highlights of the event is a collaborative live mural painting for the first time in Maldives, by American artist Daev Momo and Maldivian street artist Ahmed Sobah aka Toxicrew. Momo began his experimental outdoor work in the late 90s and some notable mural commissions include those from Facebook, Pepsi, the NFL and the World Trade Centre. Sobah is a multi-disciplinary street artist whose graffiti is depicted in all bathrooms of Oaga Art Resort and the arrival hall at Raa Baa.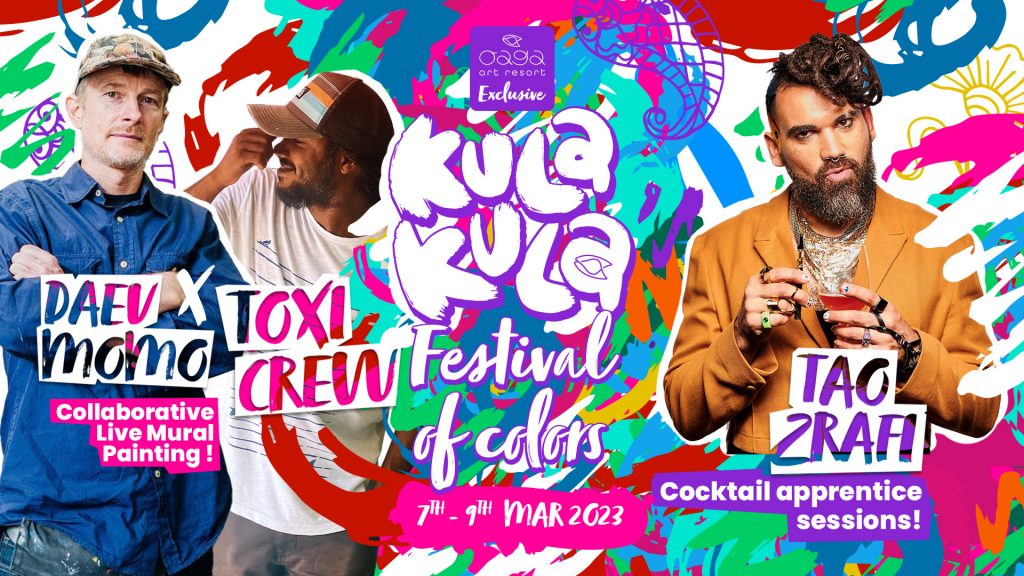 During this festival, the Canadian beverage art consultant Tao Zrafi will also be hosting themed cocktail apprentice sessions. Tao is most famous for being a finalist in Drink Masters Season 1 on Netflix, and is a world traveler combining two things he lives for – cocktails and traveling. The cocktail menu he creates during this time will be available at Oaga Art Resort even after the festival.
In addition to this there will be musical performances by traditional 'boduberu' group Harubee, as well as the local band Affan & The King Coconuts. The resort will also be hosting pop-up stalls by different local artists, belly dancing, fire performances, throwing of festive colours at the beach, henna art and mandala making.
The finale' event will be the Raa Baa Beats pool party on the eve of 9th March, featuring local powerhouse artists Zara & Mahran followed by DJ Baapu, with a special live art performance by local mural artist Hassan Najih aka Iamarthling hosted by the resort's very own Suvāsthi Retail & Art Gallery.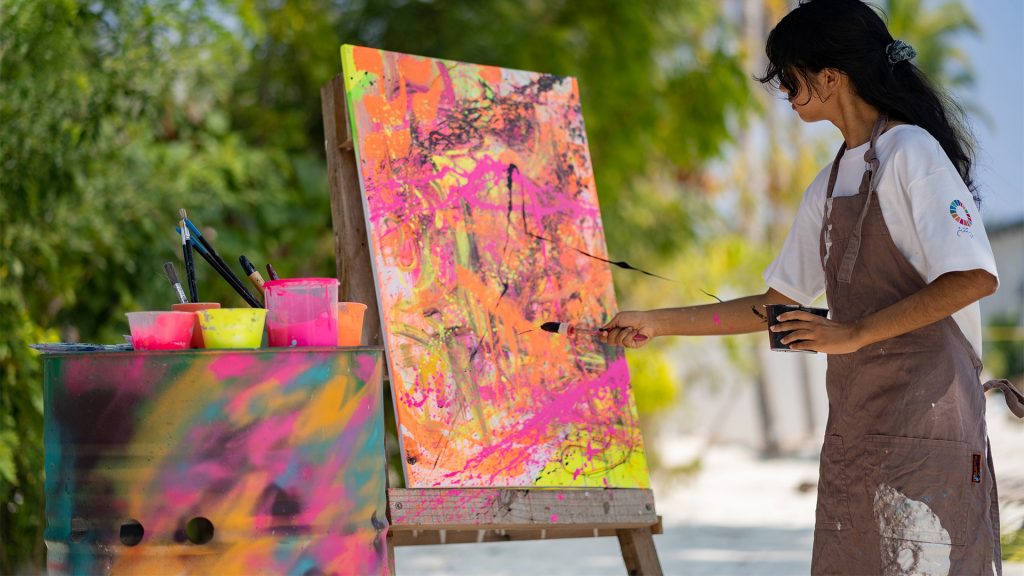 Visitors can expect a vibrant atmosphere with an eclectic mix of music, dance, and costumes providing a blend of cultures. Additionally, there will be food and drink stalls, offering a fusion taste of tropical cuisines and refreshing drinks, perfect for the sunny weather of the Maldives.
The festival promises to be an unforgettable experience for everyone who attends. The resort, which is located on one of the most beautiful lagoons in the Maldives featuring stunning beaches, offers a range of accommodation from Haruge Beach Villa to Veyoge Garden Villa to ensure a comfortable stay for all participants. All those who love music, dance, and culture are encouraged to join this exciting event. Don't miss your chance to experience the energy and passion of the Kula Kula Festival in the Maldives.