Male' Maldives, 16th March 2023 – Oaga Art Resort invites guests to embrace this Easter holiday full of whimsy and fun in the tropical setting of the Maldives. The resort's line-up of activities to be held from 8th – 10th April 2023 sets the mood for celebration all throughout the island, from egg hunts to gala dinners and special brunches.
For adventure seekers, the resort's scavenger egg hunt will take guests on a journey in search for clues all the way from Sobi Bar, the beer and gin garden located at one edge of the island, to the main pool at Raa Baa on the other. Those who complete the challenge will win gold, silver and bronze eggs – a token to cherish the memory.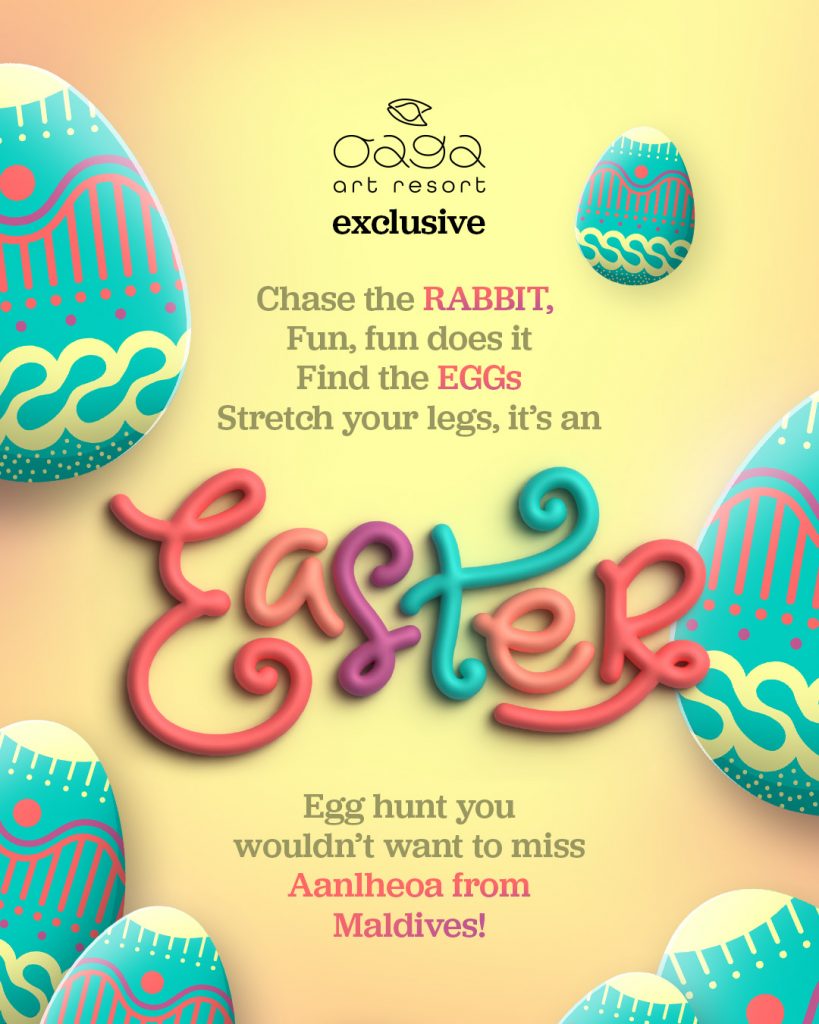 The resort also offers a slight nod to Maldivian culture within all the experiences, taking humour from cultural references such as the practice of "bismalhi dhuvvun" (Dhivehi) where a string is tied to the leg of a chicken in order to find out where it lays eggs.
What's more, the award winning Maldivian Wellness Leader and concept developer for Hoba Spa, Ms Xulfishan (Xubba) will be on the island as a visiting practitioner during the festive period. As a Maldivian 'Beysveriyaa" or healer, Xubba's expertise is rooted in the age-old practices passed on to her from generations; all of which she has poured into the concept of Hoba Spa, bringing an authentic Maldivian meaning to the spa experience.
At Oaga Art Resort this Easter, visitors can also dress their best for either the Gala Dinner on Easter eve, or the Easter Sunday Brunch at Kaa Kada, showcasing a range of festive culinary delights. Enjoy a movie or the barbecue dinner by the beach with the sound of waves setting the mood for a peaceful night. Setting the intentions for hope, renewal and new life at the morning rituals by Hoba Spa. Whether to try hand at creative egg-spressions with the team of Suvāsthi Retail & Art Gallery, or to learn music with some bunny at the Take Notes 101 sessions, or to shake up guests own drinks as a cocktail apprentice, the resort's Rahvehin team is inspired to cater a merry and jovial celebration to travelers, friends and family of all ages and interests.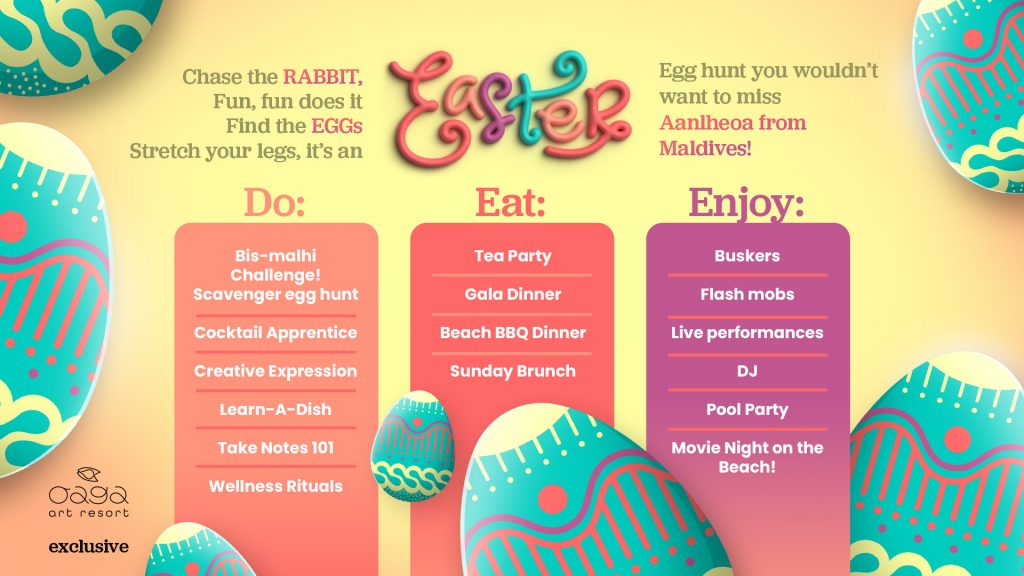 To complete the vibe on the island, guests can expect buskers, flash mobs, live music performances, a pool party and DJ too, to liven up the spaces throughout this Easter weekend.
Oaga will represent an eclectic blend of activities and vivid impressions for curious travelers, with something for everyone around the corner – inspired by the best of Maldivian history, art, culture and heritage. Explore what the real Maldives has to offer to create a memorable journey, on the island where the magic of stories come beautifully alive.