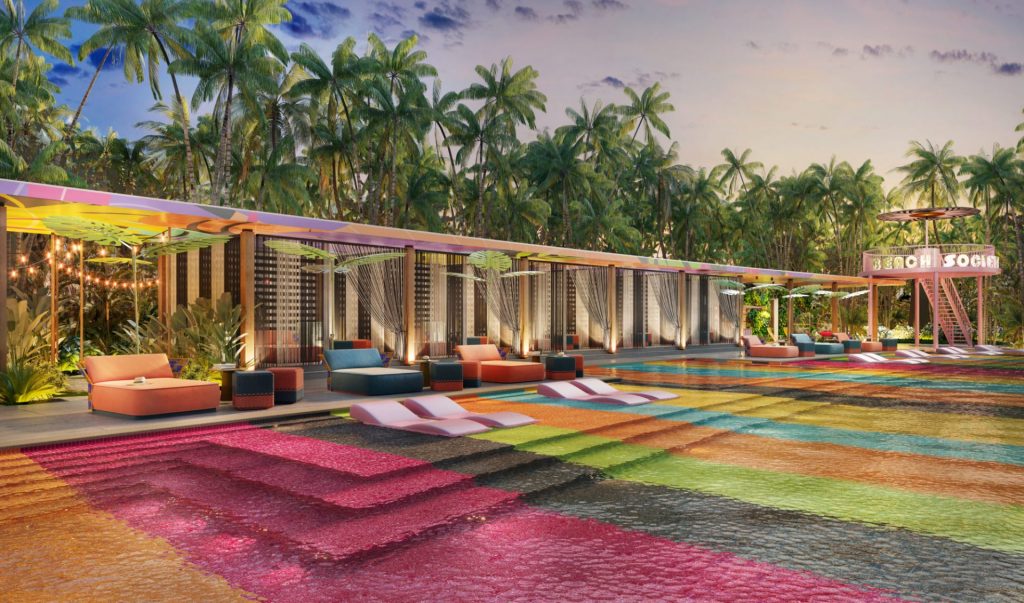 Male' Maldives, 8th August 2023 – Opening this November, SO/ Maldives is a distinctive retreat situated on a pristine private island enveloped by the Emboodhoo Lagoon. The resort offers a harmonious blend of convenience and seclusion, just a brief 15-minute speedboat ride from Malé's Velana International Airport. Each of the 80 thoughtfully designed villas, weather perched on stilts above the lagoon or nestled on its own stretch of white-sand beach, exudes exclusivity and serenity.
Innovative and refreshing dining concepts set SO/ Maldives apart from the typical all-day buffet experience found in most resorts. The resort's cultural programming integrates music, fashion, design, and art, promising an immersive and dynamic atmosphere. A sophisticated spa enhances the island experience, making it an evergreen destination of exotic allure.
SO/ Maldives boasts a bold and contemporary design ethos, inspired by couture craftsmanship and theatrical flair. The striking over-water pavilion welcomes guests with its clean lines, natural wood, and vibrant accents, while the central sculptural, red-latticed staircase adds a touch of drama. The resort's unique walkways, framed by flowing fabrics and architectural timber canopies, complement the island's lush foliage and draw inspiration from the world of high fashion.
Collaborating with prominent artists and fashion designers, SO/ Maldives presents 80 beachfront and over-water villas that epitomize inclusive luxury. This diverse collection caters to a wide range of guests, from families and couples to friend groups, all seeking a fashionable retreat. The villas, spanning eight categories, include the Lagoon Water Pool Villa Collection (120 sqm), the remarkable Three-Bedroom Ocean Water Pool Atelier (330 sqm), and the Family Beach Pool Villa with Capsule (238 sqm), featuring playful adjoining sleep pods for youngsters. Each villa boasts a private pool, and personalized concierge services, provided by the attentive guest experience hosts, ensure a tailored stay.
A departure from standard all-day buffets, SO/ Maldives presents three distinctive dining options, each characterized by its own exceptional food-focused concept. The Citronelle Club showcases the flavors of Asia with its family-style, spice-infused dishes. Hadaba, the destination restaurant, serves up slow-cooked delicacies and smoked dishes, skillfully incorporating local ingredients and the finest Levantine spices. For a more relaxed atmosphere, Lazuli, the hybrid beach bar and lounge, exudes the charm and elegance of the Cote D'Azur, offering a haven for guests to unwind with live music and DJ performances.
Immersed in lush greenery, the Wellness Camp offers specialized treatment rooms, hammam, steam rooms, and a fully-equipped gym. Adventurous souls can explore the watersports center located on the beach for a more organic workout. Catering to families, The Nest kids' club provides a range of toys, games, and activities, while teenagers have their own dedicated space, The Zone, complete with a games room and outdoor deck.