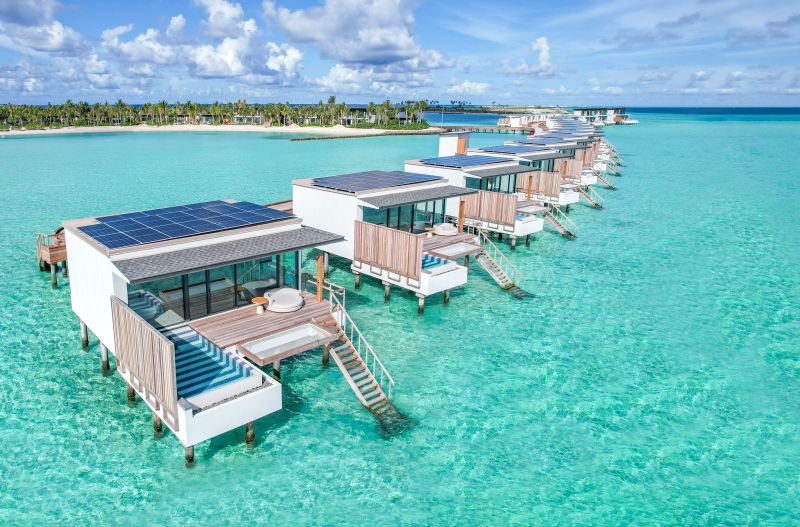 Male' Maldives, 2nd November 2023  – S Hotels and Resorts PCL, a global hospitality company under Singha Estate PCL, has unveiled SO/ Maldives as the third iconic resort at CROSSROADS Maldives, opening on November 1. This luxury lifestyle resort complements the two existing five-star retreats and world-class facilities at the Indian Ocean's sole multi-brand, fully integrated leisure destination, ushering in a new era of hospitality in the Maldives.
SO/ Maldives is a USD 60 million joint venture project developed with Wai Eco World Developer (WEWD) and operated by Ennismore, a creative hospitality company. It joins the two existing resorts at CROSSROADS Maldives: SAii Lagoon Maldives, Curio Collection by Hilton, and Hard Rock Hotel Maldives.
Situated in the Kaafu Atoll and Emboodhoo Lagoon, these three retreats are seamlessly connected to a range of world-class facilities at The Marina @ CROSSROADS, offering dining, retail, wellness centers, water sports, and more, as well as the Maldives Discovery Centre and Marine Discovery Centre for underwater conservation and education.
SO/ Maldives aligns with CROSSROADS' commitment to environmental preservation, featuring solar panels on villa and restaurant roofs, green energy generation, recycled water, electric vehicles, eco-friendly amenities, and a ban on single-use plastics.
Dirk De Cuyper, CEO of S Hotels & Resorts, expressed enthusiasm about the resort's opening, while Zaw Win Maung, Managing Director of WEWD, highlighted the positive impact on the Maldives' tourism sector. Jesper Sorensen, General Manager of SO/ Maldives, emphasized the unique fusion of art, fashion, and luxury hospitality.
As part of the fashionable SO/ Hotels & Resorts brand, SO/ Maldives is set to become a sought-after destination. Opening rates start at USD 950+++, driving revenue to CROSSROADS Maldives during the high season.
Nestled on a pristine private island surrounded by the Emboodhoo Lagoon, SO/ Maldives offers a sartorially-inspired retreat where "Castaway Meets Runway." Stylish glass pavilions, a conceptual open-to-sky catwalk, and a range of beachfront and over-water pool villas designed by renowned designers create a unique and sophisticated experience for discerning travelers.