On Sunday (June 21), Dubai has officially announced that the country will be welcoming tourists from July 7 after a closure of more than three months to contain the coronavirus.
According to Emirates media center, as the country opens up to business and leisure visitors, the latest air travel protocols will be facilitated and careful measures will be in place to ensure the health and safety of travelers and communities. Moreover, travelers must stringently comply with preventive measures and safety procedures put in place by Dubai and destination countries.
The Supreme Committee of Crisis and Disaster Management has stated that the emirate's airports have started receiving residents stranded abroad from June 22 and that citizens and residents will be permitted to travel overseas from June 23.
The decisions have been announced as per directives issued by His Highness Sheikh Mohammed bin Rashid Al Maktoum, Vice-President and Prime Minister of the UAE and Ruler of Dubai, and the follow-up of Sheikh Hamdan bin Mohammed bin Rashid Al Maktoum, Crown Prince of Dubai.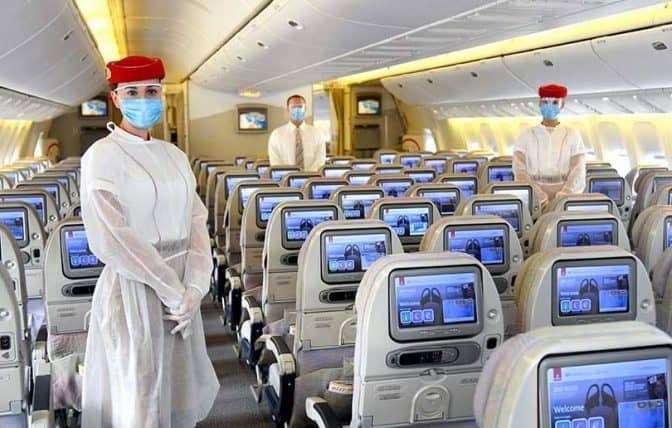 The Supreme Committee of Crisis and Disaster Management stressed that travelers should commit to meeting their responsibilities to ensure their safety and that of others. These include:
All passengers must make themselves aware of the protocols and conditions specified by the Government of Dubai and destination countries before traveling and ensure they comply with them.
Passengers must disclose any health symptoms before traveling by filling out the 'Health Declaration Form' provided by the airline company.
UAE nationals must notify UAE embassies in the countries they are visiting if they test positive for COVID-19.
Tourists must ensure they have international health insurance before traveling.
All tourists must show that they have tested negative in a PCR test done four days (96 hours) before the departure date. If they cannot provide test results, they will be tested at Dubai airports.
Those who test positive for COVID-19 should isolate themselves for 14 days at their home or in an institutional facility provided by the government at their own expense.
Travelers must strictly follow physical distancing guidelines in accordance with measures followed at Dubai airports and use face masks at all times.
All passengers should stringently observe precautionary measures and monitor themselves for COVID-19 symptoms.