Ritz-Carlton is set to launch an exotic new property, Fari island in the Maldives with a focus on sustainability and zero waste pollution. Designed by Kerry Hill Architects to complement the circular, minimalist vernacular of its setting, Ritz-Carlton Maldives, Fari Islands will open on June 1, 2021.
Kerry Hill Architects said in a statement, "We wanted to rethink from first principles how to build appropriately in the Maldives today, with strong, contemporary architectural forms that amplify the profound connection between the guest and the encompassing natural spectacle,"
The architecture firm will embrace pioneering pre-fabricated design methods and materials, to minimize the project's impact on the local reef ecosystem and to ensure zero waste and pollution. The designs will  also maximize natural breezes for ventilation and comprise sophisticated glazing to limit the need for air conditioning. With widespread use of solar panels and intrinsic sustainability of design materials the stunning architecture also achieved a low carbon footprint.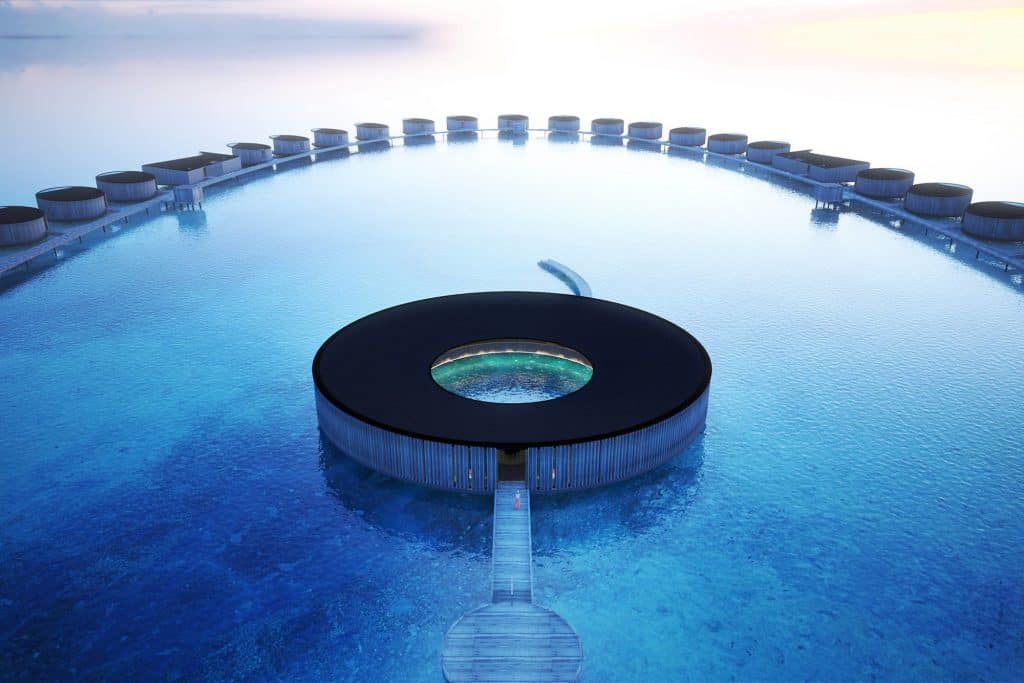 Furthermore, the minimalist, circular architecture and a philosophy of wholeness also reflect the Maldivian culture and environment. A turquoise lagoon embrace the circle of island life, connecting them with the environment and endless views to the horizon.
The Ritz-Carlton Maldives, Fari Islands is located in north male atoll, an easy 45-minute speedboat from the international airport, allowing visitors to immerse themselves in turquoise lagoons and coral reefs teeming with marine life just hours after touching down. There are 100 guest villas from one to three bedrooms feature the refined elegance and legendary service that define The Ritz-Carlton brand, while outstanding international and local cuisines across seven restaurants and bars add to the beautiful journey for all five senses. The design also will draw inspiration from the setting's natural landscape with a modern ethos defined by visually lightweight elements in both the indoor and outdoor spaces. Each of the resort's 100 villas will be developed for privacy and cocooned by clean, sweeping curves and architectural lines. A natural material and color palette will further reflect the influence of local craftsmanship, and bedrooms will be equipped with panoramic sliding doors with access to a curved deck and private pool.