Highly anticipated new resort Siyam World, Maldives is bouncing towards its 28 October opening after installing the Indian Ocean's biggest floating water park – and promising unlimited free access for all guests. Siyam Water World is a fun-soaked fantasia featuring an array of inflatable obstacles – all in a 2580sqm course specially designed by German SportsPark innovators Wibit Sports. Located in Siyam World's northeast lagoon, Siyam Water World is just one of the ever-expanding A-to-Z of experiences included in Siyam World's revolutionary WOW! 24hrs Premium All-Inclusive concept.
Inspired by a passion for sports, Wibit Sports pioneered the concept of inflatable playgrounds on the water 25 years ago; its SportsParks are now in 100 countries worldwide and have been enjoyed by more than 50 million users. The modular design allows endless combinations to suit all kinds of locations, from indoor pools, open waterfronts – and Indian Ocean lagoons! Suitable for all ages, fitness and ability levels, and optimized for safety, Wibit SportsParks are an exhilarating antidote to screentime, promoting balance, agility, coordination, social interaction – and most importantly of all, fun!
With unlimited free access for guests aged 6yrs and above with an enormous carrying capacity, Siyam Water World promises endless aquatic escapades. Linked by banked curves and treacherous bridges, the slippery circuit of challenging obstacles includes halfpipes, slides, a climbing tower and a 3.2-metre springboard – not to mention 'Flip', the first free-floating human catapult on the water.
Forging its own maverick path away from the Maldivian mainstream, Siyam World is on a mission to bring guests the broadest offering of unique experiences and pioneering concepts ever seen in the Maldives. Guests will be freed from the usual all-inclusive shackles of set menus, surcharges and venue restrictions; this lush natural island's 54 hectares are home to 14 restaurants and bars including four different specialty restaurants for dinner, all of which are included in the WOW! All Inclusive package – together with an unlimited medley of non-alcoholic and alcoholic beverages. Siyam World's WOW! factor doesn't stop there – also included is a wild weekly Grand Beach BBQ; the roaming gaadiyaa, an authentic Maldivian food cart surprising guests with sweet and savoury snacks, soft drinks and tropical fruit each day; plus a spa bar serving up fresh healthy juices, smoothies and herbal infusions.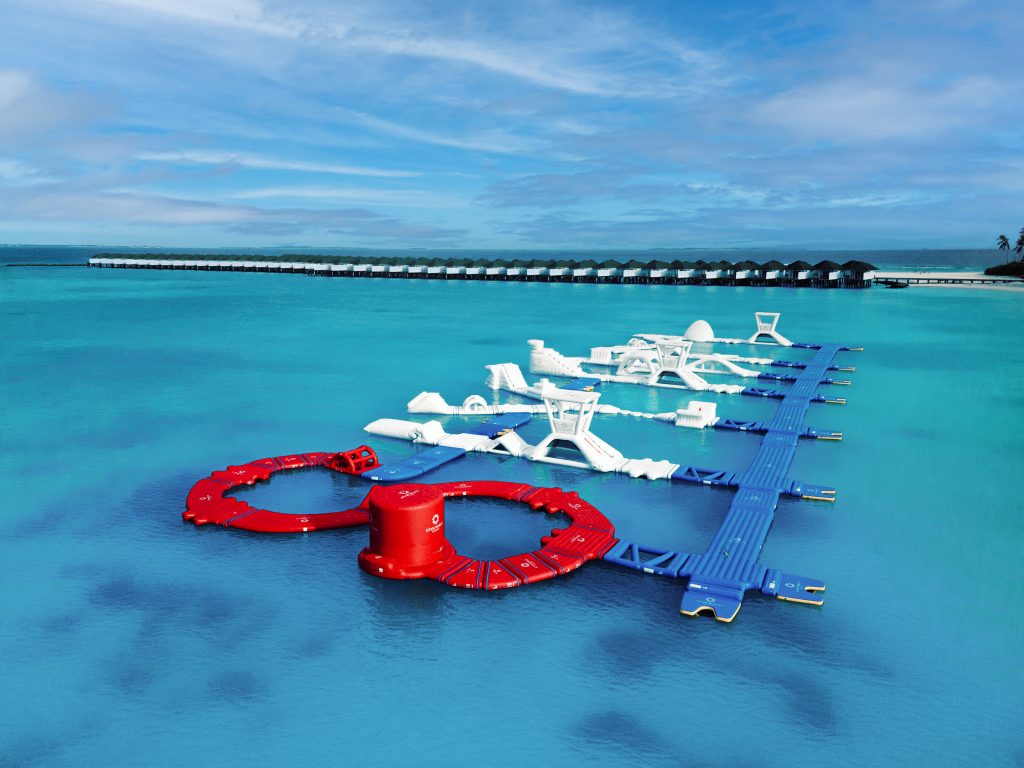 At Siyam World, all-inclusive isn't just a meal plan either; it's an ever-expanding A-to-Z of WOW! experiences too – from aqua aerobics to kids Zumbini classes, via dance shows, pool parties, group wellness sessions, sunset cruises and snorkeling safaris… and now, unlimited access to Siyam Water World. Kids and teens will be in their element with an array of excursions and activities, plus family programmes focused on fun-filled learning and mindfulness at the Little Explorers kids club for children aged 3 to 11.  With a world-class spa, wellness and sports facilities, along with some of the region's best dive sites just metres away, Siyam World is set be a game-changing new island of unlimited choice and endless escapades.