The inauguration ceremony for the event Ocean 6|50 was held yesterday, 3rd February 2022. The ceremony was attended by First Lady Fazna and Mr. Shafraz Naeem along with the event sponsors and media.  This record-breaking event is set to be held from 25th to 27th February. During this time, Mr. Shafraz will be attempting to spend 50 hours underwater. Ocean 6|50 aims to raise awareness and advocate for a sustainable solution to tackle the issues of plastic pollution and the conservation of marine species and ecosystems in the Maldives.
"The initial 24-hour dive was planned in 2017 but at the time we did not get any support to go through with such an event. Since the announcement of the Golden Jubilee celebrations last year, we decided to extend the initial duration from 24 hours to 50 hours to honor the Golden year of tourism in the Maldives. It is a difficult event to execute but with the help of the Ocean 6|50 team, I believe it is achievable." Said Mr. Shafraz speaking at the ceremony.
He further went on to thank Unixsporting for their support, encouragement, and for believing in him to succeed in an event as such.
Speaking at the ceremony, First Lady Fazna spoke about the inclusion of people with disability in such events. She further highlighted the importance of such an event honoring the golden jubilee.  Ms. Fazna concluded her speech urging everyone to participate in the virtual event of Ocean 6|50.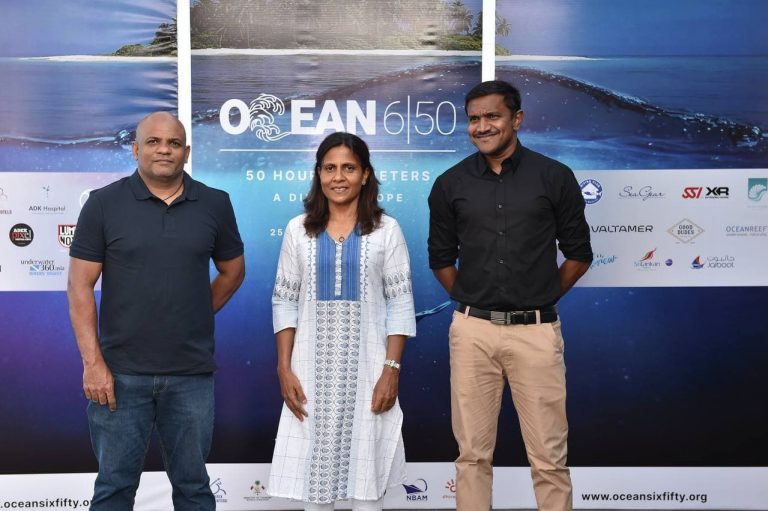 The event aims to train four members in each trip from Vaavu Atoll and Fuvahmulah as well as provide in-depth environmental training to the selected members during the extension of this event. Moreover, the team will be working with disability organizations to include interested divers in Ocean 6|50.
Mr. Shafraz Naeem is an ex-military diver instructor, Navy Clearance diver, an SSI recreational dive instructor, techni diver, explorer, and an underwater photographer. If Mr. Shafraz completes the full 2-day immersion, he would then hold the national and regional record for the longest open saltwater scuba dive.
Registrations are currently open for everyone. Interested candidates send a mail to [email protected] or call at 7388536. For more information visit oceansixfifty.org.