Amazones 2022, and is set to welcome hundreds of French women athletes to Sri Lanka this month for the annual sporting event. The airline has played a steady and significant role in promoting inbound tourism to Sri Lanka even in times of adversity, and is now at the forefront of revitalizing an industry that has been overwhelmed by the pandemic. To that end, SriLankan has gradually reestablished operations to 90 per cent of its pre-pandemic destinations and introduced flights to new destinations including Paris. SriLankan believes that sponsoring and hosting global events of this scale would spur on tourism and encourage discerning global travellers to visit the island.
Raid Amazones is a popular annual adventure trail originating from France. The event features French female athletes who compete their way through a range of challenges such as orienteering, mountain biking, canoeing, riding, running and archery typically against the backdrop of an exotic tourist destination. Therefore, the contest not only allows participants to put their skills to test but discover the unique landscape, people and culture of a given country. This year's event pays homage to Sri Lanka and its iconic Sigiriya rock fortress, the surrounding areas of which will play backdrop to the event.
Over 550 participants are expected to compete this year in teams of two or three members, and in two stages, taking in the historically, culturally and ecologically rich sights of Northern Matale where Sigiriya is located. The first leg will take place from 13 – 23, March 2022 and the second leg is scheduled from 27 March – 6 April 2022. Altogether, over 600 people are expected to attend the challenge including the participants, officials and representatives of global media organizations that will be covering the event.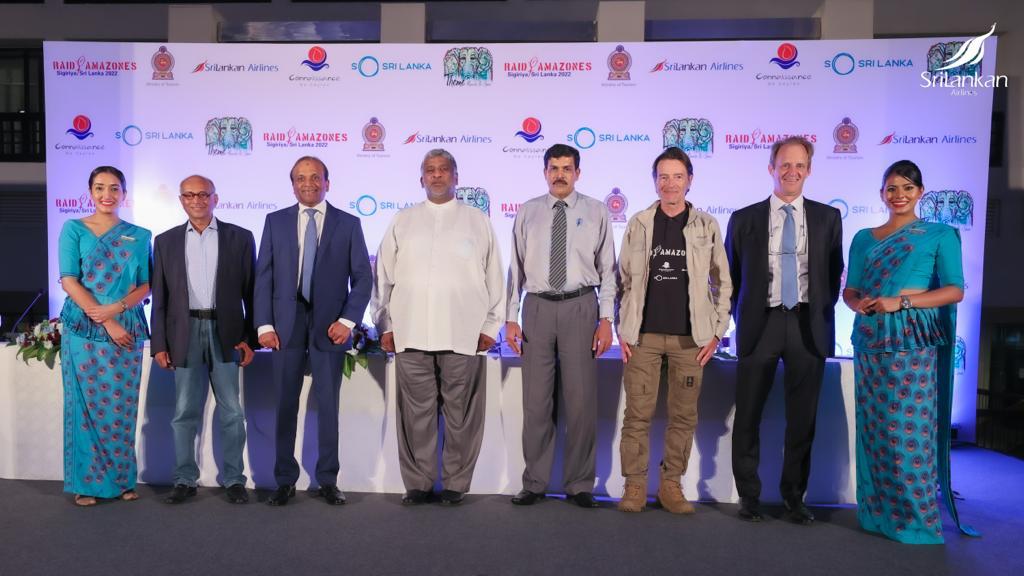 As the Official Airline Partner, SriLankan adorned an aircraft with customized livery highlighting Sigirya, the thematic icon of this year's edition. Many of the foreign attendees of the event including athletes and officials are scheduled to fly from Paris to Sri Lanka on this special aircraft. The aircraft will then continue to operate to other online destinations of the airline, thus promoting Sri Lanka as an adventure destination to a wider global audience in the months ahead.
Raid Amazones 2022 is likely to boost inbound tourist arrivals from France and Europe to Sri Lanka and Sri Lanka's image as an ideal destination for adventure sports in these markets. Further, the event is expected to attract a vast global audience through international mainstream and social media coverage, paving the way for a considerable amount of visibility for Sri Lanka in markets beyond Europe.
Tourism was Sri Lanka's third largest foreign exchange earning industry until the pandemic.
Consequently, it is imperative to rebuild the industry from an economic standpoint considering the significant ramifications of the decline in tourism during the past two years including the shortage of foreign currency. As the national carrier, SriLankan Airlines continually endeavors to fulfill its obligation to support the national economy and the Government's development goals. The airline hopes to help revive tourism by undertaking certain strategic initiatives including sponsoring global events such as Raid Amazones and expanding its network and operations.
Chairman of SriLankan Airlines, Ashok Pathirage, said, "We look forward to welcoming the participants of Raid Amazones onboard SriLankan Airlines and to discover Sri Lanka, which has been endorsed as a top travel destination by leading global organizations time and again. This collaboration is one of many that we have planned to portray Sri Lanka as a multifaceted travel destination to the world as international travel shows signs of becoming accessible again."
In addition to SriLankan Airlines being the Official Airline Partner, Raid Amazones brings together several other local partners in a single collaborative effort. Theme Resorts and Connaissance De Ceylan are the official ground handling partner, whilst the Ministry of Tourism and the Sri Lanka Tourism Promotions Bureau are partnering to support the marketing of the event.