Male', Maldives, 15th May 2022 – The Ministry of Tourism held a press conference to announce the new Tourism Awards 2022 on 12 May. These awards are introduced by the Ministry of Tourism as a part of the Golden Jubilee Year celebrations, in addition to the government's National Awards, and will continue to be held annually.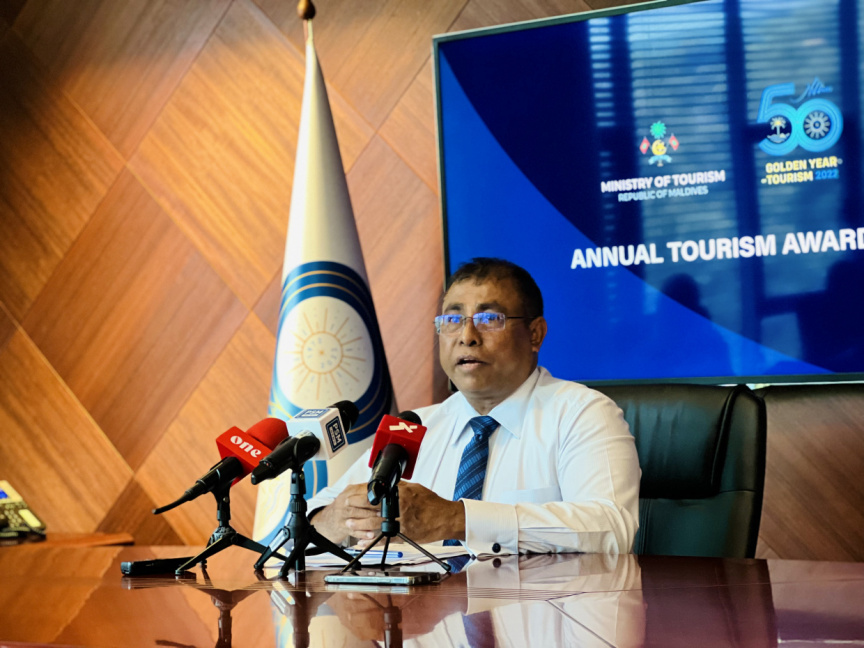 There are 12 categories for the awards:
Staff Accommodation
Staff Meals
Staff Recreation and Entertainment
Healthcare
Safe Work Environment
Purchase of Locally-produced Products
Promoting Local Cultural Performers
Promoting Local Musicians
Promoting Local DJs
Highest Parity of Local Staff
Training and Career Development
Highest Number of Female Staff
The Minister shared a total of 48 awards will be given as each category will consider resorts, hotels, safari vessels and guesthouses separately. The criteria will be made available on the Ministry's official website. Industry members wishing to participate must nominate themselves. The nomination period is from 1 to 30 June. They will be judged by a special evaluation committee assembled by the Ministry. Nominees will be evaluated for their performance and records from 1 June 2021 until 30 May 2022. The Tourism Awards are given in recognition of social responsibility and dedication to tourism with a focus on employees and locals.
The Tourism Awards will be presented during the Tourism Week from 27 September to 3 October later this year. Through the press conference, Minister Mausoom also declared a trophy design competition to select the design for the Tourism Award, with an award prize of MVR 50,000 for the winner. 
27 September marks the International Tourism Day whilst 3 October has been announced as the Tourism Day in the Maldives. Therefore, many celebrations and events are planned throughout this week.