Male', Maldives, 13th August 2022 – Heritance Aarah Maldives, one of the finest luxury resorts, hosted IMTM Pvt. Ltd for a familiarisation trip from 13th to 14th July. Surrounded by a pristine white beach, the gleaming ocean and swaying palm trees, its natural beauty alone ticks all the boxes for a perfect tropical paradise. Yet, it is not only this enchanting coastal ambiance that sirens guests from across the globe to this hideaway.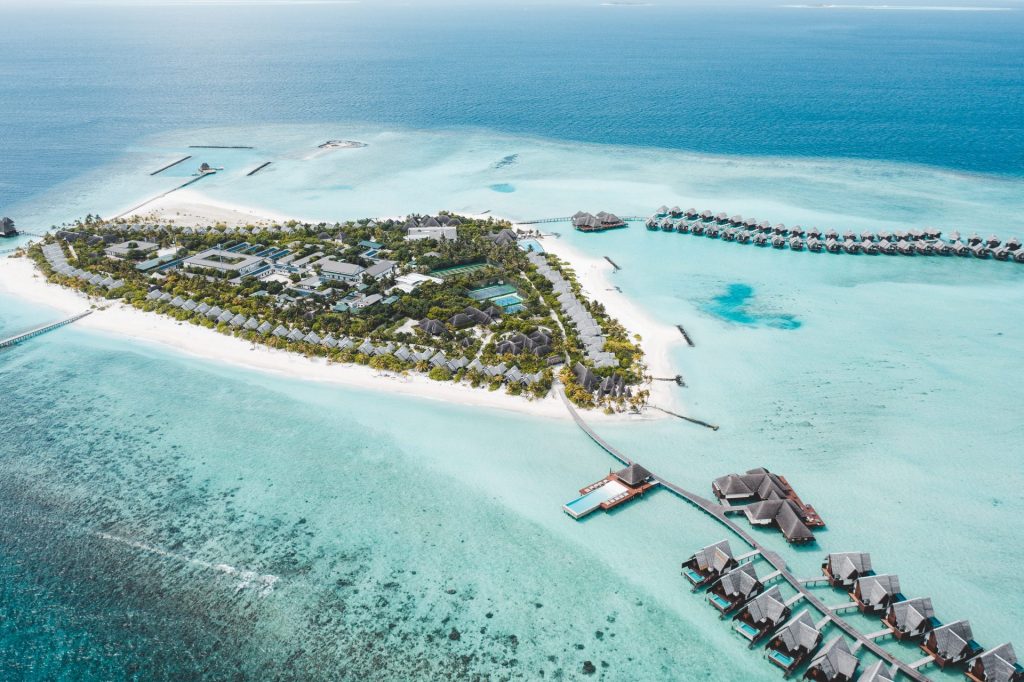 Heritance Aarah is one of the most renown resorts operated by Aitken Spence Hotels. A Sri Lankan brand, Aitken Spence Hotels operates a chain of 20 hotels and resorts located in key tourist destinations, including Sri Lanka, the Maldives, India and Oman, under two premier brands: Heritance Hotels and Resorts, and Adaaran Resorts and Spa. The Aitken Spence chain of hotels boasts a distinctive collection of exotic properties that have earned international recognition. The brand is synonymous with hospitality, with each property uniquely designed to cater to a diverse clientele. One of the brand's top retreats, Heritance Aarah has received recognition as one of best hotels in the Maldivian archipelago and prides itself as a global leader of hospitality.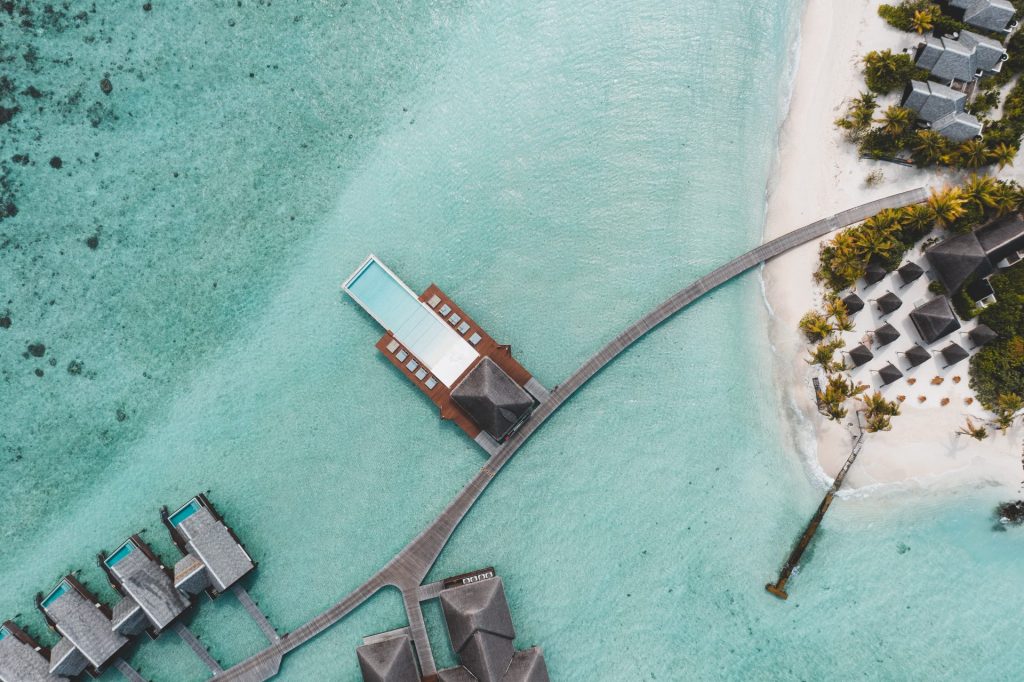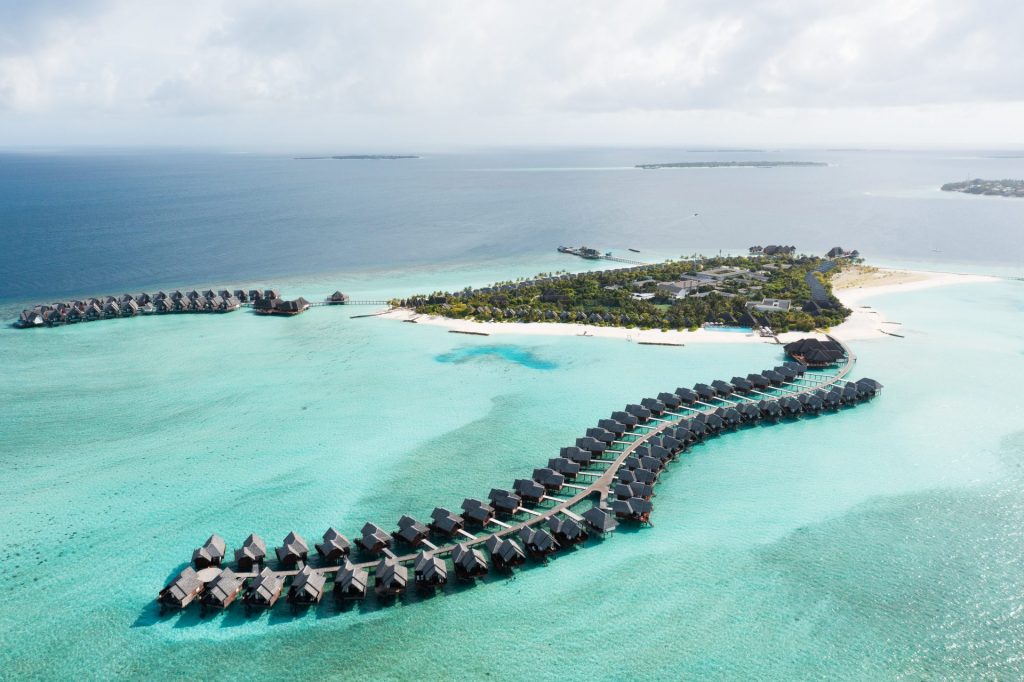 Heritance Aarah is unique in its focus and brand commitment to culture and nature. A leading hospitality brand from Sri Lanka, the Heritance resort in Maldives strives to provide guests with the ultimate contemporary Maldivian experience for the entirety of their vacation. Woven into the tropical and cultural tapestry of the Maldives, Heritance Aarah draws inspiration from the Maldivian heritage and captures the essence of the local culture. A sanctuary 'Where Tradition is Alive', the resort specially curates guest experiences to reflect the uniqueness of the Maldives. Therefore, not only does Heritance Aarah provide guests with the perfect tropical haven, but also a truly Maldivian escape in paradise.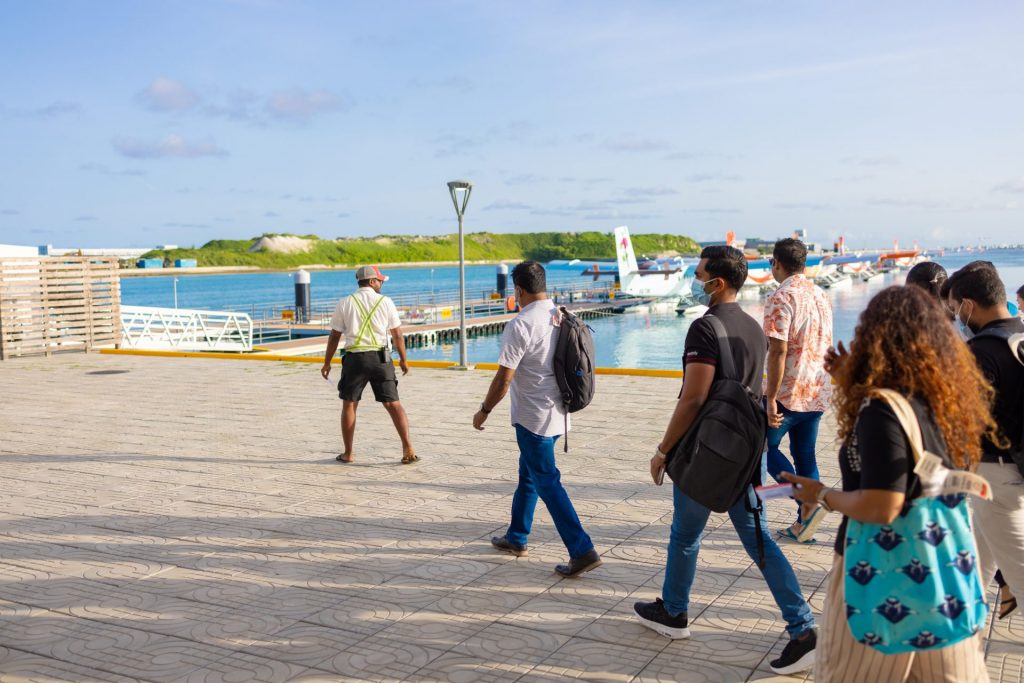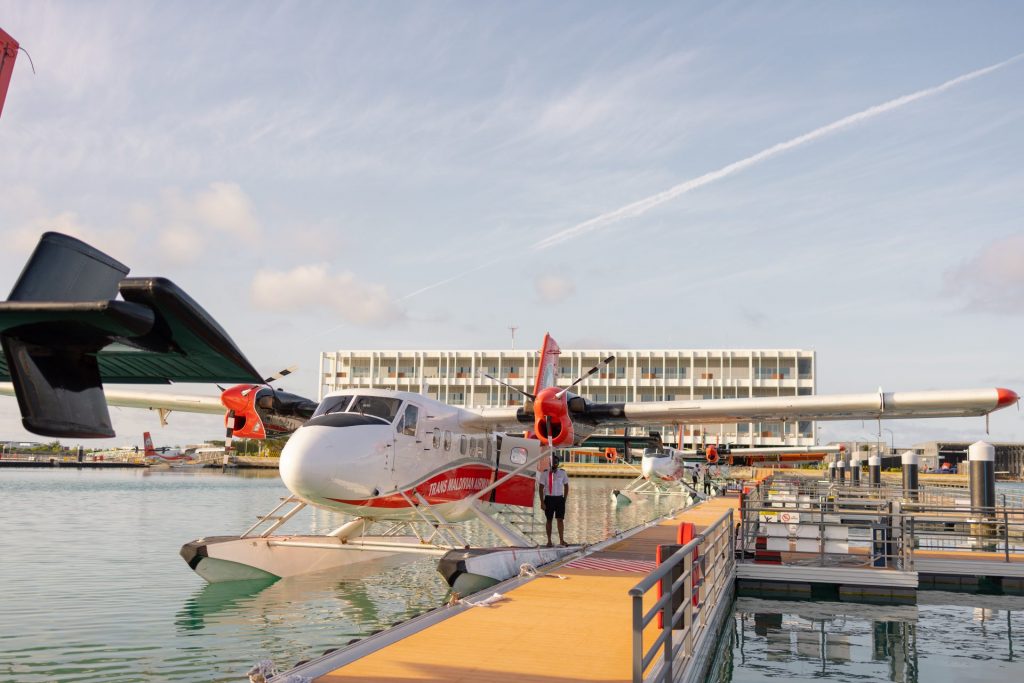 Seaplane Trip
A mere 40-minute seaplane trip from Velana International Airport, the resort is an easily-accessible sublime sanctuary nestled in Raa atoll. The journey to the resort is designed to be as smooth and comfortable for the guests as possible. All guests are guided by airport representatives to proceed with their check-in for the seaplane. Whilst they wait to board their flight, guests may relax at the Adaaran Airport Lounge, where they may also enjoy food and beverages depending on the time.
The seaplane trip itself is a warm and welcoming start to guests' stay. As guests make their way to the seaplane, they will witness the mesmerising view of the brilliant blue ocean dotted with seaplanes. All guests are welcomed aboard by the friendly cabin crew and co-pilot waiting outside to greet them. The seaplane ride itself is an awe-inspiring experience with the breath-taking aerial view of the scattered Maldivian isles. With such a scenic view, there is sure to be not a moment of boredom before guests reach the resort.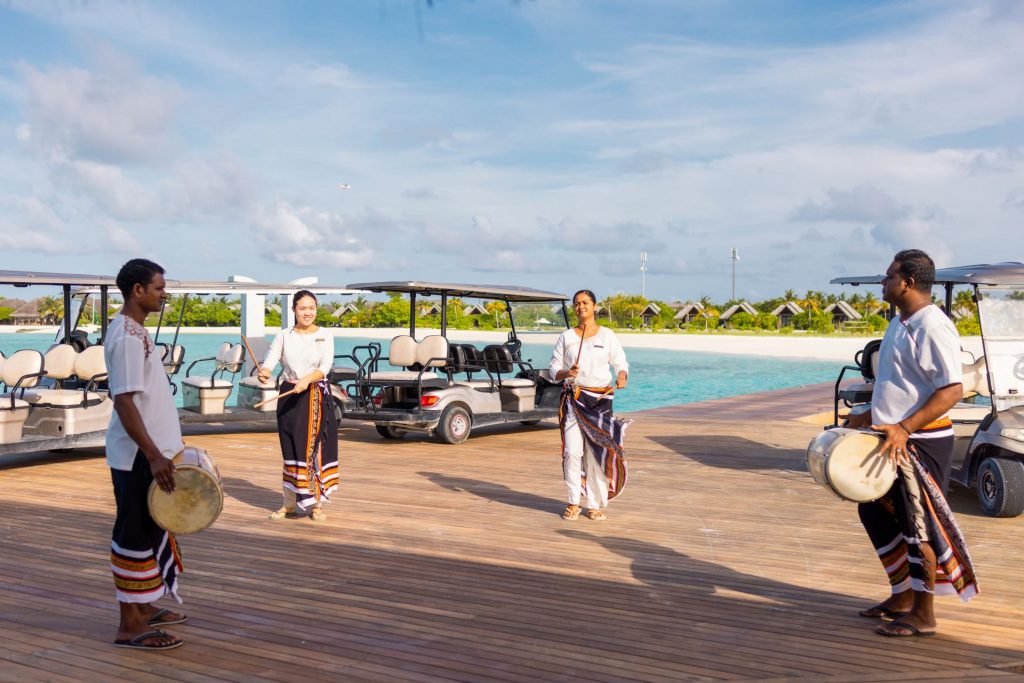 Welcome
Upon arrival at the resort, all guests are welcomed to Heritance Aarah with Dhandhi Jehun, a popular traditional Maldivian folk dance with drums and sticks. This reception and marhaba provides guests with a special touch of local culture from the very beginning of their stay. In addition to this, 'marhaba' is a key phrase used throughout the resort to welcome guests in the traditional Maldivian style wherever they go, from the arrival dock to the reception, restaurants and shops. As customary, guests receive a welcome drink, but with a surprising delicious twist: Heritance Aarah is popular for the raving reviews it receives for its brilliant concoction of beverages – another fun experience to make guests' stay even more memorable, the resort works to set their expectations high from the get-go. The welcome drink serves as a simple taste of the eclectic food adventure awaiting guests.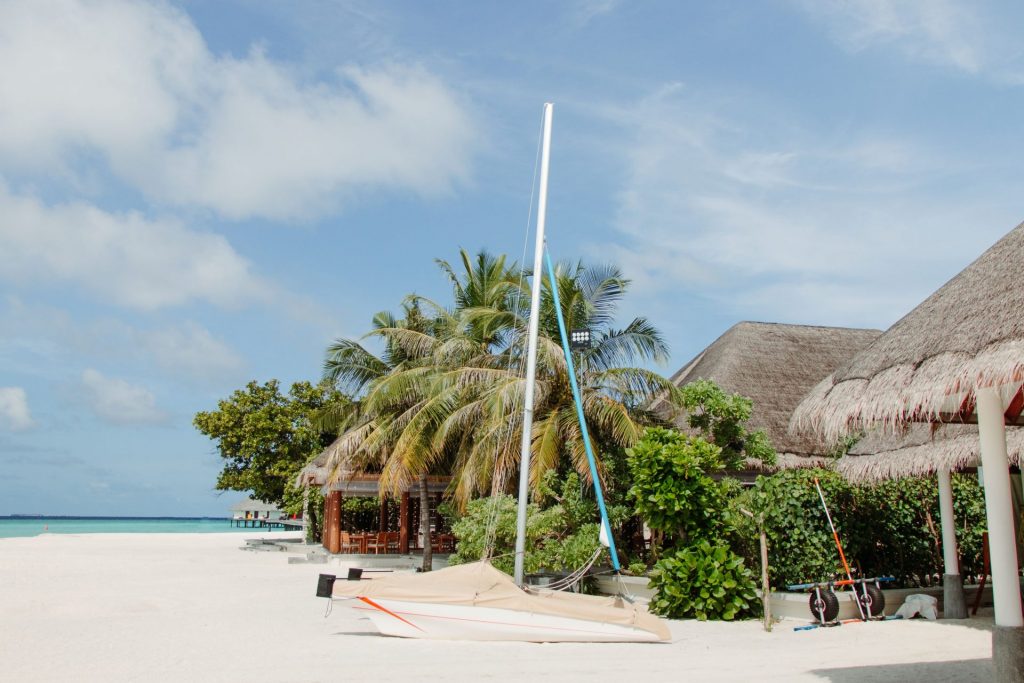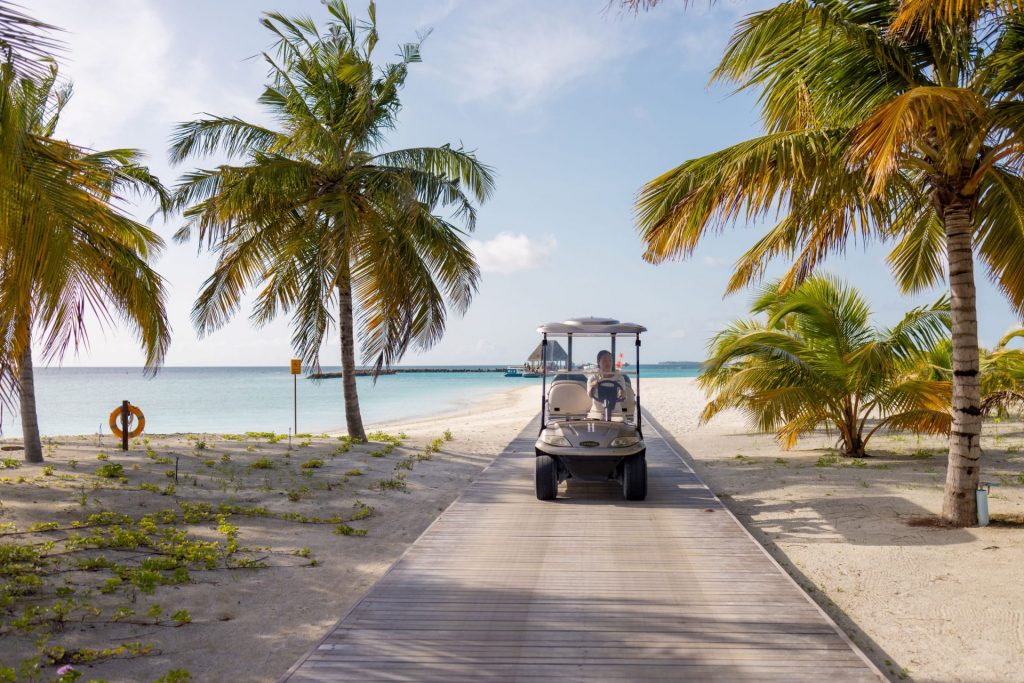 Accommodation
Heritance Aarah houses a variety of accommodation styles to suit guests' preferences, all designed to immersive guests in the sights and sounds of the island. With a total of 150 villas and 26 suites, accommodation options range from Ocean Residences, Luxury Duplex Ocean Suites, Ocean Villas and Land Villas – Beach Villas, Pool Beach Villas, Family Beach Villas and Family Pool Beach Villas. Designed to seamlessly combine indulgent luxury with the aesthetics of Maldivian nature and culture, each room provides unparalleled comfort and bliss.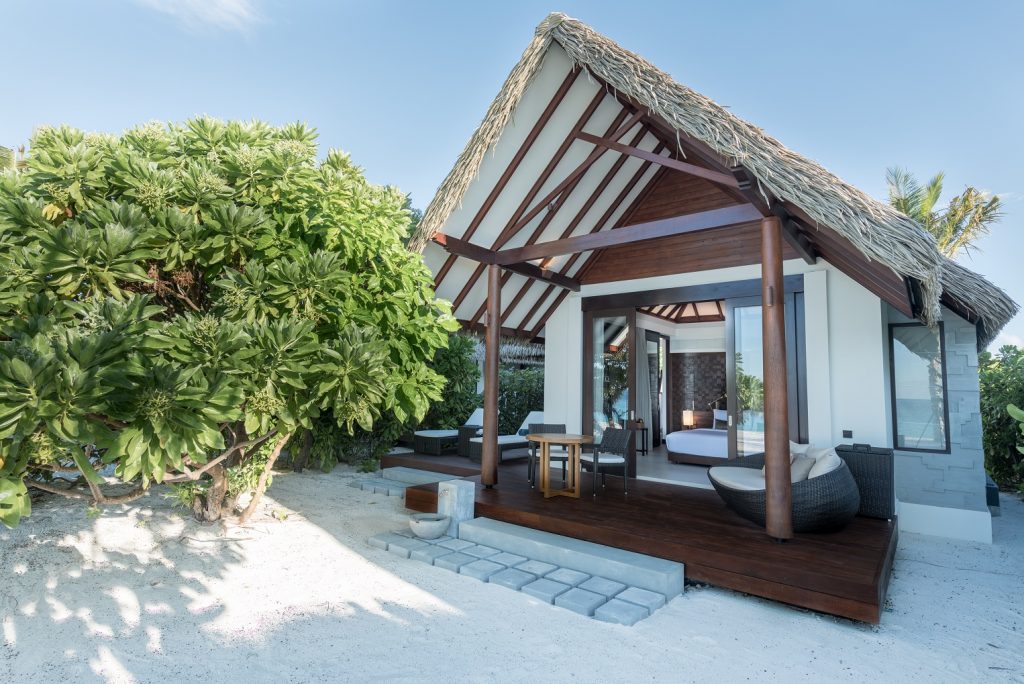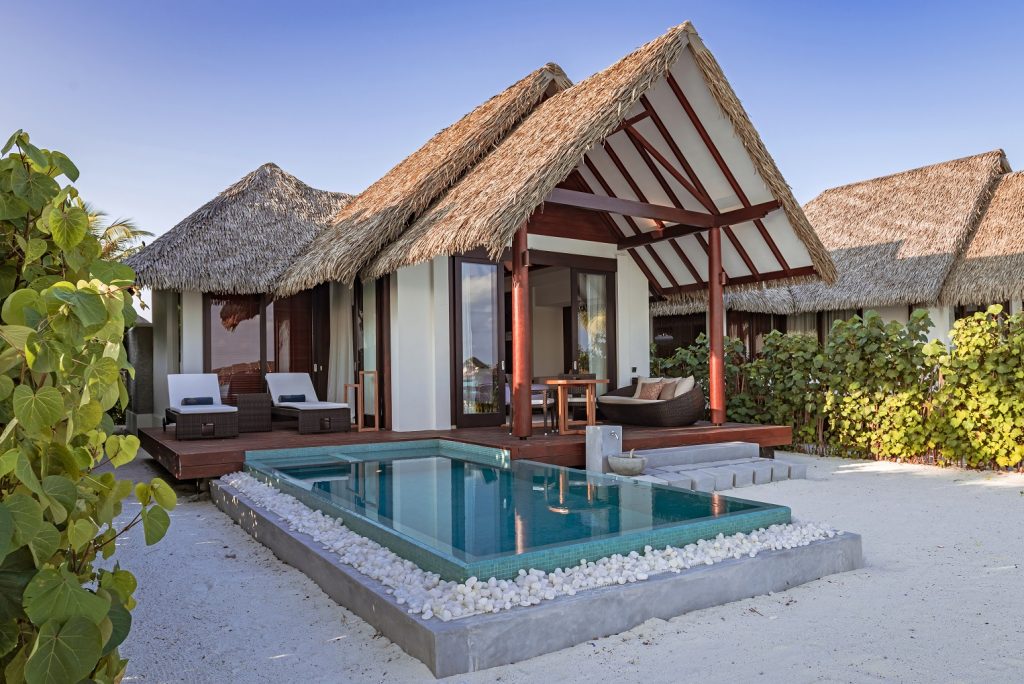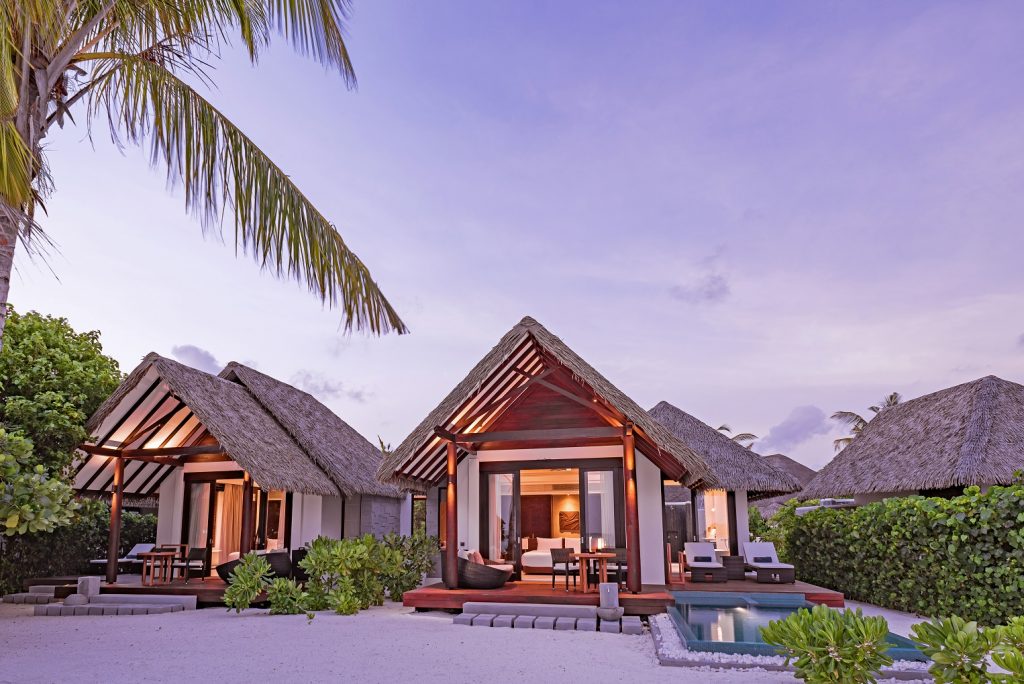 Beach Villas
True to its name, these rooms give guests easy access to the beach right from their doorstep! With the soothing sound of the ocean all around, guests can soak up the mystical coastal ambiance from the comfort of their large open-air veranda. Beach Villa rooms come in three exciting options. Beach Villas can house up to 2 adults whereas the same applies for Pool Beach Villas, with the fun addition of a private pool complete with loungers. Family Beach Villas feature 5 interconnected beach villa rooms, perfect for spacious group getaways with an occupancy of up to 6 adults. This home away from home provides ample privacy and beach access for fun-filled frolic by the sea shore.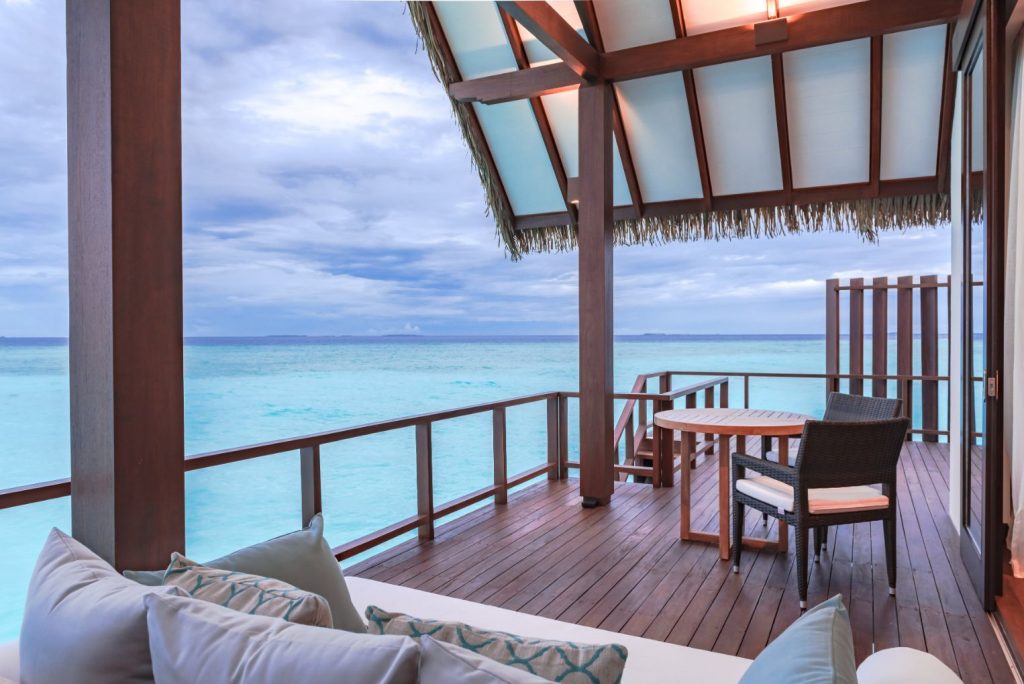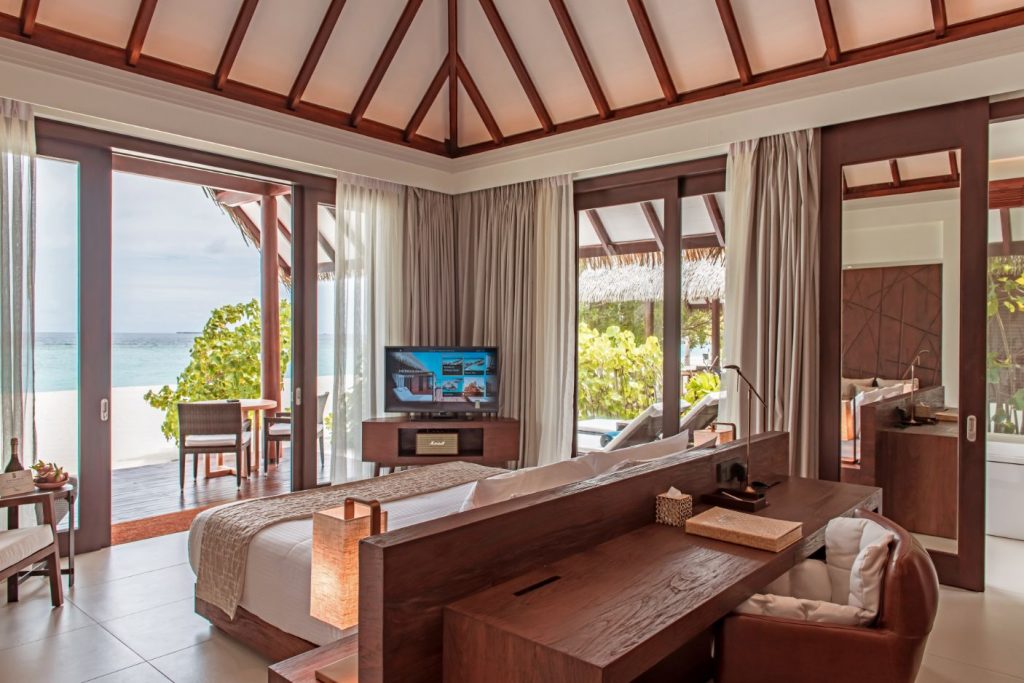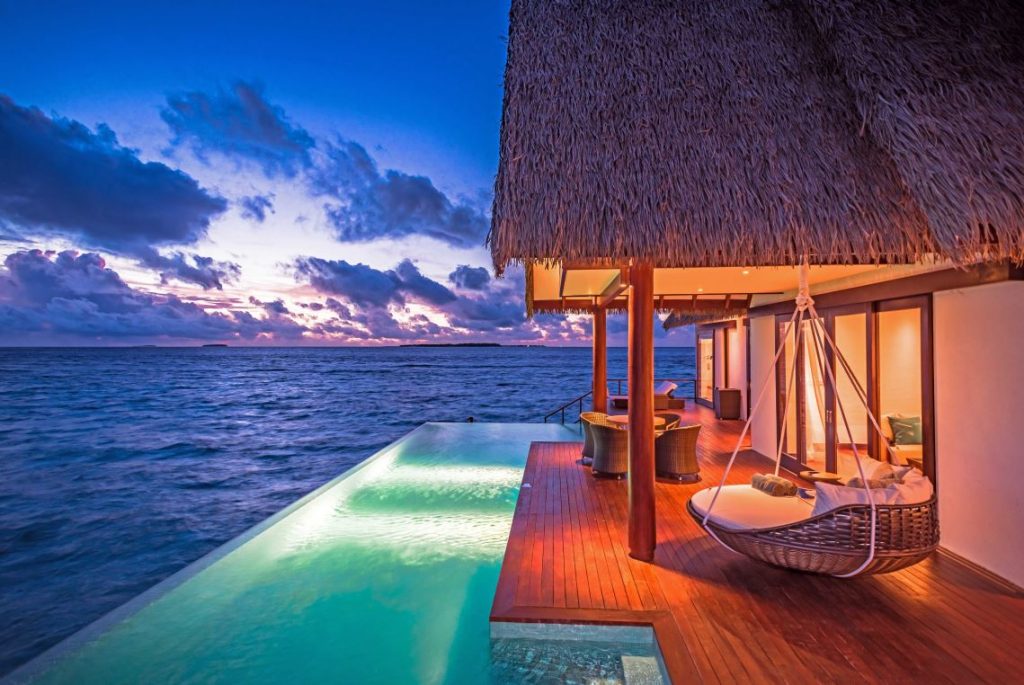 Water Villas
Standing above the dazzling lagoon with a direct view of the beautiful horizon, these luxurious over water villas make for a memorable hideaway experience. Heritance Aarah's Ocean Villas are a romantic escape where nature itself will serenade guests! Guests may also enjoy the added bonus of private pools in Ocean Suites. Also with a brilliant oceanfront view, these rooms provide the luxury of diving into the sea or leisurely soaking in the pool. Both these accommodation styles are suitable for up to 2 adults. The Ocean Residence provides a premium abode for larger groups seeking an ocean view getaway. With 2 bedrooms, a private pool and terrace giving the best view, this secluded sanctuary offers refined luxury and comfort to suit every need.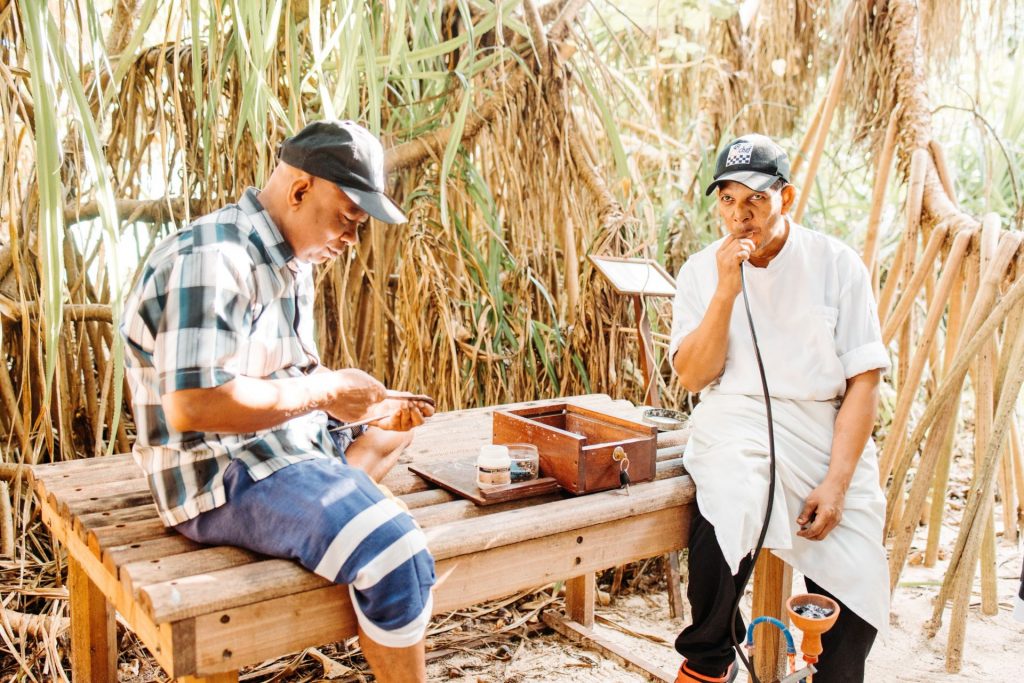 Heritance Aarah Highlight: The Maldivian Village
Heritance Aarah would be incomplete without its tie to tradition. True to its name, the resort seeks to keep tradition alive with its commitment to Maldivian culture. The architecture of the resort itself speaks to this commitment as it reflects the past with its wooden bungalows with thatched roofs. Every moment at the resort is geared towards giving guests a truly contemporary Maldivian experience from arrival to departure.
A novel and praiseworthy initiative, the Maldivian Village is an essential feature of the resort. It was built by the resort staff during the pandemic in order to give guests a traditional island experience at a time when they could no longer take guests to explore neighbouring islands. The village seeks to give guests an authentic island experience and take them deeper into the Maldives by giving an insight into how locals lived in the past.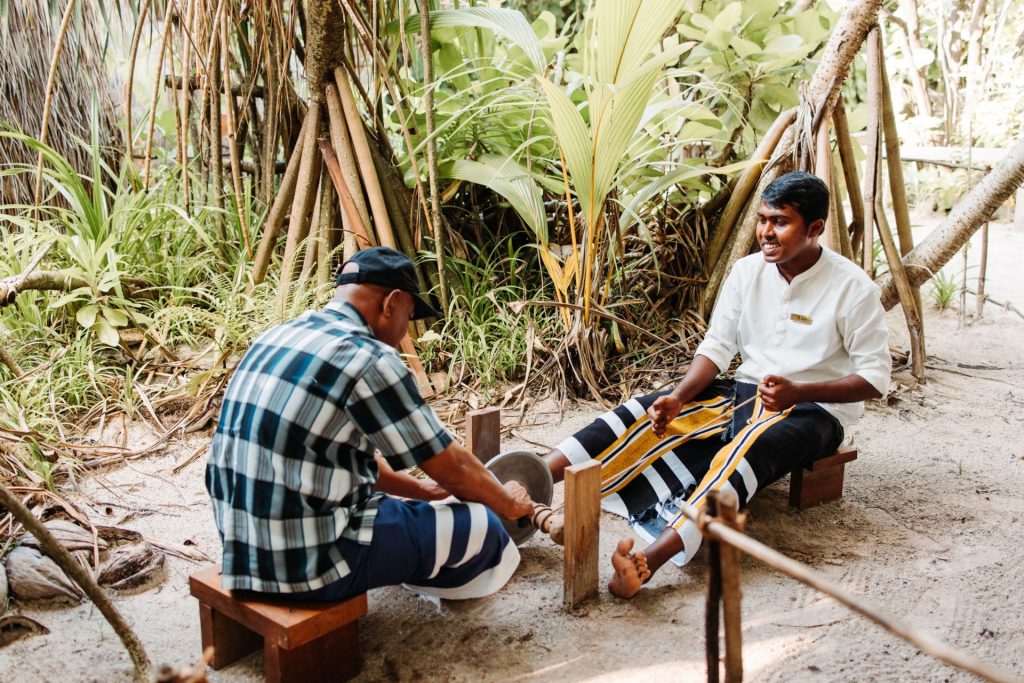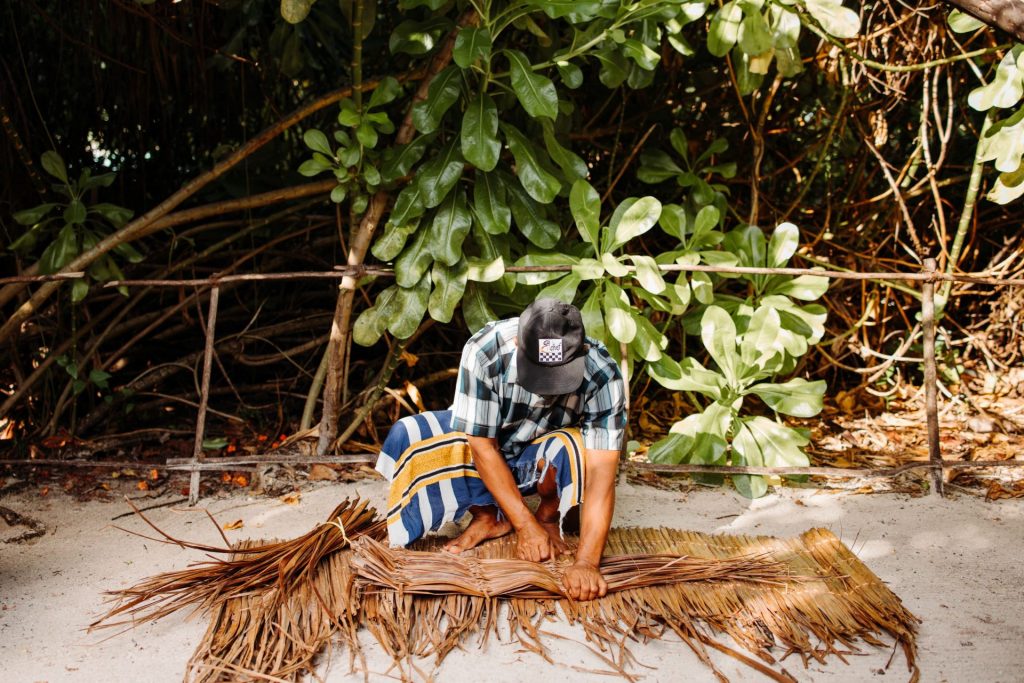 Open once a week, guests are given a 1-2 hours tour of the old-style Maldivian house and a demonstration of local island life. Guests are given an introduction of the Maldives and its history, with the staff acting out how Maldivians used to live. Stepping inside the house gives guests the feel of entering an actual Maldivian village. The house is filled with traditional artifacts such as dhaani, huni gaanaa gondi, old-style beds, as well as a separate gifili as it was in the past.
Outside the house, the village has an exhibition with photographs from the very early days to today, showing food, the progression of the Maldivian currency, the very first tourists in the archipelago, the old society and traditional activities such as the first bodybuilding competition, as well as old photos of turtles, mantas and whale sharks.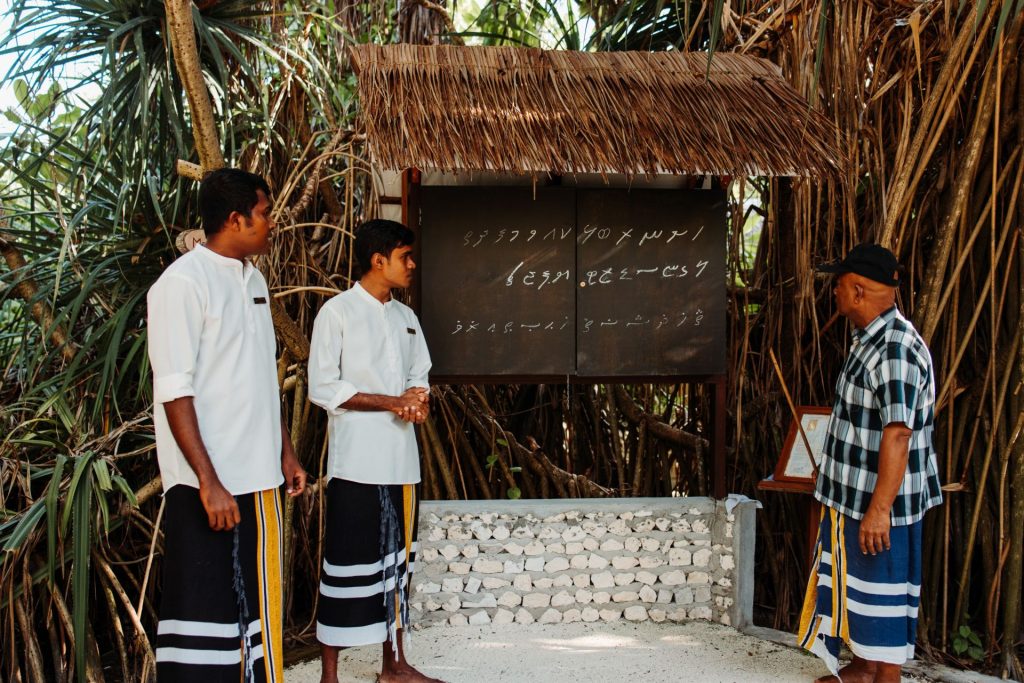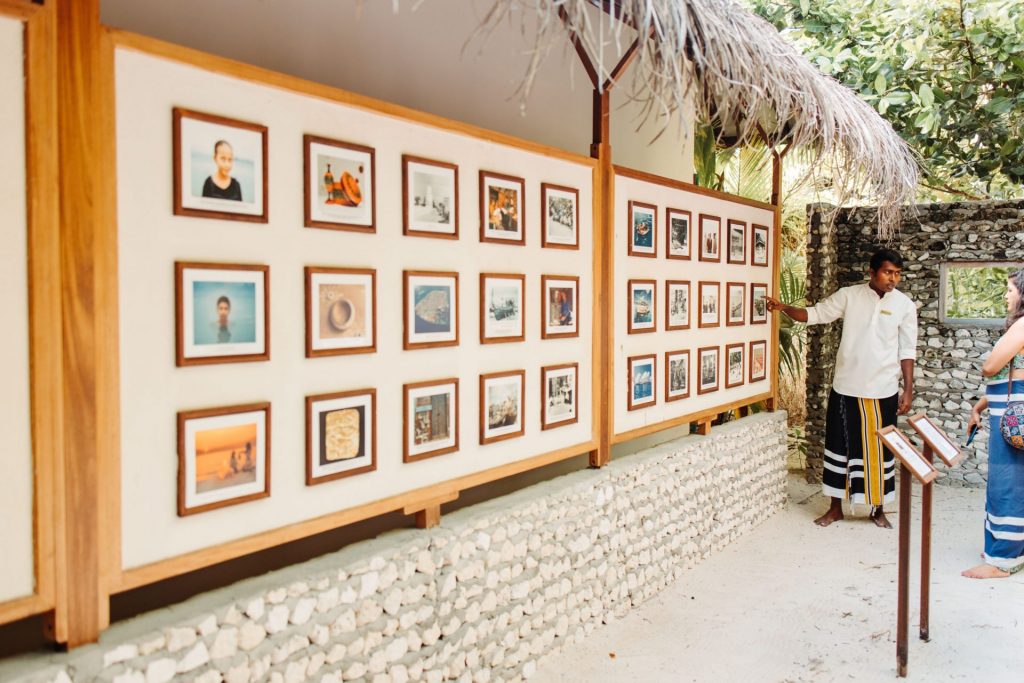 The tour includes various experiences such as teaching guests how to wear mundu, the basic Dhivehi alphabet, habits such as eating areca nuts and smoking shisha and a delicious hibiscus mocktail served in a coconut shell. The tour ends with small traditional treats such as hedhikaa, kaashi and roshi. These details make for a very memorable stay, taking guests' experience to a higher level.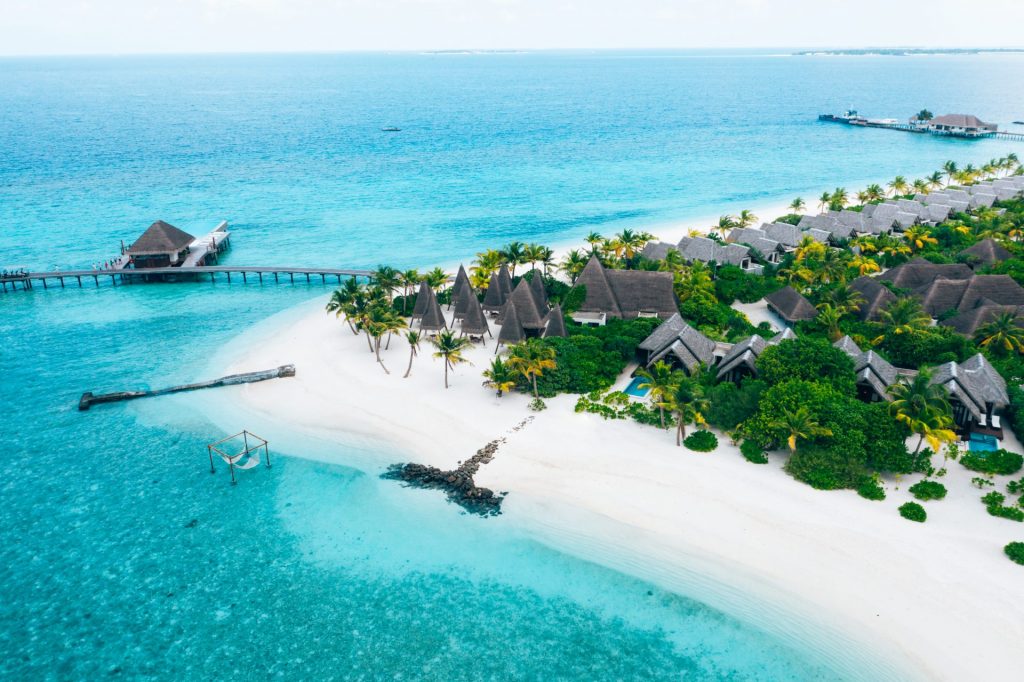 Answer the Call of Adventure with Heritance Aarah
Heritance Aarah welcomes guests to indulge in all kinds of thrills and enjoy an extensive variety of exhilarating experiences, from enticing gastronomic delights to entertaining daily activities and exploring exotic underwater treasures.
Embark on a culinary journey
Heritance Aarah believes in the fine art of gastronomy. It endeavours to take guests on an evocative culinary journey with each meticulously prepared plate of food. The resort presents guests with a host of dining experiences from a variety of cuisines.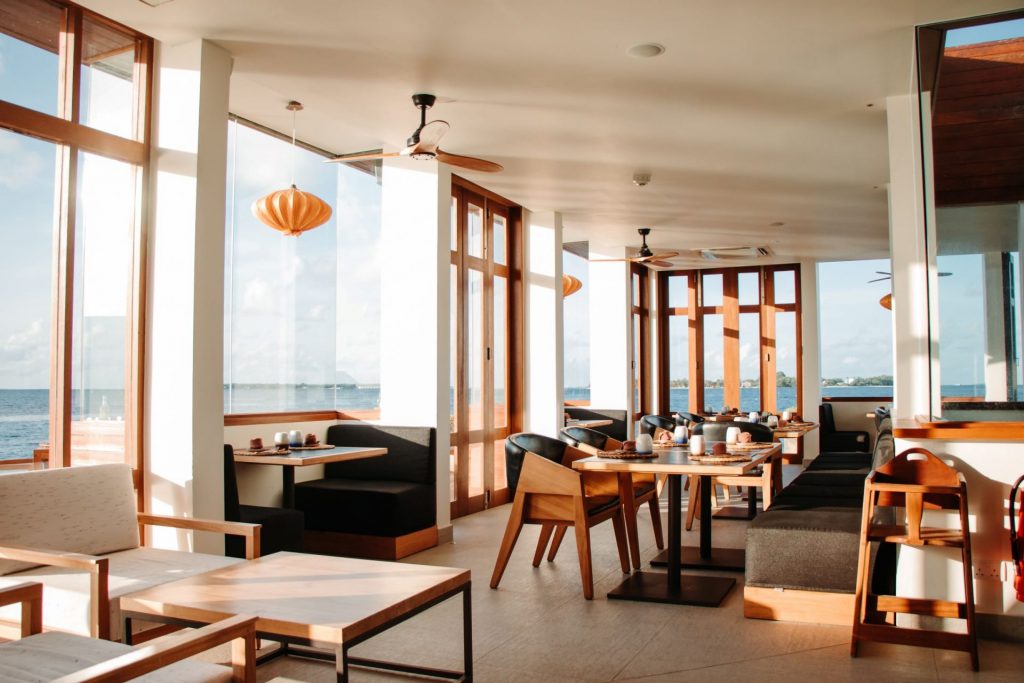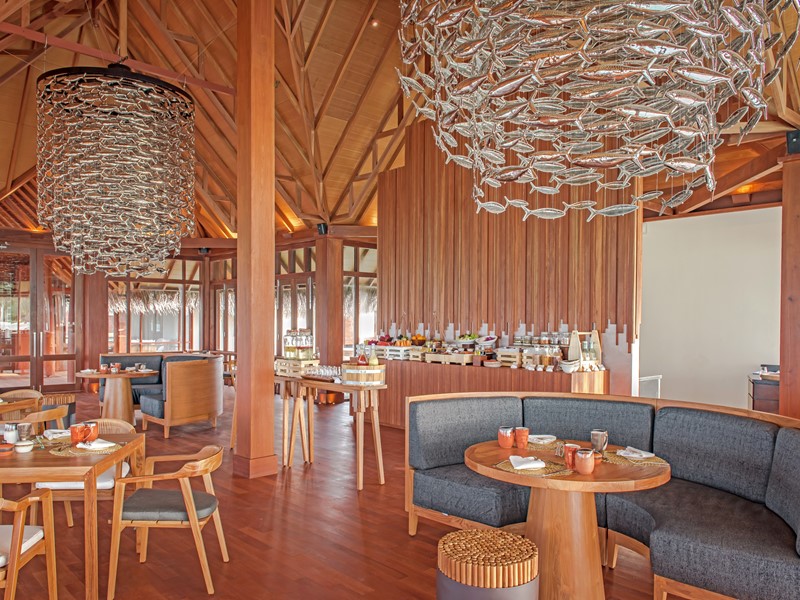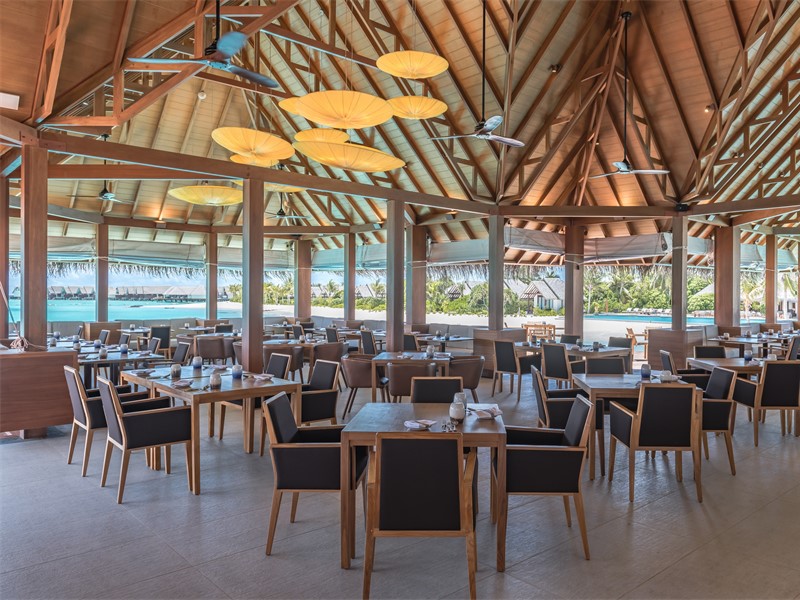 Restaurants
Ranba, the international buffet restaurant serves breakfast, lunch and dinner, and is always ready to accommodate guests' requests for honeymoon dinners, romantic dinners and other special requests. It is also perfect for weddings on Ranba beach, with catering by Ranba restaurant.
The all-day restaurant Ralu is famous for its tantalising and decadent gourmet dishes. Inspired by the brasseries on the Riviera coast, it serves French and Italian Mediterranean food. Guests may opt for a hearty meal from the mini buffet or order from the a la carte menu.
The overwater all-day restaurant and bar, Baani, welcomes guests to immerse themselves in the Parisian charm of its café culture style and socialise as they savour authentic fusions of Middle Eastern and international cuisines. Expert chefs at this Paris-meets-Beirut restaurant are always available to cater to guests' requests. Located in the vicinity of the Ocean Villas, Baani serves Ocean Suite guests exclusively.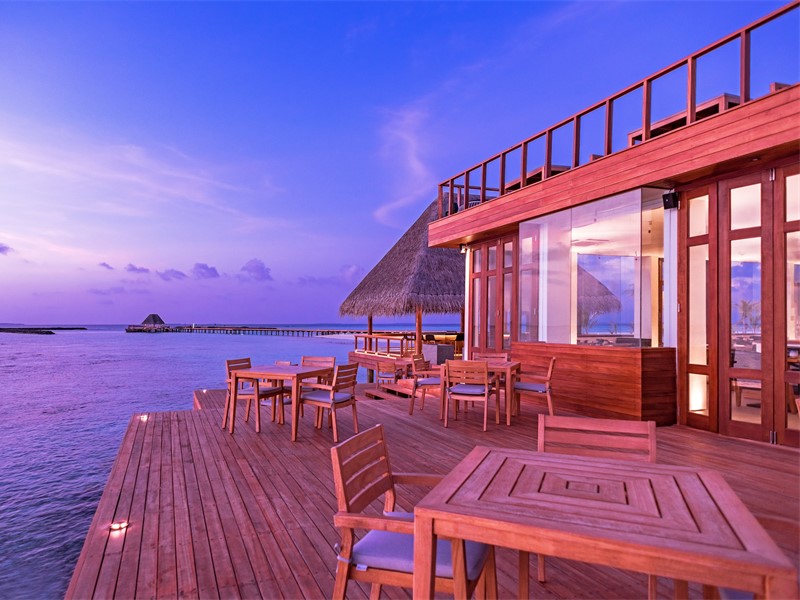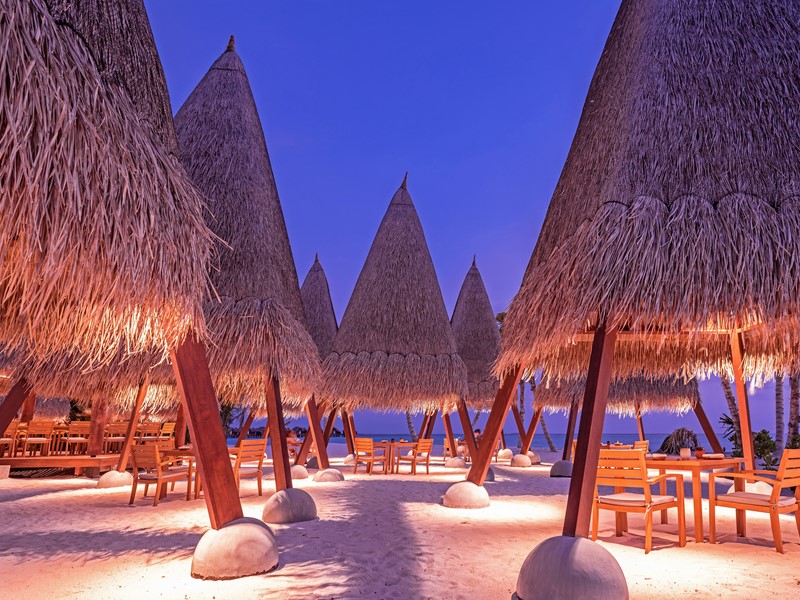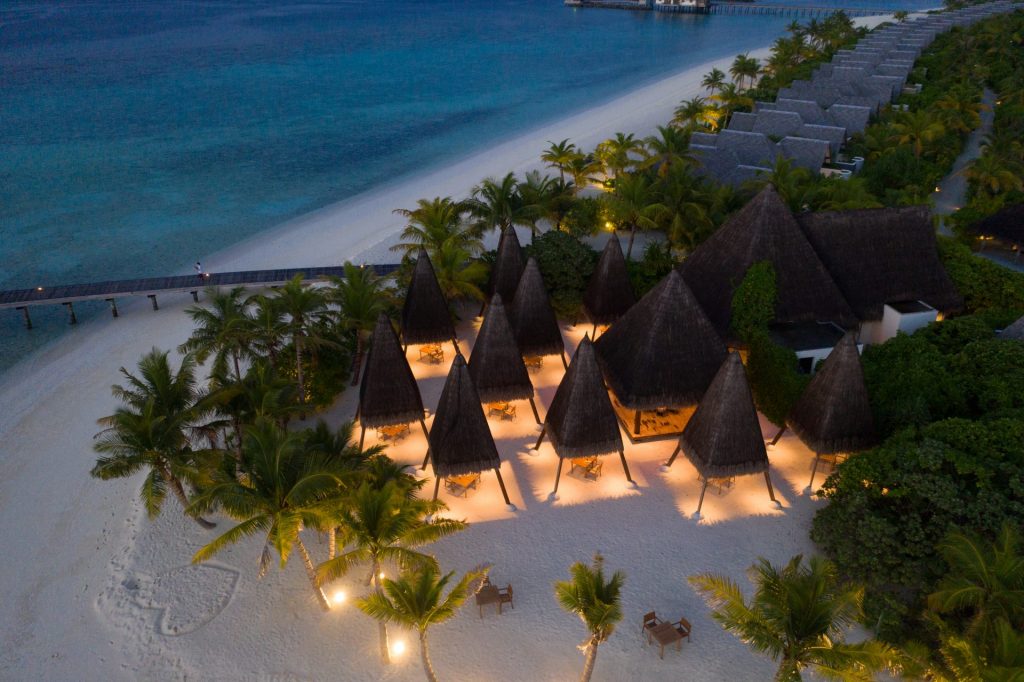 Set on the sandy beach, Ginifati invites guests to kick back and dig into the freshly made seafood in the comforts of private pods. This beach grill with exclusive seating is only open for dinner. With the intimate seating arrangements and its serene ambiance, it makes for the perfect evening.
Hathaa serves guests with experimental and bold exotic flavours from five cities. Set apart by its unique concept, a celebration of cultures, this is a fun and interactive space for guests to embark on a culinary journey across the globe and experience street food in refined dining style.
Ambula serves the trademark 'Heritance' cuisine that captures the very essence of Sri Lanka. At Ambula, the traditional meets the inventive, resulting in a creative curation of exotic food and drink pairings. Offering an explosion of Sri Lankan flavours and spices, this restaurant strives to surprise guests with every dish.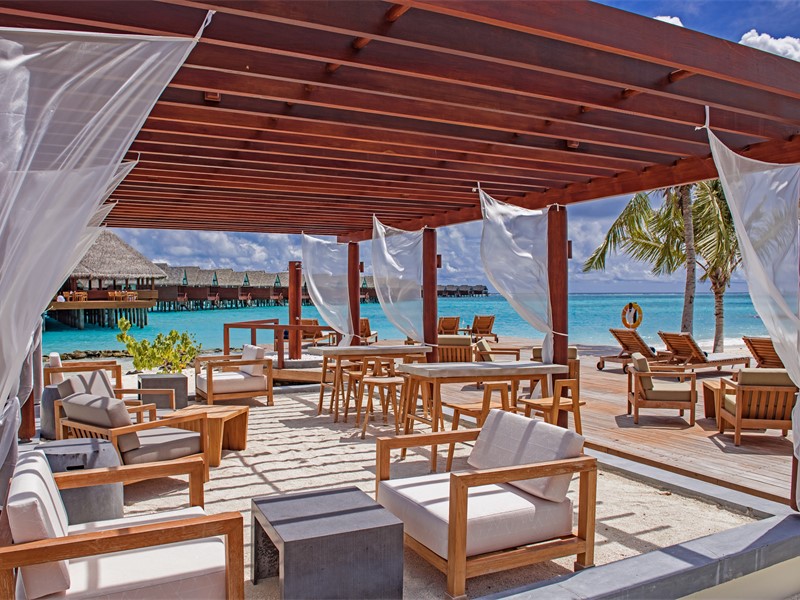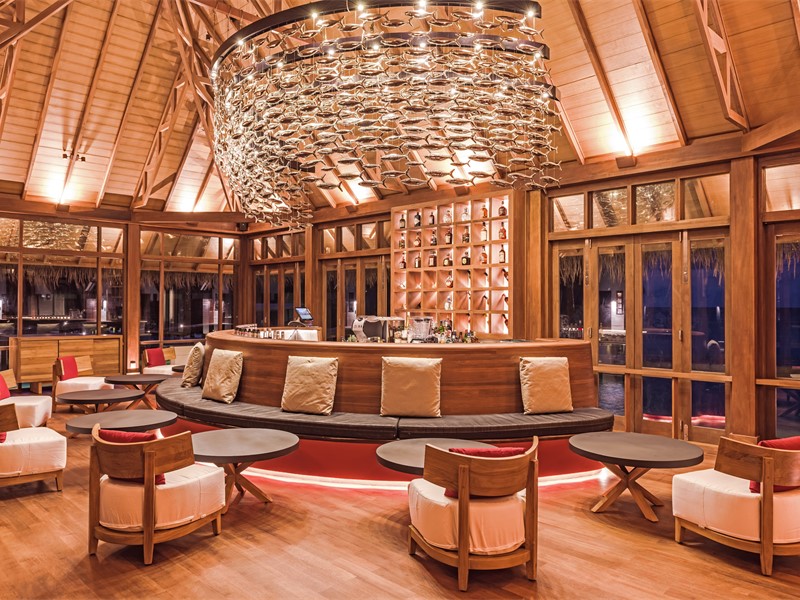 Bars
Additionally, the resort offers a selection of lively bar spaces set close to restaurants scattered across the island, allowing smooth and easy access for guests to sit back with a drink after meals.
Set under the natural shade of palms by the poolside, Bandhi Bar is a lively space for guests to indulge in creative cocktails and snacks all day. This pool bar offers shisha and afternoon pizza and always has either live music by a Cuban duo or DJ at night, setting an enjoyable ambiance.
Falhu Bar, derives its name from the Dhivehi name for 'lagoon', aptly matching its location. Inspired by its neighbour, Baani, this bar serves a variety of long drinks, and is exclusively for Ocean Suite guests.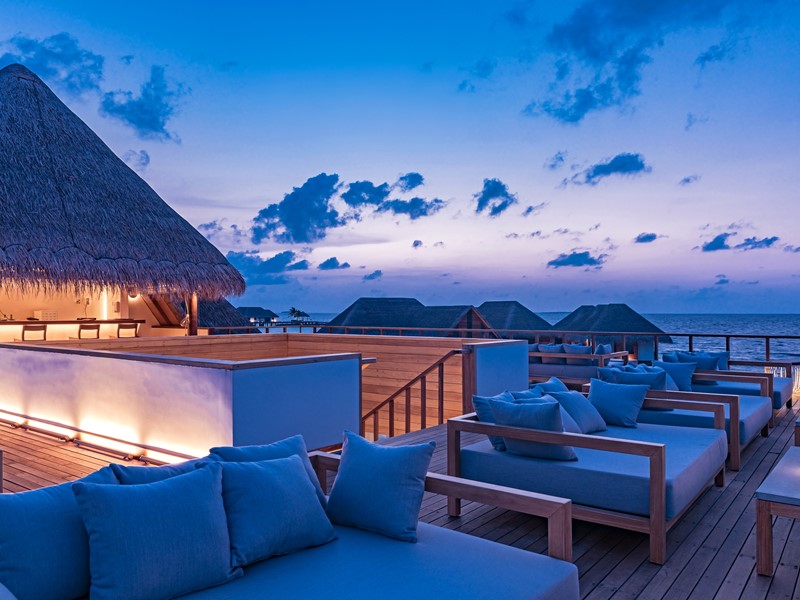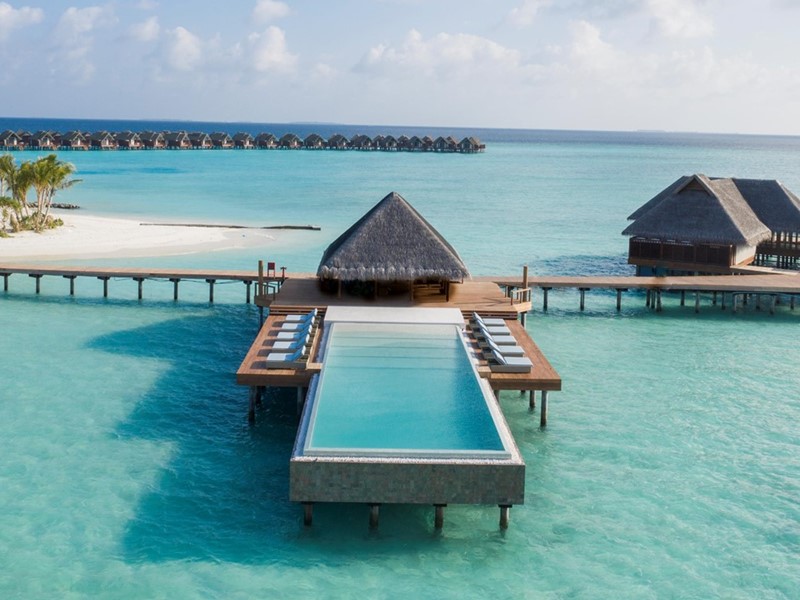 Sky Bar offers guests classic favourites, crazy concoctions, and signature mixes, with a generous serving of the star-studded sky. Set above Hathaa and Ambula, it truly sets the scene for the perfect end to an evening.
Ralu Lounge Bar specialises in rum, offering the largest selection of rum and delicious rum-based cocktails. Guests will be hard-pressed to choose what amazes them more: the mesmerising view or the bar's extensive list of cocktails.
A soulful sanctuary offering bliss and recuperation, Undaras Infinity Pool Bar is the ideal spot to enjoy a simple beer or innovative concoctions whilst soaking in sun and striking scenery.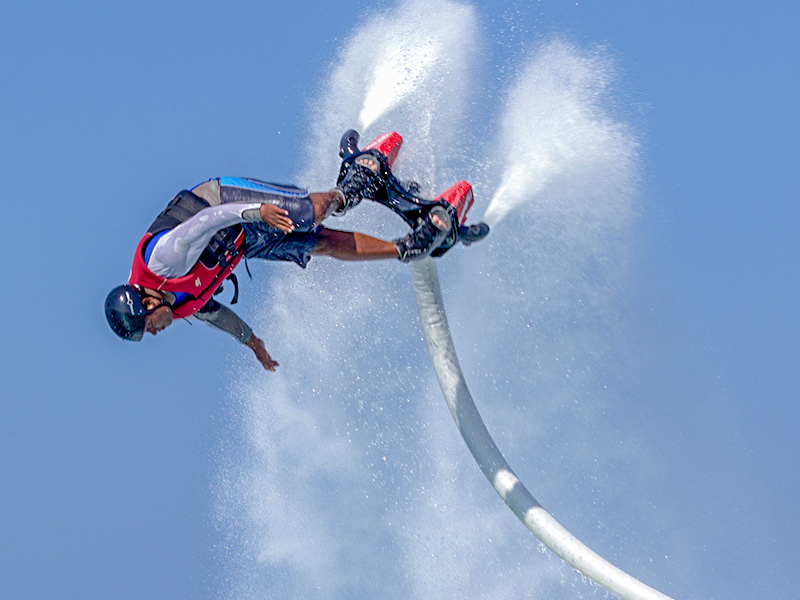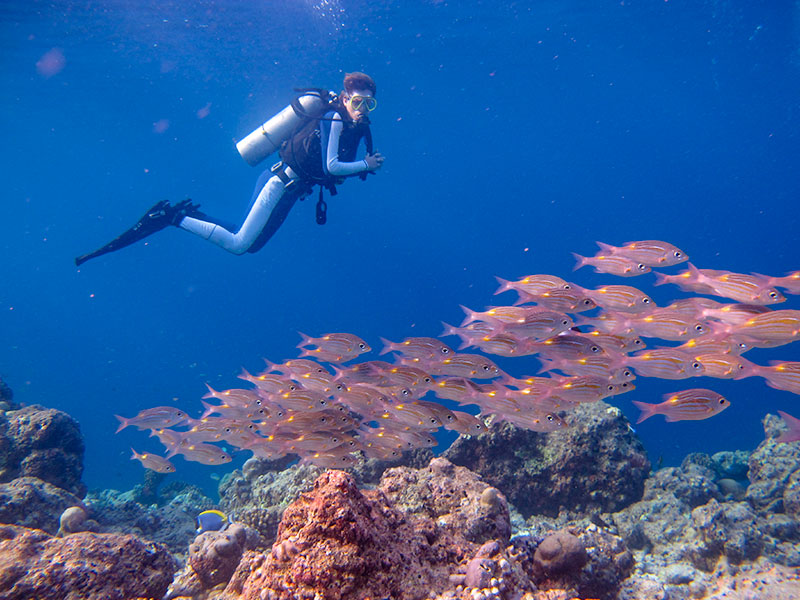 Facilities & Entertainment
Activity-wise, Heritance Aarah covers everything from water sports, diving, sports activities, a recreational centre with a variety of indoor activities, 2 pools, the fully-equipped Veeru gym – the list is endless. Not to mention the key highlight of the resort, the Maldivian Village, the epitome of the Heritance brand, and the daily Maldivian-themed activities held during the day.
Dive Centre & Water Sports Centre
Handled by a third party, KAITO Maldives, Heritance Aarah's dive and water sports centres present guests with an abundance of adventures, suited for both seasoned thrill-seekers and those looking to experience something new for the first time. At the dive centre, guests are welcome to 15 minutes of discovery and enjoy a variety of diving adventures, including entry-level diving, scuba diving, single adventure dives and many more.
The resort also offers a range of water sports, including flyboarding, jet ski rides and excursions, board sports, kitesurfing, catamaran sailing, wind surfing, parasailing and many more. It also offers turtle snorkelling and manta snorkelling. In an average day, guests may see 3-6 turtles and about 15 manta rays. Of course, these are not guaranteed as our friendly neighbours travel freely. Guests may collect their free snorkelling equipment from the dive centre.
The resort also has an exciting treat for guests: 2 complimentary excursions should their stay be less than 6 days and 4 complimentary excursions if their stay exceeds 6 days. Guests may choose their preferred excursions from the list of available options, including sunset cruises, dolphin search cruises, local island visits, snorkelling, windsurfing, canoeing and catamaran sailing.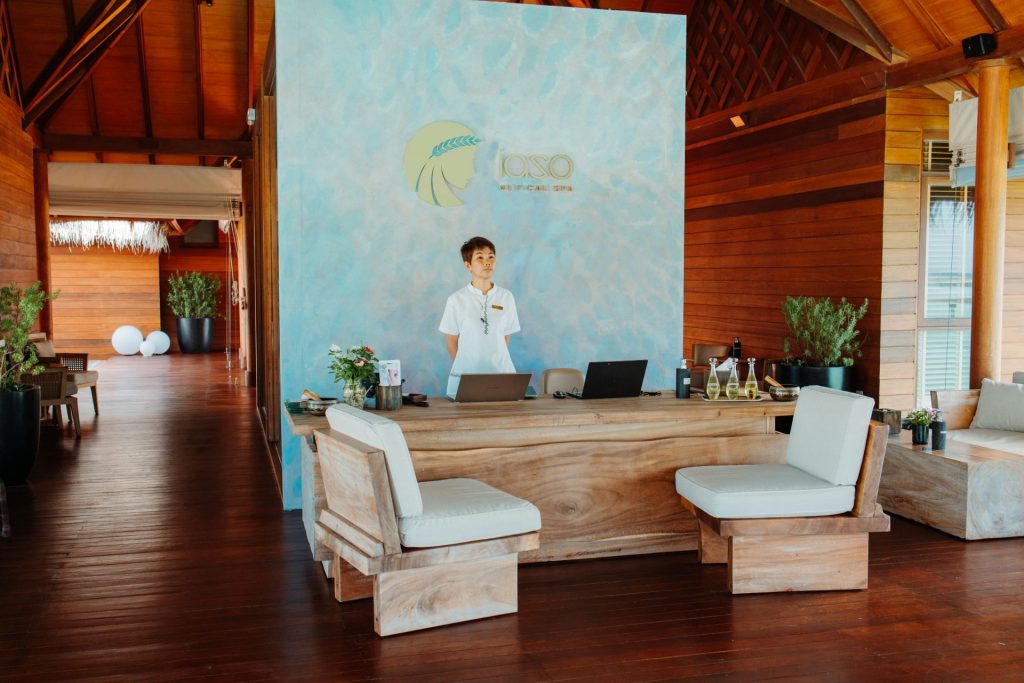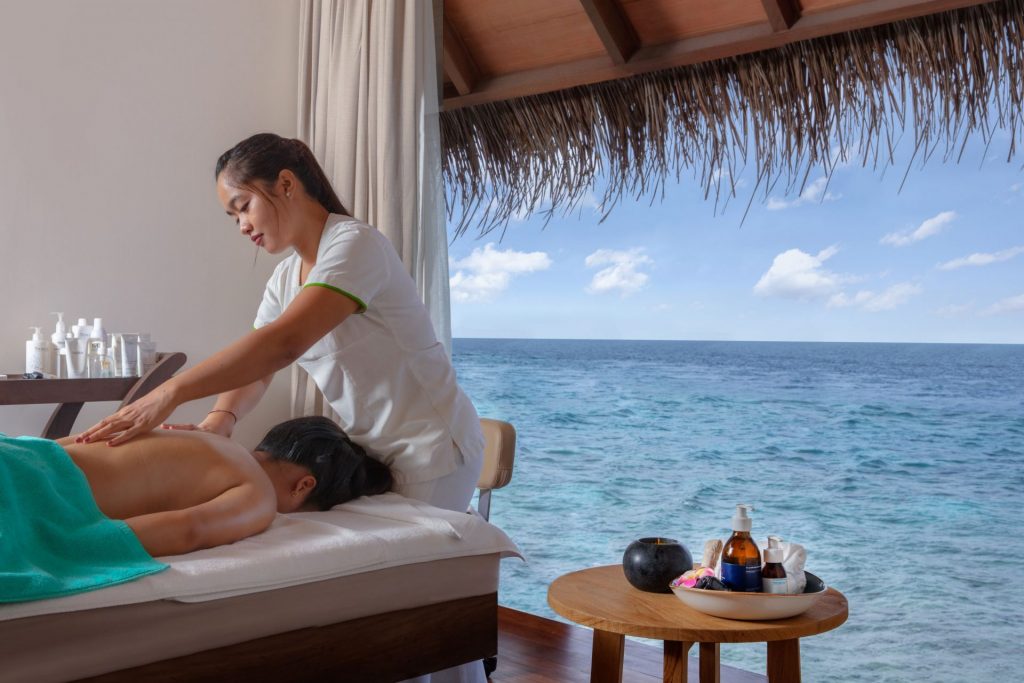 Medi Spa
Heritance Aarah is also home to the exceptional Medi Spa, one of a kind in its provision of both traditional spa and beauty treatments as well as non-invasive medical treatments. Guests mat indulge in holistic healing with Iaso Medi Spa and elevate their much-needed holiday to the next level. The Medi Spa houses 6 treatment rooms and offers not only pampering salon facilities, but also wellness treatments including state of the art medical assessments and diet and nutritional guidance. Set over the lagoon, the Medi Spa's soothing atmosphere is more than ideal to chase guests' stress away. The Spa also has its own shop where guests may buy its products. Additionally, guests whose stay exceeds 2 nights are eligible for credit at the Spa.
Koka Kids' Club and Teen Activity Room
The resort also features a variety of facilities for children at their Koka Kids' Club and Teen Activity Room. The former is the resort's centre for children which provides a range of exciting activities to entertain and cultivate the young minds. With an array of indoor and outdoor activities, each day at Koka Kids' Club brings with it a new adventure as activities differ each day. Besides this, it also has a sleeping area for smaller children, a separate room for babies, and babysitting is available for children aged 2-6 years. Furthermore, the resort's Teen Activity Room features play stations and a computer library accessible for all teenagers.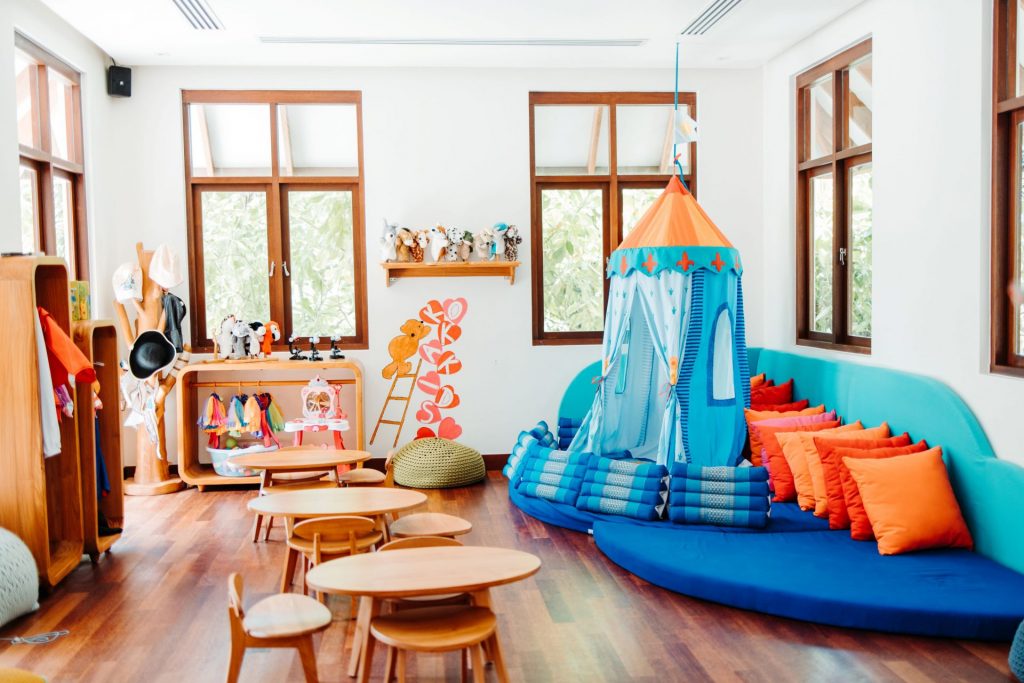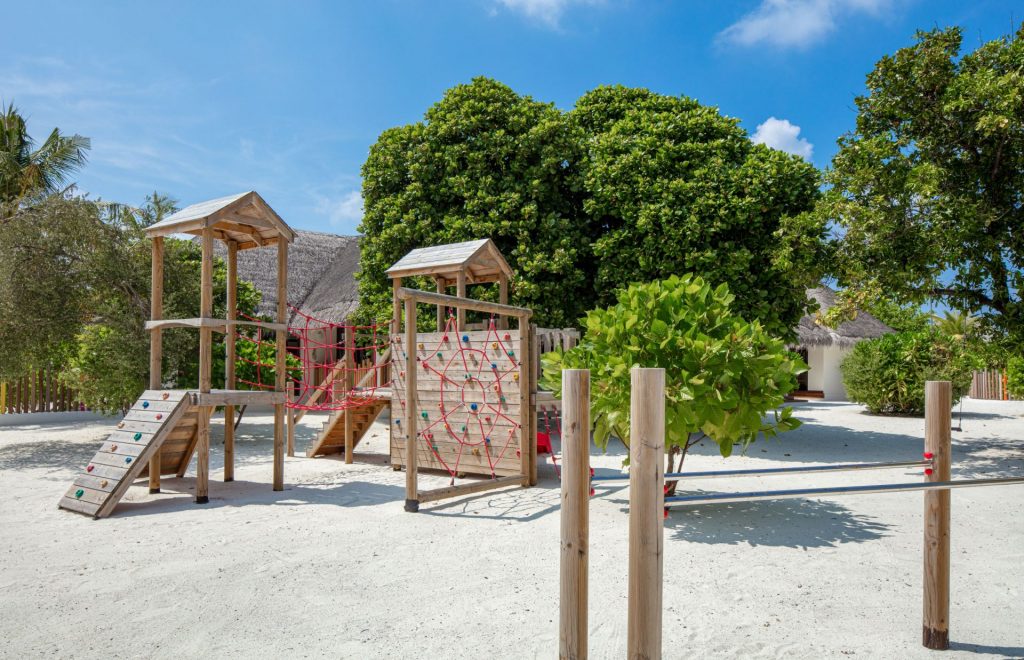 Weddings
What better place to host your wedding than this mesmerising haven? Weddings at Heritance Aarah demonstrate the beautiful meeting of tradition and wonder. With the vibrant beats of the boduberu drums adding a touch of tradition, and the infinitely beautiful hues of the sky, it truly makes for a mystical experience. The resort offers many packages for guests seeking to embark on their new journey together.
Sustainability & Conservation
Heritance Aarah's commitment to sustainability has also be lauded. It is the first LEED (Leadership in Energy and Environmental Design) certified building in the Maldives, giving it recognition for creating highly efficient and cost-saving green buildings. This certification is a globally recognised symbol of sustainability and is the most widely used green building rating system worldwide.
As a resort that believes sustainability is key to becoming a top destination, Heritance Aarah strives to improve sustainability and promote the environment and has a separate team dedicated to sustainability and community services. The back of the house buildings, staff buildings and rooms are all covered with solar panels. The resort's rainwater harvesting system provides the entire resort with about 1 month's requirement by collecting rainwater. Furthermore, hot water generation takes place through the outflow of the generator steam, ensuring the resort does not burn extra diesel to generate hot water. Instead, the generator outdoor steam is condensed for hot water. This is an entirely novel feature, which makes the resort that much more interesting. The resort also saves a lot of energy as it has 100% LED lights; not a single of the approximated 300,000 light bulbs are an exception to this.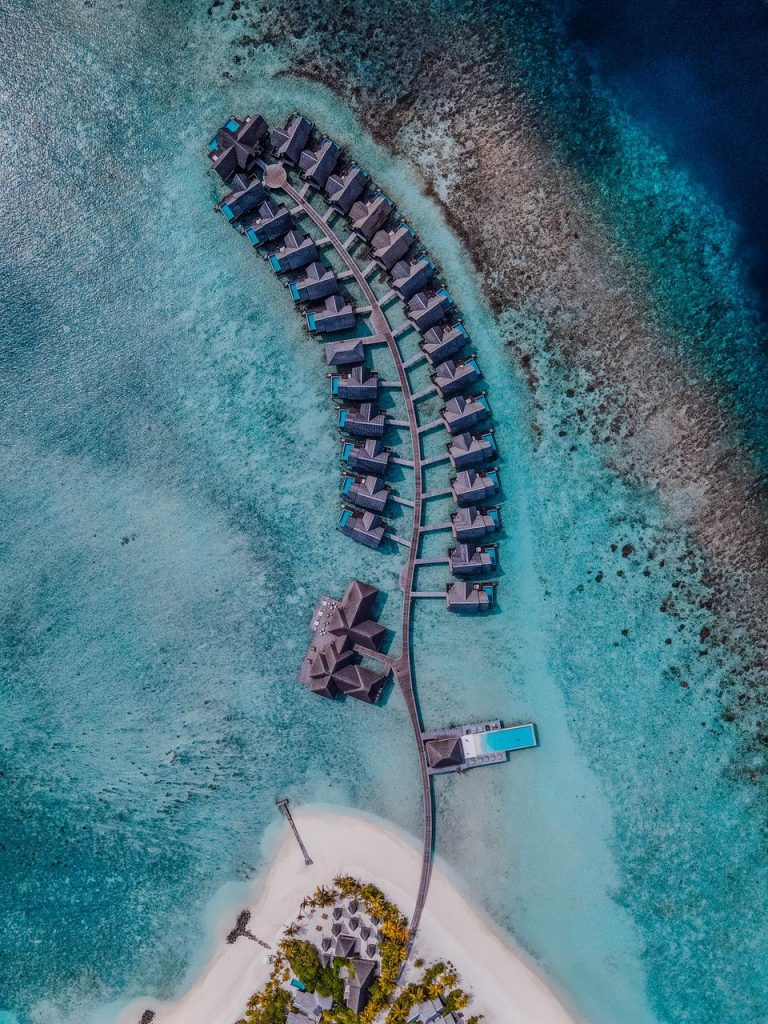 Amongst the resort's programs geared towards environmental protection, an interesting initiative has been taken on by KAITOO. The dive team specialises in marine biology and is working towards coral generation in the shape of the alphabet letters spelling out "HERITANCE". The resort has set a target to be fully plastic-free by 2025The back-end processes at the resort are very strong, both in terms of ensuring plastic-free purchases and the use of biodegradable chemicals. Heritance is keen to be fully plastic-free by 2025. 
Additionally, resort also conducts a multitude of CSR programs with the community, supports the council and local health centre and sources local products such as fish, fruits and vegetables from nearby islands. Furthermore, the resort's strong learning and development teach recruits and trains local youth, with both Heritance Aarah and Adaaran Select Hudhuranfushi serving as the two bases for training.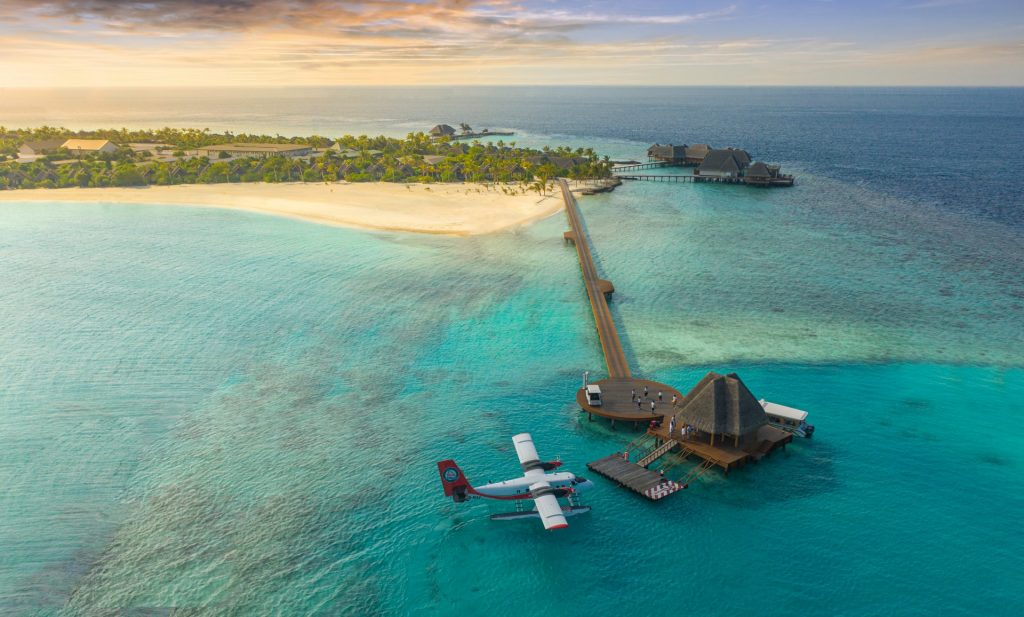 Departure
With a single sandy step into the paradisiacal oasis of Heritance Aarah, it is sure to leave guests wanting for more! The Maldives' one island, one resort concept provides total seclusion and tranquillity, allowing guests to unwind and disconnect from their daily routine. As mentioned before, guests are immersed in a fully local experience for their entire duration of their stay. True to this promise, guests are sent off with a unique farewell, with a platter of flames and a prayer wishing them a safe journey and another holiday back at the resort. This tradition reflects local wives' prayers for husbands when they leave on fishing trips.