Male' Maldives, 25th September 2022 –AirAsia has been crowned the World's Best Low Cost Airline at the Skytrax World Airline Awards 2022 for the 13th consecutive year.
Considered the global benchmark of airline excellence, the Skytrax World Airline Awards 2022 were decided by a survey of 14.3 million customers of over 100 nationalities who have reviewed over 300 airlines from September 2021 to August 2022. Edward Plaisted, CEO of Skytrax said: "AirAsia redefined low-cost air travel in Asia and despite the recent post-pandemic challenges, continues to be a firm favourite with customers. Winning the award for the World's Best Low Cost Airline and an extraordinary 13th time is a fantastic achievement, and we congratulate all the members of the AirAsia family on this momentous occasion."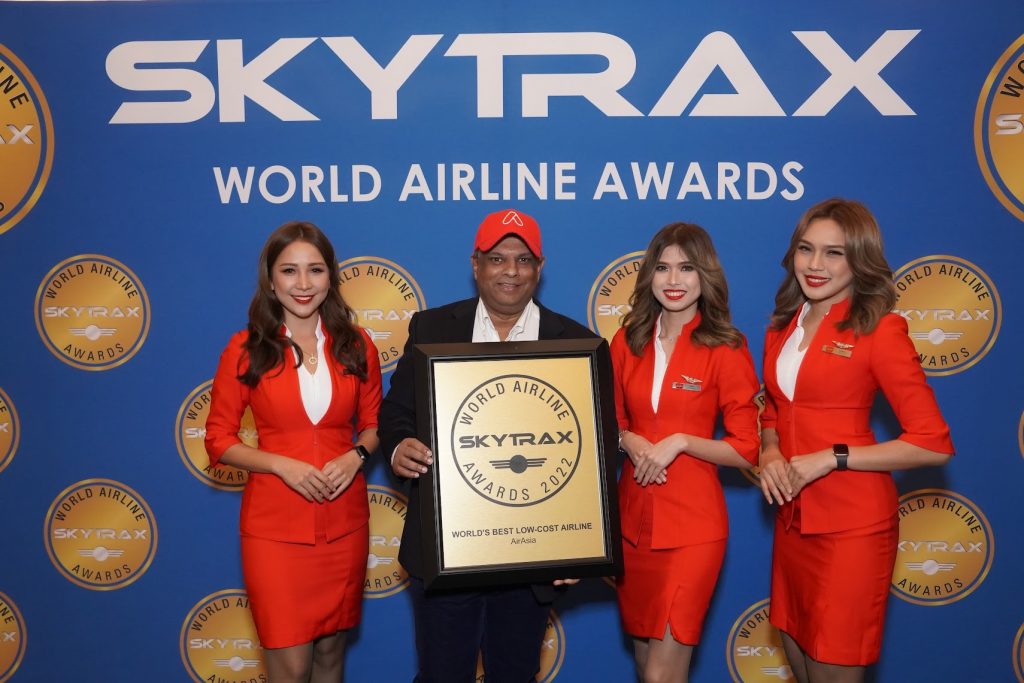 Congratulating AirAsia on the Award, Prime Minister of Malaysia Dato' Sri Ismail Sabri Yaakob said: "Congratulations to AirAsia for winning this prestigious award for 13 years in a row. This is indeed a great milestone not just for AirAsia, but also for Malaysia as well. AirAsia has been a trailblazer in revolutionising low-cost travel in Malaysia and Asean, contributing significant tourism and economic benefits to our great nation. Thank you AirAsia for continuing to put Malaysian aviation on the world map."
CEO of Capital A, Tony Fernandes who received the award at the Langham Hotel in London on Friday said: "We did it again! This year feels more special than previous years, as voters supported us despite the most difficult past few years triggered by Covid. The fact we are back in the sky is incredible in itself with no big business benefactors and virtually no flying for close to two years. 
He continued, "My sincere gratitude goes to the Skytrax organisers, to the more than 700 million guests who have flown with us and to those who have chosen to vote for us in these passenger's choice awards time and time again. Last but not least, I'd like to dedicate this award to my fantastic team of Allstars, whose unwavering can-do spirit and attitude has led us this far.
"If there is one silver lining of the past few years, we have used the downtime in flying so we can return stronger than ever. Just a few days ago, we had record day sales, and using our data and our tremendous brand, we are now able to provide our guests with a complete travel ecosystem where they can enjoy travel, e-commerce, logistics and fintech from our travel and lifestyle platform.
"Finally I see blue skies ahead once again. We have survived, we have rebuilt and we are recovering to deliver greater value and choice than ever before."