Male' Maldives, 18th January 2023 – The World's Leading Destination, the Maldives has welcomed more than 92,839 tourists by 17th January 2023. This is an increase of 21.9% from the 76,115 arrivals recorded in the same period of 2022 and a significant increase from 50,662 arrivals recorded in 2021.
The highest daily arrivals so far this month was recorded on 3rd January, when more than 6,400 visitors were welcomed at Velana International Airport (VIA). The daily average for the newly commenced year is at 5,461, with tourists staying in the Maldives for an average of 8 days.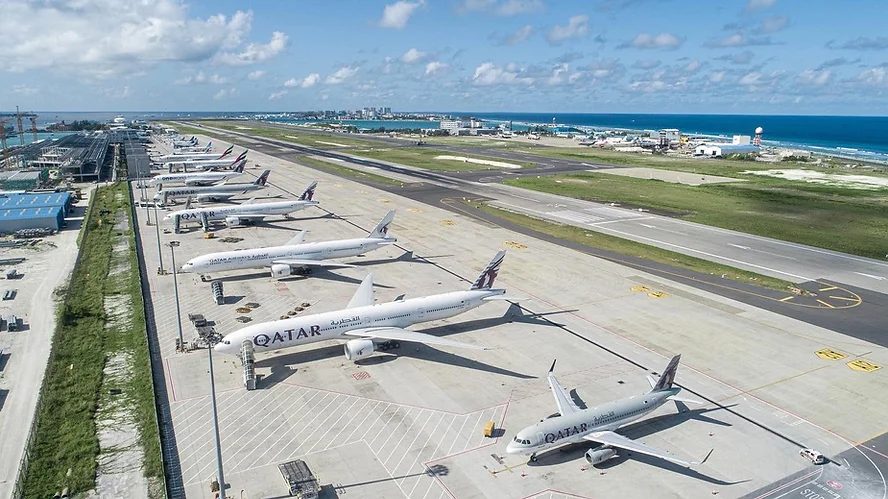 The statistics go on to reveal that Russia has topped the source market for the archipelago nation's tourism, contributing 15.4% of the market share with 14,342 arrivals recorded from the country so far. Second comes Italy, contributing 11.3% with 10,506 arrivals. Coming in third is India contributing 9.3% with 8,589 arrivals whereas 2022 had ended with it as the top source market for Maldives tourism.
Current highest tourism arrivals in Maldives: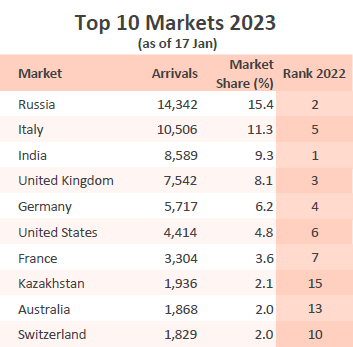 According to Ministry of Tourism, 1,212 tourist accommodations are currently operational across Maldives with 59,734 beds in use. These include 168 resorts, 13 hotels, 874 guesthouse and 157 safari vessels. Guesthouse are in service across 117 islands spanning 20 atolls, with hotels operational in seven islands of eight atolls.      
Currently, the Maldives is experiencing the peak tourism season with a large number of tourist arrivals. The Maldives welcomed its first visitor of 2023 with a special ceremony held at VIA for Nikolai Startikak and his family from Russia who was visiting the destination for the first time. Due to COVID-19 pandemic and the closure of international borders, 2020 was the sluggish year for Maldivian tourism industry as shown by the 555,494 arrivals at the end of the year. Tourists arrivals began to bounce back with the ease of travel restrictions as well as safety measures against the pandemic in 2021 as seen by 1,321,937 arrivals at the end of the year.
In 2022, the Golden Jubilee year of Maldivian tourism industry, the destination welcomed a record 1,675,303 tourist arrivals, successfully achieving its target of 1.6 million tourists. As such, Maldives has been awarded the World's Leading Destination three times in a row. The government has set a target of the record-number of 1.8 million tourist arrivals in the Maldives on this year.