Male' Maldives, 27th February 2023 – AirAsia X Berhad has announced its financial results for the Sixth Quarter of 2022 (6Q22) and the full full financial report for the year 2022. The Company recorded a significant improvement in revenue of RM339.3  million (EST. USD 75.8 million) in 6Q22 by carrying 337,638 passengers, boosted by the year-end peak travel season. In addition, average base fare in 6Q22 was a record-high at RM866 (EST. USD 193) strengthened by the continuing pent-up demand for international air travel within the region. Ancillary revenue per passengers marked RM196 (EST. USD 43) during the quarter, up 17% compared to the same period in 2019.
Passenger Load Factor ("PLF") was healthy at 79%, up  six percentage points from the previous quarter, and showed an over 97% recovery of the same period in 2019. These positive key metrics resulted in the Company posting net operating profit of RM149.6 million (EST. USD 33 million) and net profit of RM153.5 million (EST. USD 34 million). The Company has also managed to strengthen its cash position, which stood at RM181.9 million (EST. USD 40 million) as of December 2022.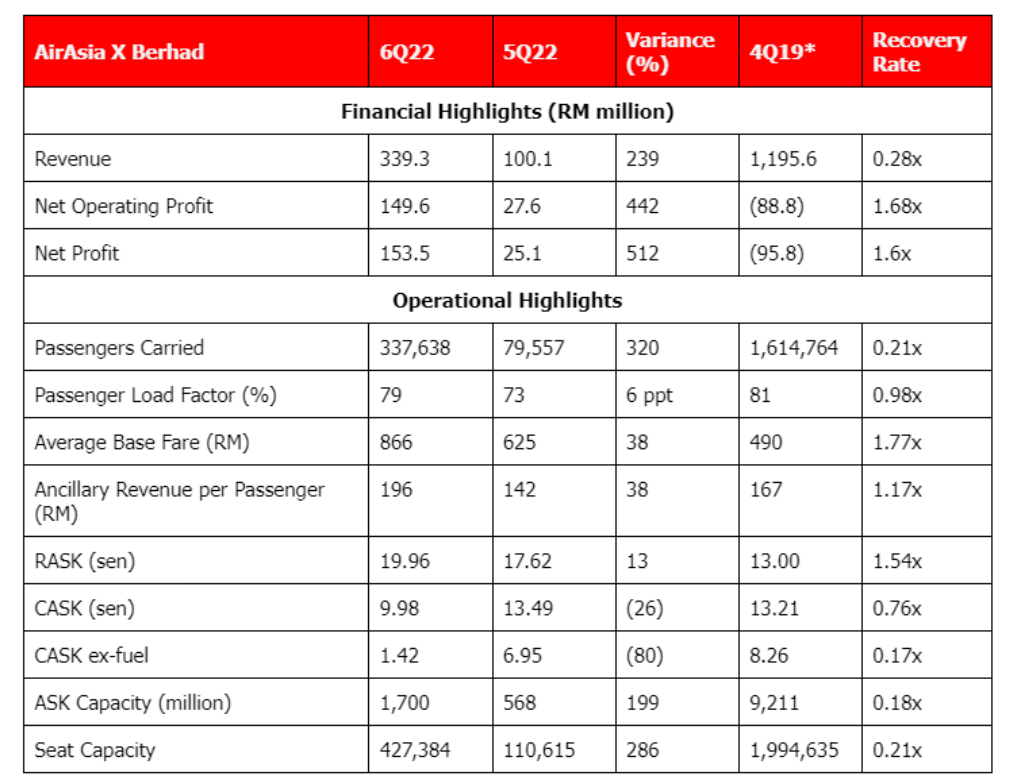 On a full financial year basis, the Company reported a revenue of RM878.2 million ( EST. USD 196 million) and a net profit of RM33 billion (EST. USD 7 billion), predominantly attributable to the return of scheduled passenger flight operations in the second half of 2022 as  travel restrictions ease. Driven by the return of demand after a two-year lockdown period, the Company carried a total of 417,195 passengers during the year, with a healthy PLF of 78%. 
AirAsia X CEO Benyamin Ismail said: "For the year 2023, the Company expects to relaunch more of its profitable destinations and looks forward to  the return to China with the announcement of the reopening of the country's border in January 2023, in addition to our planned inaugural flight to Turkey this year. Most recently in February 2023, we resumed services  to Busan, South Korea, and have added more flights to the existing routes in our network. 
The Company is optimistic of the upward fare trend in the near term as demand for international air travel remains high. As we rise up to meet the ever-thriving demand for flights, we are diligent in ensuring that aircraft within the Company's fleet will be operational within the stipulated timeline, with all safety requirements met.  By the year 2024, we expect to have a total of 17 A330s within our fleet, active and operational."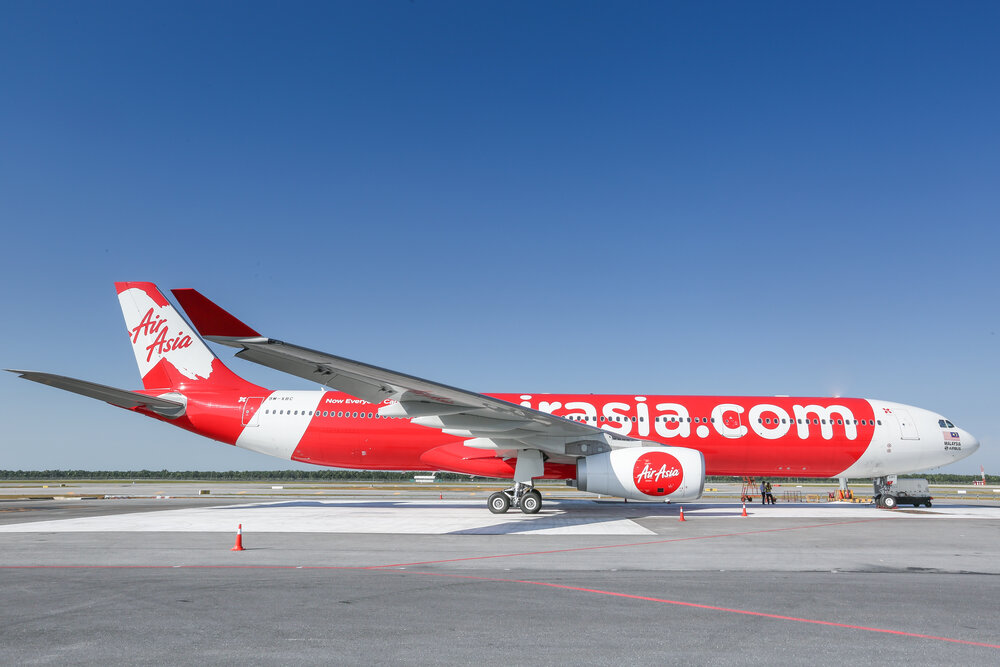 In terms of associate's performance, the Company is pleased to announce that AirAsia X Thailand ("TAAX") posted a revenue of RM264.2 million (EST. USD 58 million), with a net profit of RM357.3 million (EST. USD 79 million on the back of unrealised forex gain; barring the gain, TAAX's core net profit would be RM12.8 million (EST. USD 2 million). TAAX's cash position for the period ended December 2022 stood at RM199.3 million (EST. USD 44 million). For the year, TAAX carried a total of 279,707 passengers, with a very high PLF of 88%. Beginning in June 2022, TAAX launched flights to Seoul and ended the year with additions of Tokyo-Narita, Osaka, Sapporo, Sydney and Melbourne within its network.
As of the end of December 2022, AirAsia X's fleet size stood at 14 A330s, with seven aircraft activated and operational. TAAX's fleet size for the same period stood at eight A330s, with five aircraft activated and operational.