Male' Maldives, 3rd May 2023 – Oaga Art Resort Maldives is a stunning luxury resort nestled on the serene island of Maaranfushi in the heart of the Maldives. The resort boasts a unique concept of combining art and nature, creating an immersive and mesmerizing experience for all its guests.
The moment you step onto the resort, you are greeted with a breathtaking view of the crystal-clear waters of the Indian Ocean, which surrounds the island. The lush greenery and vibrant flora add a touch of tropical paradise, creating a sense of calm and relaxation. Upon arrival at the resort, the guests are greeted with a warm welcome of a Maldivian dance and a refreshing drink, followed by an island tour buggy ride.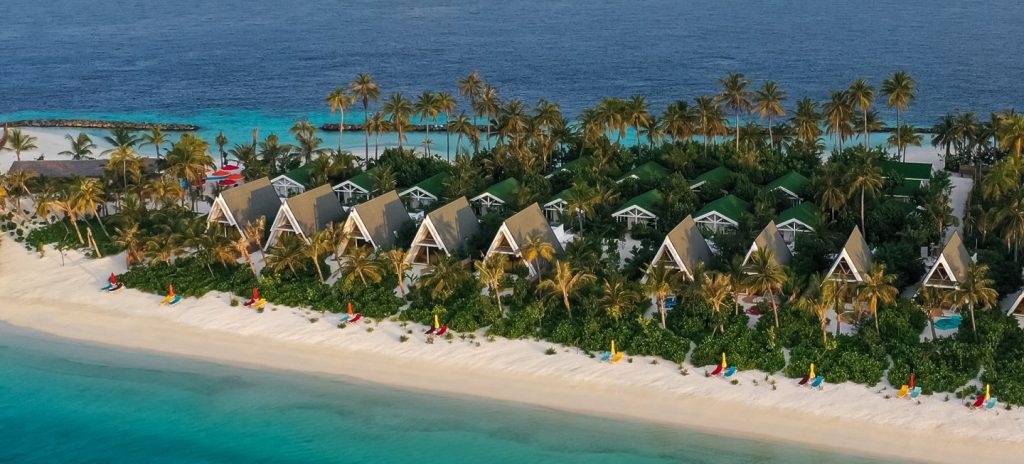 The resort's architecture is a beautiful blend of traditional Maldivian style and modern design. The villas are constructed using natural materials such as wood and stone, which complement the surrounding environment. The interiors of the villas are spacious and elegantly designed, with attention to detail given to every aspect of the decor. The villas are equipped with modern amenities, ensuring the guests' comfort and convenience. Oaga Art Resort offers two room categories for its guest to enjoy their stay at the resort; Veyoge Gallery Pool Villa and Haruge Beach Villa with private pool.
Veyoge Gallery Pool Villa (Direct translation: Leaf vine house), which is a mystical cabin featuring an exquisite art collection. Inspired by the Maldivian folklore of star-crossed lovers 'Khalid and Sitti', the garden villa is enhanced by the invisible mirrored exterior that recalls the secrecy of the lovers' affair. The decor is modern and sophisticated, with luxurious furnishings and beautiful artworks that reflect the resort's commitment to art and culture. The art exhibition on the wall of the villa, which is a part of its in-house art collection from Maldivian artists. The villa features a private pool which steams leading directly to the pool at Sobi Bar, creating a sense of endless possibility and freedom. The Veyoge Gallery Pool Villa is the perfect place to unwind and reconnect with nature, while enjoying all the comforts of modern luxury. 
Haruge Beach Villa with private pool,  a true oasis of luxury and relaxation. The villa is designed to provide guests with an unforgettable experience, surrounded by pristine white sand beaches, crystal-clear waters, and lush greenery. The villa's interior is spacious and elegant, with modernistic A-frame, angling roofs, high ceilings and large windows that offer breathtaking views of the ocean. It also consists of the most dear stories in the history of Maldives, with brightly colored murals depicting the legend of two lovers — Dhon Hiyala aa'i Alifulhu. Oaga Art Resort's Haruge Beach Villas reimagine their epic story, full of splendor, magic, and wild creatures from the deep blue sea.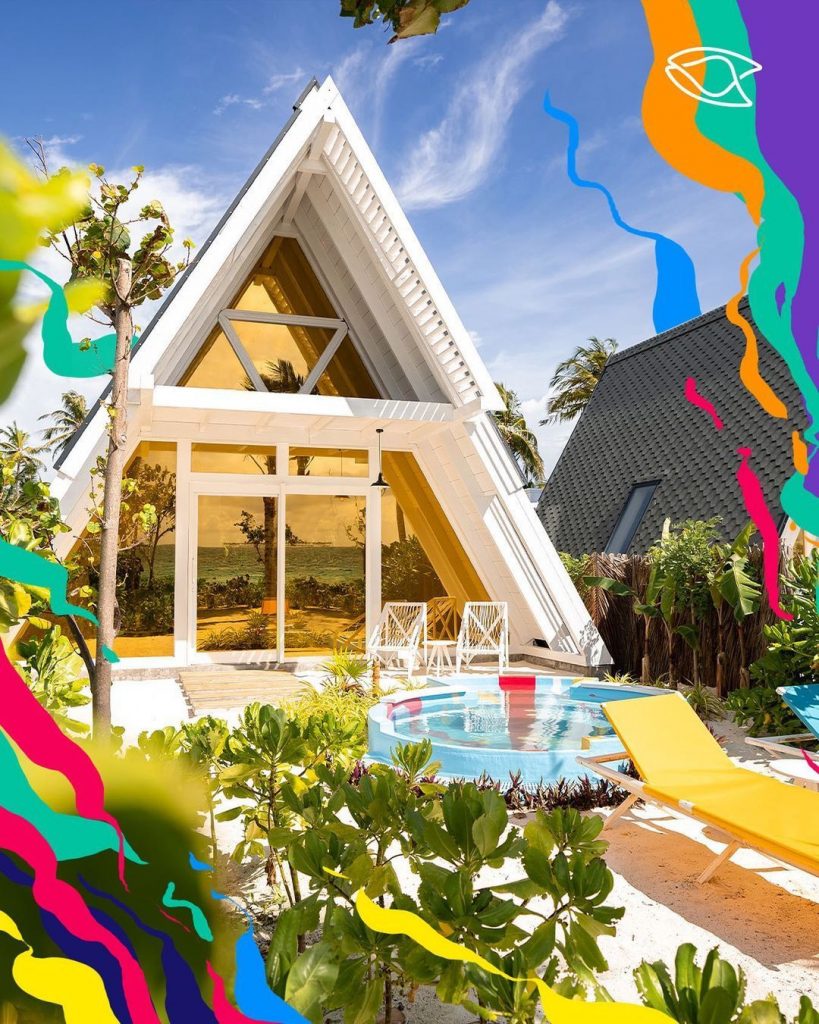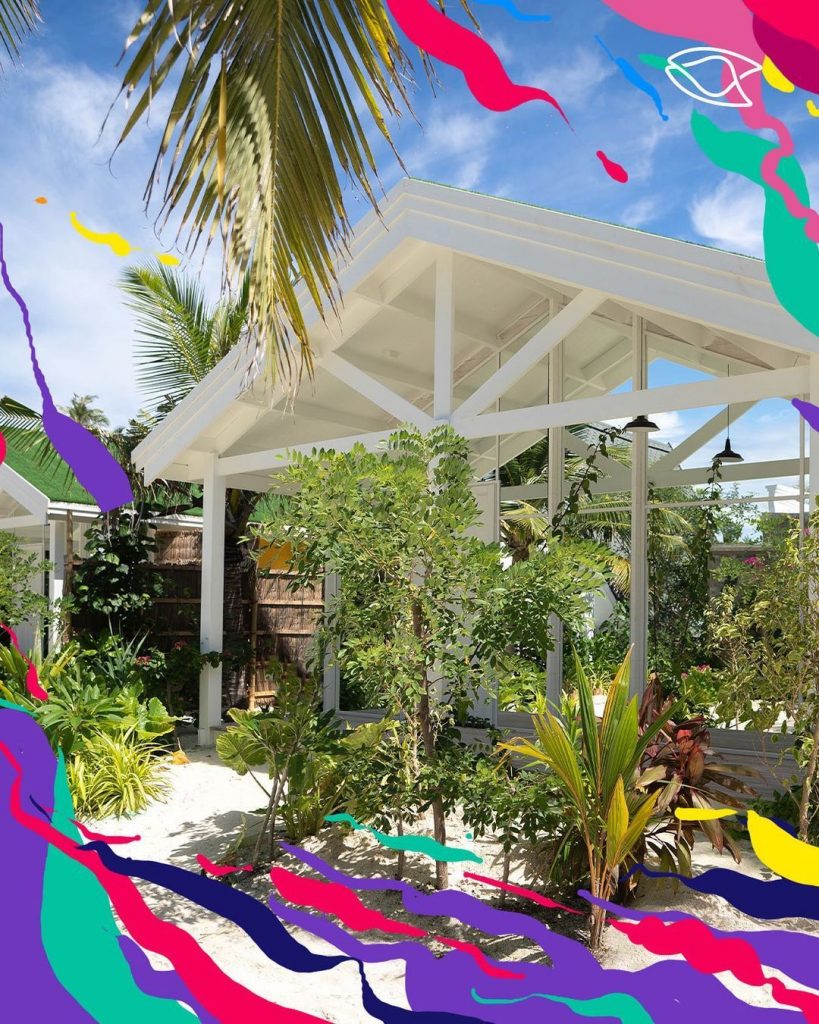 In addition, both villas are equipped with all the latest amenities, including air conditioning, Wi-Fi, and entertainment systems. Guests can also enjoy access to all the facilities and services offered by the resort, including water sports, spa treatments, and cultural experiences. 
Oaga Art Resort Maldives offers a range of unique and unforgettable experiences, designed to create a truly memorable stay for its guests, like offshore watersport activities, snorkeling and diving, exploring the vibrant coral reefs and exotic sea creatures. Other activities include beach picnics, sunset cruises, cooking classes, high tea, Take a note music classes and other cultural experiences.  Furthermore the resort offers Art Creative Expression, where guest can choose  from a range of workshops and classes led by experienced instructors at Suvāsthi Retail & Art Gallery who will guide the guests through the creative process and help bring your artistic vision to life. Whether you are a seasoned artist or simply looking to try something new, the creative expression experience is the perfect way to unwind and unleash the imagination in a tropical setting.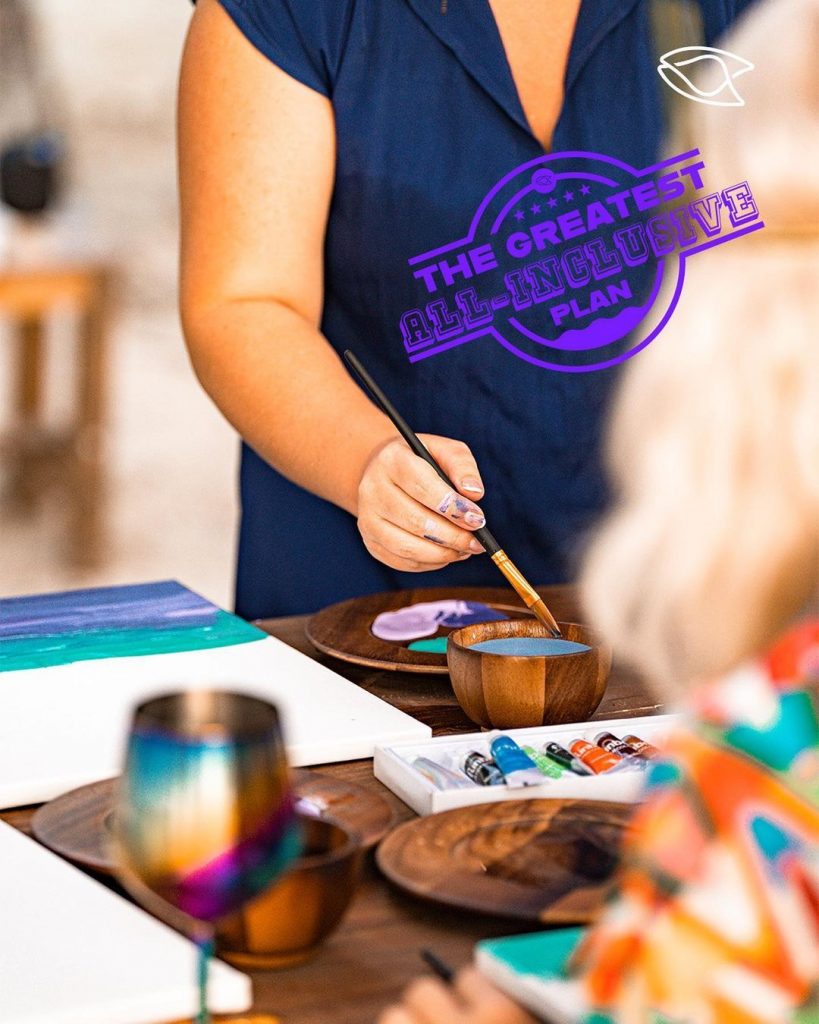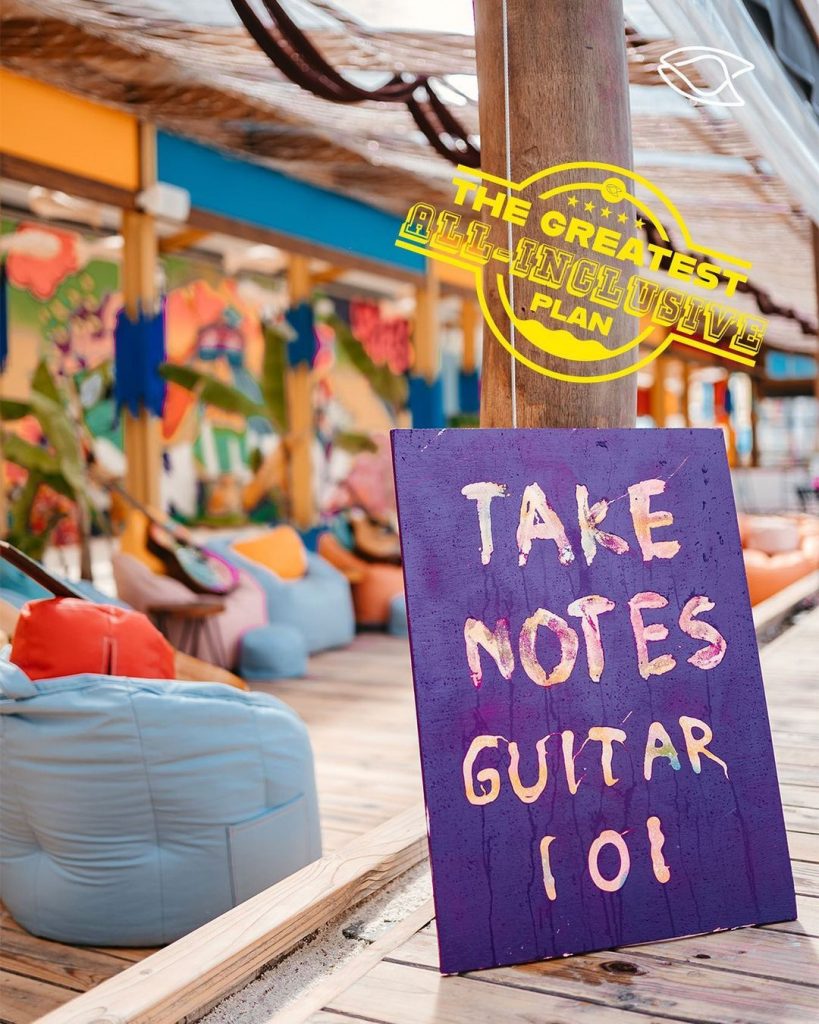 The resort also has all year round events and special celebrations, creating a unique experience for its guests. 
Hoba Spa at Oaga Art Resort Maldives is a tranquil oasis of relaxation and rejuvenation, offering a range of holistic treatments that promote wellness and balance. Hoba the word comes from ancient Dhivehi which means kindness or balance. The spa's elegant decor, combined with the natural beauty of the Maldives, create a serene and peaceful ambiance that invites guests to unwind and reconnect with themselves. 
"Our journeys slowly bring transformation, re-connection and balance to body, mind and soul through the ancient knowledge of the Maldivian medicinal traditions, known as Dhivehi Beys."
With its unique community healing vibe, Hoba Spa is a space of wellbeing where the guests can feel the simplicity, warmth and energy of the island lifestyle. Inspired by the local natural beauty, Hoba Spa combines time-tested ancestral traditions and healing practices of the Maldives together with modern elements to deliver experiences that satisfy all intentions and desires, restoring equilibrium, enhancing natural beauty, and revitalizing the vital essence within.
One of the spa's signature treatments is the "Hoba Experience," a holistic treatment that combines traditional Maldivian massage techniques with natural ingredients, such as coconut oil and turmeric. This indulgent treatment is designed to nourish the skin, relax the mind, and balance the body's energy. The spa's experienced therapists are trained in a variety of healing modalities, and are dedicated to providing guests with a personalized and exceptional spa experience. Guests can also choose to enjoy treatments in the privacy of their villa, for a truly indulgent and convenient spa experience. In addition to the spa's treatment menu, guests can also participate in yoga and meditation classes, which are held in a serene outdoor setting, overlooking the ocean. These classes are designed to promote mindfulness, relaxation, and balance, and are suitable for all levels of experience.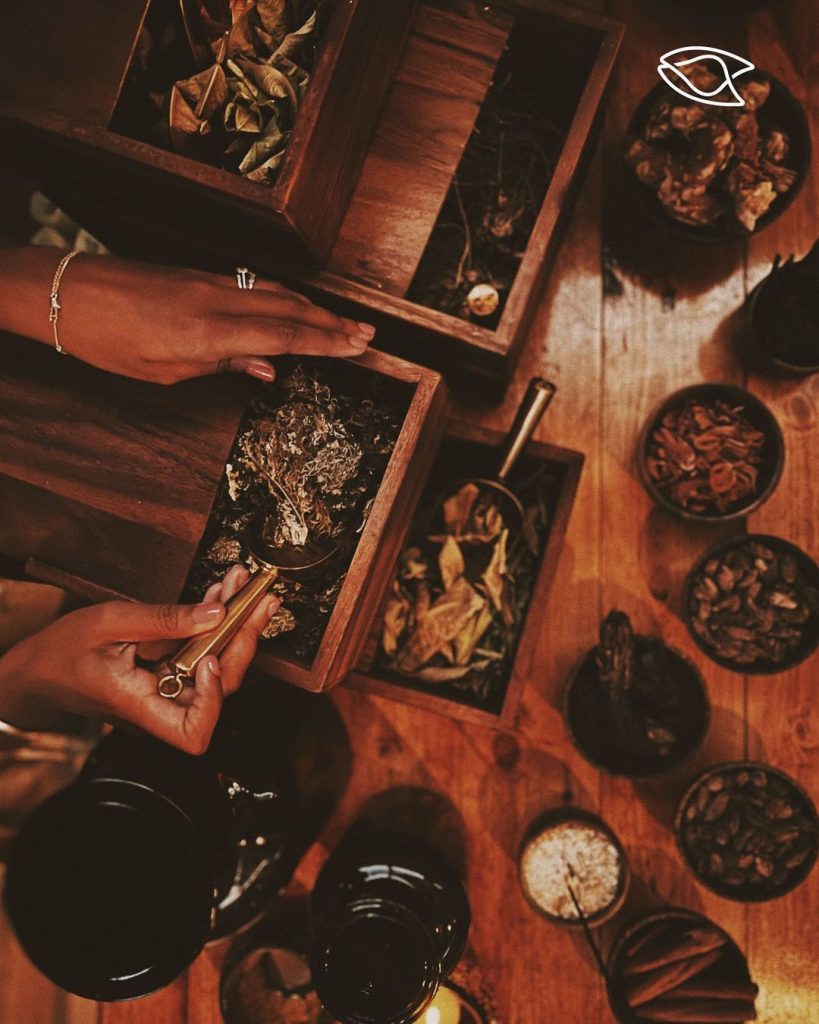 One of the unique features of Oaga Art Resort is its art gallery, which showcases works from renowned local and international artists. The artwork adds a touch of cultural richness and depth to the resort, enhancing the overall guest experience. In addition, all the art collection from Maldives artist, at Suvasthi Gallery Art is acquirable and for each night spent in the villa, an allocation is made to the contributing artist community. 
The resort offers a range of activities for guests to enjoy, including snorkeling, diving, fishing, and water sports. The coral reefs surrounding the island are home to an abundance of marine life, including colorful fish, turtles, and even reef sharks.
Oaga Art Resort Maldives offers a dining experience that is truly exceptional, with a range of culinary options that cater to every taste and preference. From fine dining to casual eats, guests can indulge in the best of Maldivian and international cuisine, while enjoying stunning ocean views and impeccable service. Local and international cuisine is made to perfection for guests gustatory pleasure with an ample selection of fine wines, alcoholic, and nonalcoholic drinks fit for any affair. A premium all-inclusive island haven offers an array of delights in our 4 dining venues; Kaa Kada, (Dhivehi) loosely translates to "Food Stalls" is the main restaurant, which offers eclectic array of bustling food carts, featuring select global cuisines and specialties ranging from Asian, Seafood, Mixed Grill, Pastas, Pizzas and more. It takes inspiration from the ultimate comfort of food served on a busy street. Those small unassuming stalls, the taste of which the guest can always count on to hit home without fail.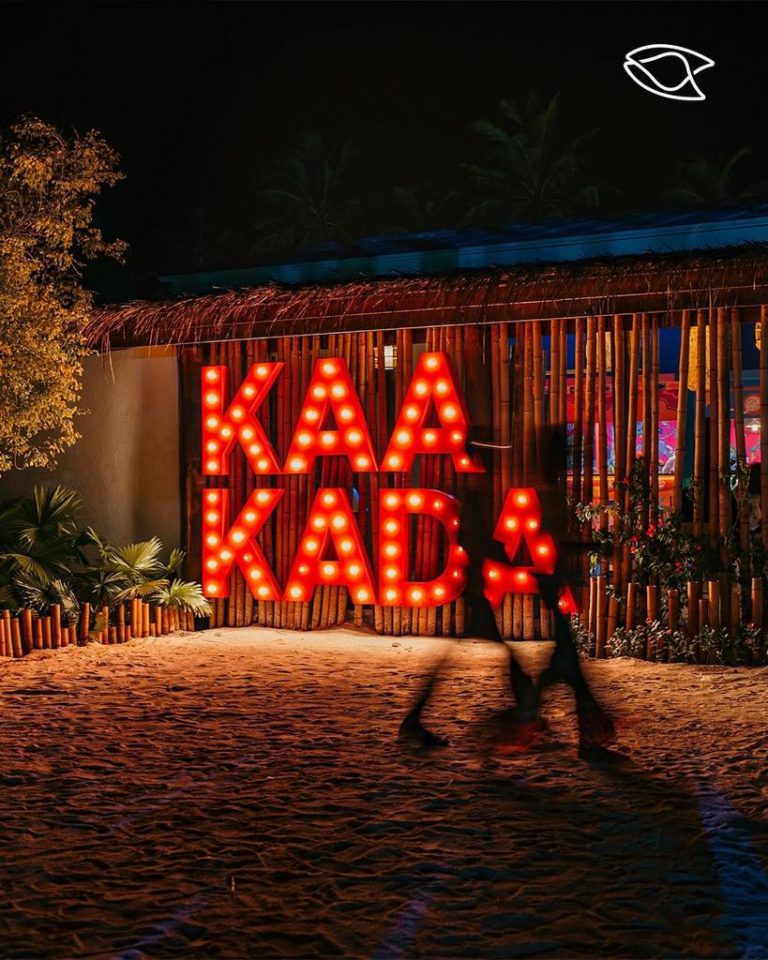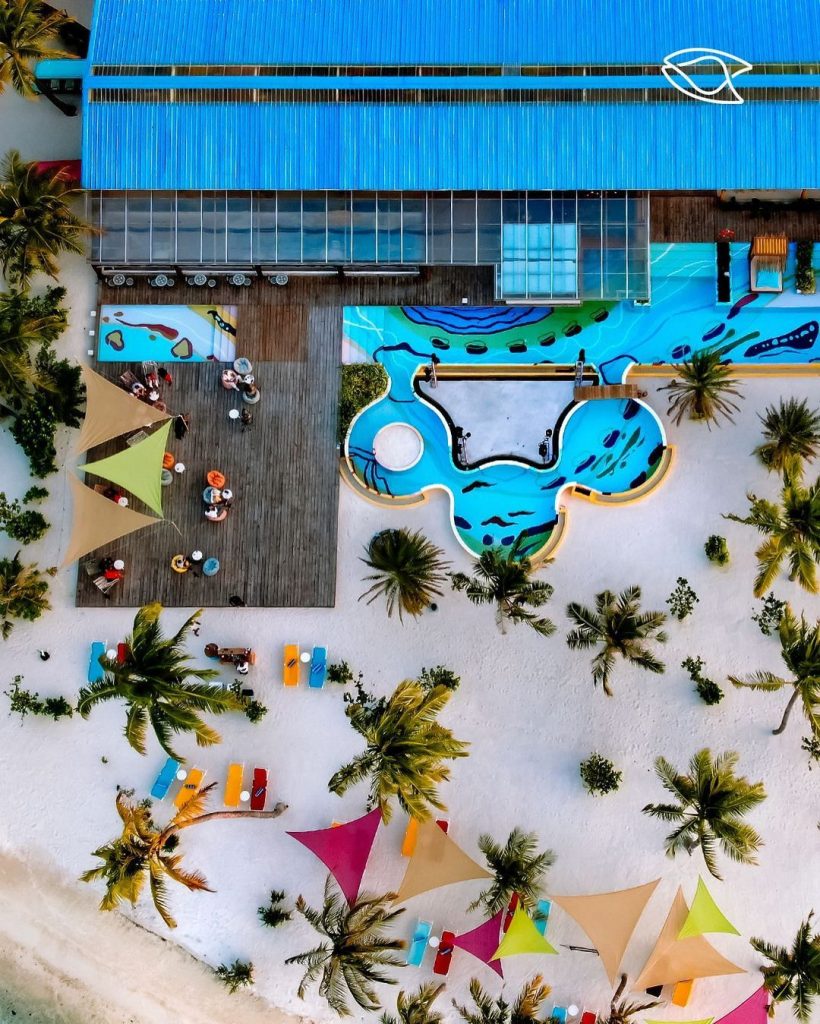 Raa Baa translates to Dhivehi word for alcohol (Raa) paired with an exclamation for wonder (Baa), both of which are also names of two letters that sit side-by-side in our alphabet, the main bar of the resort, offers plenty of joy and drinks with a simple snack menu.
Soba Bar, the bear garden, offering a curated collection of artisan beers and gin from around the world. In the ancient language of Maldives, "Sobi" was the word used for alcohol. The beach bar situated is the ideal place to spend a tropical afternoon or evening for some chit-chat or even take some time for self-reflection. 
Lasty Samaasa, which translates to action of providing or being provided with amusement or enjoyment, is a specialty restaurant, which provides theatrical ticketed dining experience, where the resort makes folk stories come true with earnest imagination. The restaurant weaves together interactive literature with fine dining experience, currently opening with the folk tales of the Maldives. Journey through Chef Zuzu's five course meal which tells age old tales of lore depicting star-crossed lovers or mythical beasts. The restaurant is located in the furthest corner of the island and is reminiscent of the intimacy offered by a traditional Fann'ge, a hut with palm thatchings. Through fine art and movement, the resort brings its guests a culinary experience fusional together with seasonal flavors and performance art.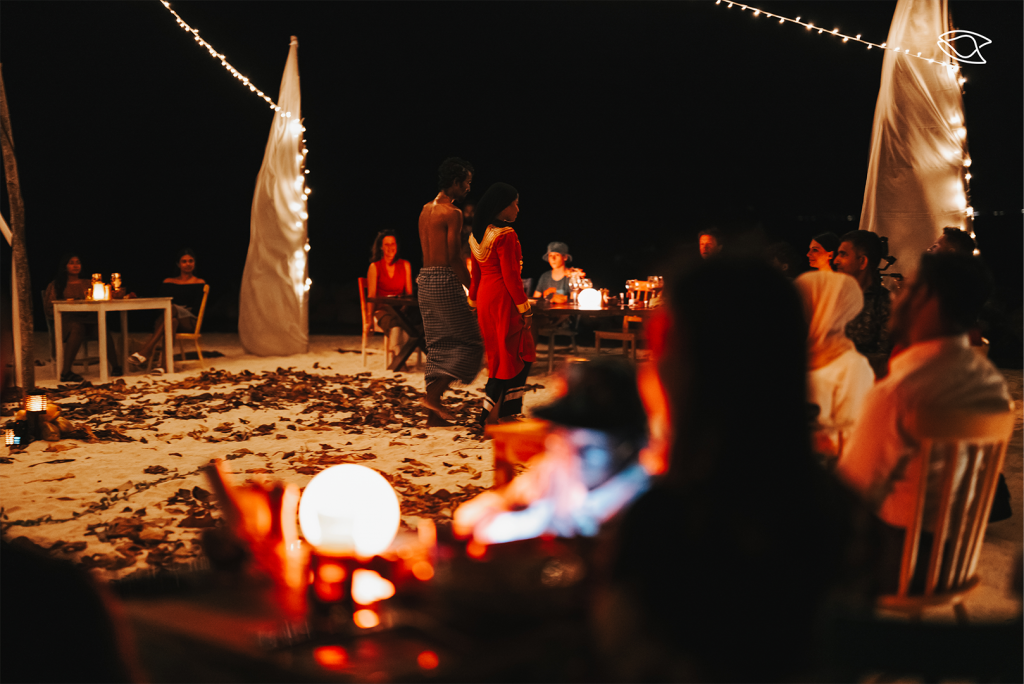 As the sun sets, the resort comes to life with an array of entertainment options, including live music and cultural performances. 
In conclusion, Oaga Art Resort Maldives is a true paradise for art lovers, nature enthusiasts, and luxury seekers. The resort's unique concept, combined with its breathtaking surroundings, exceptional service, and luxurious amenities, creates an unforgettable experience that will stay with guests long after they leave.