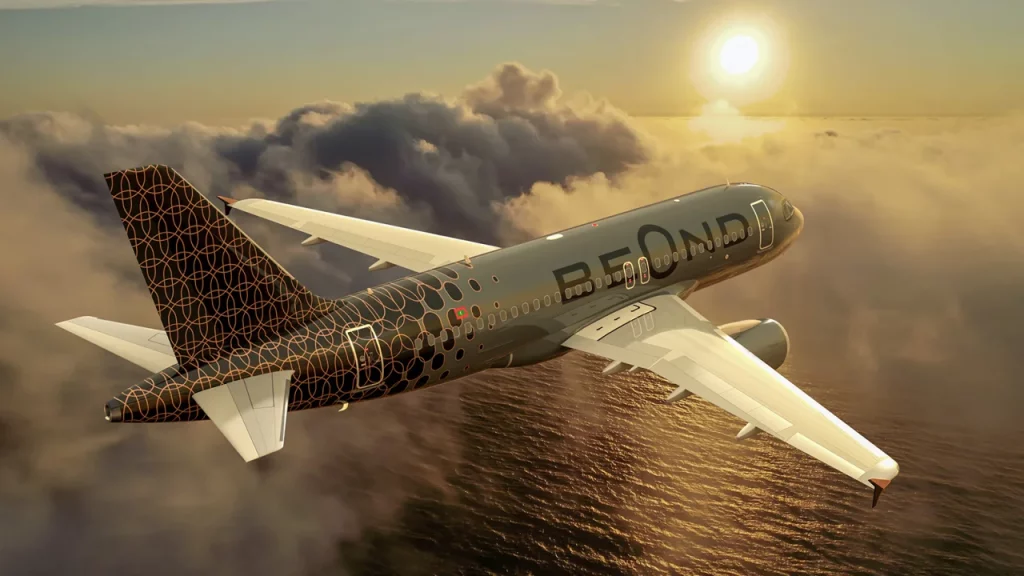 Male', Maldives, 25th July 2023 – Imagine embarking on a journey to the picturesque 1,000-island archipelago, Maldives, nestled off the western coast of India, renowned for its glamorous beach destinations. Now, get ready for an extraordinary travel experience as a new airline, Beond, sets its sights on making this voyage even more remarkable.
Pronounced "beyond," Beond is determined to create a "private jet" atmosphere, not with wide-body aircraft typically used for this route, but with narrow-body planes offering an all-premium cabin featuring lavish lie-flat seats inspired by components from Ferrari cars.
Sascha Feuerherd, Beond's chief commercial officer, shares their vision: "We want to do something completely new. We deliberately chose to go for a luxury destination, which is a little paradise by itself, where people travel to relax and spend quality time. We want to ensure that they can travel there also in comfort, so that they are arriving fully relaxed."
Set to take flight from Malé in the fall of 2023, Beond will initially operate a fleet of Airbus A319 aircraft before transitioning to the larger Airbus A321. Dubai and Delhi are the first two confirmed destinations, with more to follow.
Unlike traditional carriers that rely on connecting flights through hubs, Beond aims to provide direct travel to the island from carefully chosen airports with significant catchment areas and a higher incidence of leisure travelers. This approach ensures a seamless journey for their premium passengers, catering to their desire for a luxury travel experience.
The airline's Airbus A319s will offer just 44 exclusive seats, departing from the conventional all-economy layout, while the larger A321s, scheduled to debut in 2024, will accommodate 68 passengers in a two-abreast configuration, evoking a sense of luxury and comfort akin to private jet travel.
Beond's joint ownership by UAE-based firm Arabesque and Maldivian hospitality company SIMDI, along with a 50-year agreement with the Maldivian government, establishes a strong foundation for their ambitious venture.
The airline plans to expand its route network substantially, with about 60% of its traffic anticipated to originate from Europe, serving approximately 20 destinations. Asian routes will include Japan, South Korea, China, and Beond will offer direct connections to Australia, beginning with Perth, and South Africa, starting with Cape Town.
In an industry where wide-body aircraft are traditionally preferred for long-haul routes, Beond is breaking the mold, offering unparalleled cost savings and increased exclusivity with their narrow-body planes. While some skeptics raise concerns about the competitiveness of an all-business class airline, Beond is confident that their luxury focus, coupled with demand from luxury travel agencies, will carve out a niche for premium travelers seeking a private jet experience without the hefty price tag.
With plans to launch as early as September, Beond promises an attractively priced journey, starting at around $3,000 for round-trip fares from Europe, with rates adjusting during peak seasons. While facing competition from established giants in the airline industry, Beond's commitment to a unique and lavish travel experience for Maldives-bound passengers may prove to be the secret ingredient for soaring success.