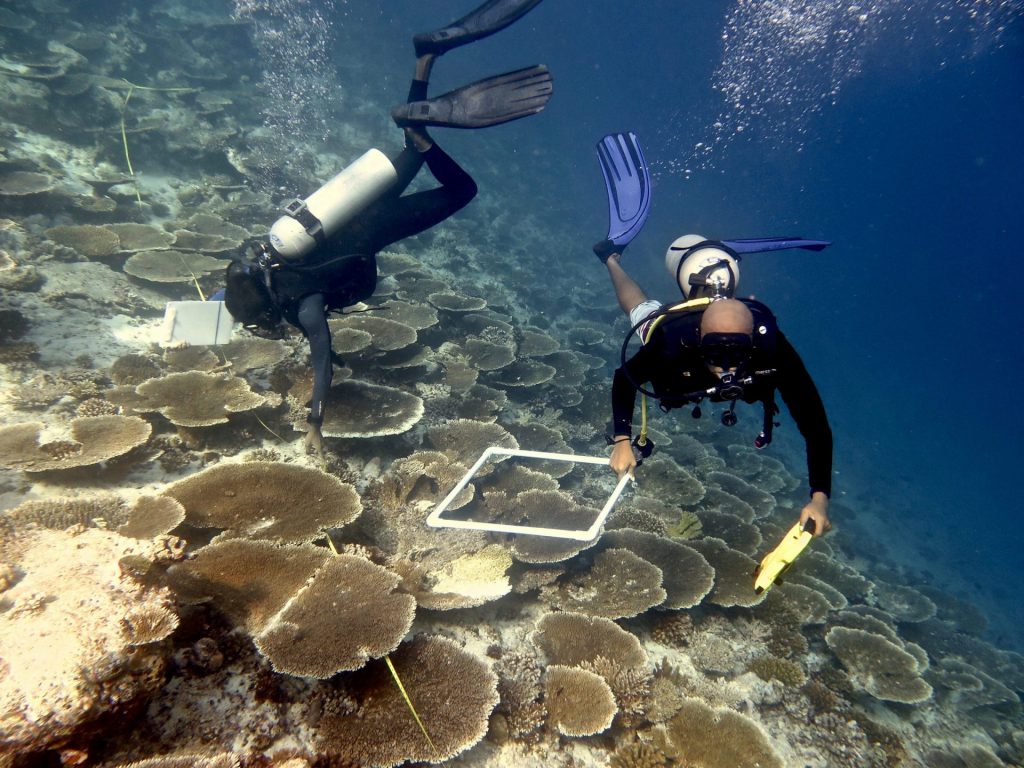 Male', Maldives, 10th August 2023 – A Landmark Moment: In 2004, the Banyan Tree Marine Lab emerged as the Maldives' pioneer resort-based initiative, wholly committed to preserving the natural environment and marine ecosystem.
Rooted in the principles of conservation, restoration, education, and research, the groundbreaking Marine Lab has been a driving force for Banyan Tree Vabbinfaru and Dhawa Ihuru, formerly known as Angsana Ihuru. It plays a pivotal role in facilitating crucial fieldwork conducted by visiting experts.
As time has passed, the Marine Lab's influence has grown to position it as a prominent champion of sustainability endeavors embraced by both resorts. This includes initiatives like raising awareness about marine conservation within local schools and neighboring communities.
Marine Talk
At the heart of the Marine Lab's mission is the goal of educating guests about the native marine ecosystems. This is achieved through the engaging platform of weekly Marine Talks, each lasting around 20-30 minutes. During these sessions, guests gain insights into subjects like coral reefs, the present obstacles they face, and proactive approaches to ensure their preservation.
Citizen Science
Twice weekly, snorkelling sessions with the resident marine biologists are conducted to document various species and monitor local populations residing in the house reefs.
As part of this process, the team carefully documents three specific marine life categories: megafauna, groupers, and butterflyfish. These categories encompass a fascinating assortment of creatures, ranging from reef sharks, nurse sharks, and eagle rays to turtles, trevallys, peacock groupers, crown of thorns starfish, and racoon butterflyfish.
The existence and profusion of megafauna populations hold a crucial significance as indicators of the general health of the marine ecosystem. They provide valuable information regarding factors like prey availability, water quality, and the overall ecological balance of the region.
Regrettably, groupers have experienced a substantial reduction in their population due to extensive overfishing, largely fueled by their significant market demand. Nevertheless, these fish play a crucial ecological role by managing herbivorous fish populations, thereby averting excessive coral grazing and fostering the recovery of reefs.
Recognized as 'bioindicators,' butterflyfish maintain a symbiotic connection with coral reefs. Through careful monitoring of their populations, the team acquires invaluable insights into the effects of coral bleaching, pollution, and habitat degradation on the well-being and vigor of the reefs.
Reef Cleanup
Maintaining the cleanliness of the reef is vital to improve the chances of coral survival and safeguard the integrity of the entire reef ecosystem.
Two predatory species are consistently targeted for removal: the crown of thorns starfish (COTS) and the pincushion starfish (PINS). These creatures are infamous for their consumption of coral polyps, leading to considerable coral depletion across the reef.
Termed 'corallivores,' these species predominantly feed on corals. The crown of thorns starfish can consume as much as 75 square feet of coral annually, exceeding the pace at which we can cultivate and restore coral growth.
Coral Nursery
At the Marine Lab, one of the major initiatives revolves around coral restoration, aiming to breathe new life into the reefs.
Coral rope nurseries provide a hopeful solution by offering a second opportunity to broken coral fragments. These fragments, called coral recruits, are gathered, and attached to rope nurseries, which are usually around 10 meters long and 2 meters wide. This approach aids in coral restoration and growth.
Experienced divers staying at Banyan Tree Vabbinfaru and Dhawa Ihuru are invited to join the resident marine biologists in this meaningful endeavor.
Electric Reef
To amplify the safeguarding and revival of native biodiversity and coral reefs, three electric reefs have been introduced and strategically placed on both islands. This ingenious blend of technology and ecology leads to more effective conservation results.
An electric reef comprises a sizeable metal framework linked to a low voltage power source, generating a localized electronic field that facilitates increased calcium deposition on the metal surface. 
The Banyan Tree Foundation took the lead in introducing this technology to the Maldives' reefs by constructing the Barnacle in 1996, pre-dating the establishment of the Marine Lab.
Subsequently, the Necklace and the Lotus were put together in 1998 and 2001, respectively, further extending the network of electric reefs to amplify our conservation efforts.
Over the past 19 years, the Banyan Tree Marine Lab has been a beacon of conservation and sustainability in the Maldives," said Nicholas Hardman, Regional Marine Lab Manager. "We are incredibly proud of the progress we have made in coral planting, protecting house reefs, and promoting eco-friendly practices. Our commitment to fostering environmental awareness through educational activities remains steadfast as we continue to inspire positive change in our guests and the wider community."
Nestled in the heart of North Male' Atoll, Banyan Tree Vabbinfaru is a luxurious tropical haven reachable by a 25-minute speedboat ride from Velana International Airport. The island boasts 48 pool villas, ensuring privacy and tranquility. Enjoy a minimum 3-night stay and unlock savings of up to 20% on the best available rate. This offer encompasses daily breakfast and dinner, along with complimentary speedboat transfers and a sunset cruise
Situated approximately two-minute away via speedboat from Banyan Tree Vabbinfaru lies Dhawa Ihuru, a distinct island retreat of its own with 45 villas and dubbed as "one of the best house reefs" and "diver's paradise" in the Maldives.