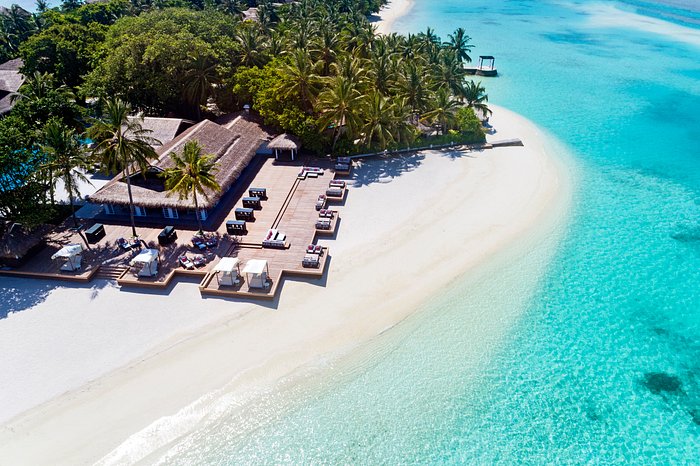 Male' Maldives, 10th August 2023 – In its continuous commitment to environmental conservation, Sheraton Maldives Full Moon Resort & Spa is embracing cutting-edge technology to significantly decrease food waste across its seven dining venues. 
The resort, situated on the private island of Furanafushi, acknowledges the alarming global issue of food wastage, where approximately one-third of all food is discarded while many suffer from hunger. To address this, the five-star resort is exploring innovative artificial intelligence solutions. Additionally, the resort is optimizing energy efficiency by employing INNCOM's smart air-conditioning system control in the rooms, thereby complementing its comprehensive sustainability initiatives.
To heighten consciousness about daily waste generation and advance practical sustainability, the Sheraton Maldives Full Moon Resort & Spa has adopted Winnow's artificial intelligence technology. This system includes a camera for monitoring discarded food and its quantity. This innovative technology enables the calculation of the financial impact of food waste and automates communication with the chef for necessary adjustments. The goal is to achieve at least a 50% reduction in on-site food waste.
Sheraton Maldives Full Moon Resort & Spa is taking comprehensive actions that extends beyond managing food waste. Partnering with INNCOM Guestroom Management Systems, the resort introduced an innovative air conditioning control system linked to the property management system. This smart system evaluates the occupancy status of individual accommodations and regulates the air conditioning accordingly. Empty rooms have the air conditioning set to room temperature to conserve energy, while occupied rooms adjust based on ambient conditions for comfort. Another impactful measure involves automatically turning off the air conditioner when the room door is opened to the outside. This intelligent approach significantly curbs energy consumption, aligning the resort with its objective of achieving full energy efficiency.
"Making a positive impact on the environment is a cause close to our hearts," affirmed Mohamed El Aghoury, General Manager of Sheraton Maldives Resort & Spa. He added, "Our objectives encompass not only the reduction of food waste and energy consumption through cutting-edge technology but also ensuring our guests enjoy their stay with a clear conscience. Together, we're making a significant stride toward a more sustainable future."
By combining innovation and sustainability, Sheraton Maldives Full Moon Resort & Spa is not only elevating guest experiences but also making a substantial impact on the environment. In a world striving for meaningful transformation, this resort serves as a compelling model for both the hospitality sector and the broader global community.