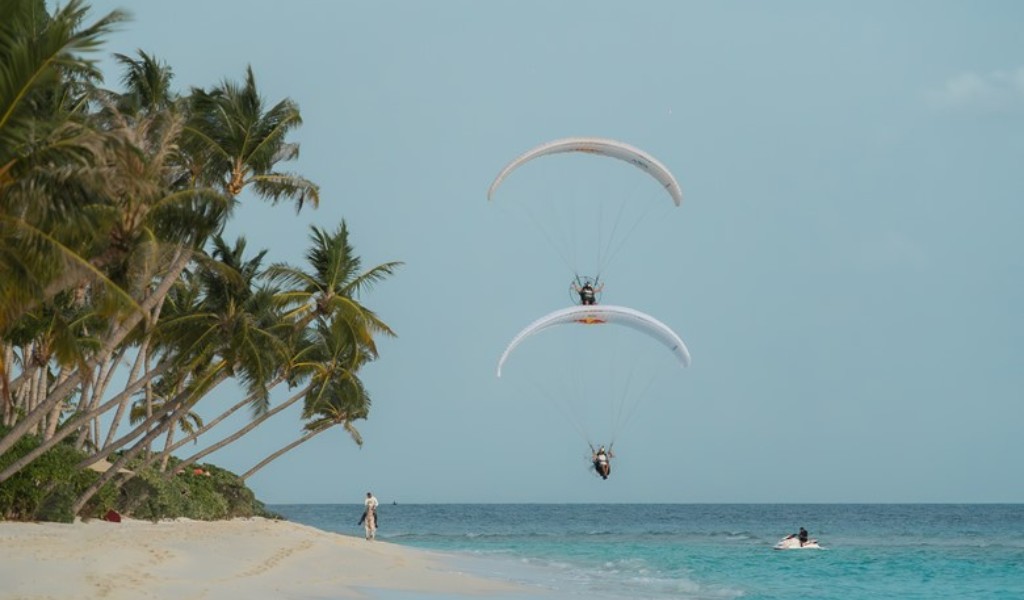 Male', Maldives, 10th August 2023 – Siyam World Maldives is boldly embracing a unique approach, poised to revolutionize the local tourism industry. Their vision is to redefine luxury and adventure in the Maldives by introducing groundbreaking concepts and offering unprecedented experiences.
Positioned as a symbol of innovation, Siyam World Maldives curates extraordinary experiences. As part of their ambitious pursuit, the resort has brought together world-renowned paragliders for a captivating showcase of skill and bravery. Visitors to Siyam World were treated to a remarkable spectacle as these champions executed breathtaking aerial feats above the tranquil turquoise waters.
In a resounding display of their commitment to pushing boundaries, Siyam World partnered with Redbull Maldives. Together, they proudly presented Paragliding world champions Rafael Goberna and Horacio Llorens, who showcased their incredible skills with Paramotors from July 31st to August 3rd, 2023. This dynamic collaboration aims to elevate aerial performances to thrilling new heights, captivating both adventure enthusiasts and luxury travelers. Siyam World's distinguished guests were treated to an exhilarating show, witnessing the world's top paragliders in mesmerizing action right before their eyes.
Rafael Goberna, a celebrated world champion in synchronized paragliding, and Horacio Llorens, an exceptional five-time world champion in Paragliding, held the audience captive with their astonishing skills and audacity. Their exceptional performance encompassed breathtaking maneuvers, including tandem landings on moving Maldivian traditional Dhonis and unmatched aerial acrobatics above Siyam World. Observing these remarkable feats left onlookers awestruck, completely absorbed by the remarkable expertise of these globally renowned paragliders.
Rafael Goberna, hailing from Brazil, holds the esteemed title of synchronized paragliding world champion. He presently reigns as the Acro Synchro World Champion. Notably, Rafael achieved recognition as the youngest paragliding pilot from Brazil and one of the youngest globally, securing a place in the Guinness Book of World Records at a mere 12 years old. In December 2016, he showcased his prowess by soaring above the majestic Iguazu Falls, among the world's largest waterfalls, culminating in a dramatic water landing at the Iguazu River.
Horacio Llorens, a trailblazer in aerobatic Paragliding, boasts an impressive record of five world championships. Notably, he made history in 2012 by shattering the world record for infinity tumbling, achieving a remarkable 568 revolutions. This remarkable feat was accomplished by leaping from a helicopter at 19,700 feet (6000 meters) above Guatemala's Mayan ruins, enduring 6G forces with each rotation.
At the core of this mesmerizing aerial display are Paramotors, seamlessly blending the elegance of paragliding with motorized force. These paragliders equipped with compact two-stroke engines are fastened to the pilot's back. Taking off involves the pilot initiating a running start and activating the paramotors' propulsion using a hand-held throttle, resulting in a graceful ascent.
Siyam World in the Maldives is a delightfully unique and fully inclusive five-star island retreat that transcends cultural and geographical boundaries, offering guests an ever-expanding collection of unprecedented experiences. From the largest floating water park in the Indian Ocean to the Maldives' inaugural resort horse ranch, Siyam World presents an array of 'never-seen-before' adventures. Spanning across a natural 54-hectare island, the resort offers an impressive variety of 18 accommodation options.