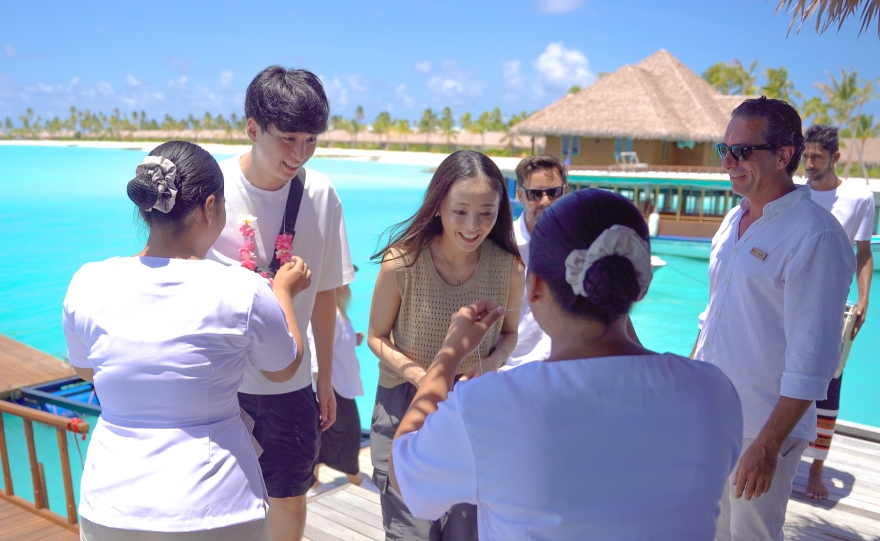 Male', Maldives, 20th August 2023 – In an exciting moment, Barceló Hotels & Resorts has ushered in a new era of luxurious and relaxed hospitality with the opening of its very first resort in the Maldives, the stunning Barceló Whale Lagoon Maldives. As the doors to this paradise swing open, Barceló embarks on a journey promising luxury, serenity, and exploration in one of the world's most sought-after travel destinations.
Nestled amid the breathtaking beauty of the Maldives, the Barceló Whale Lagoon Resort is a haven where natural beauty blends seamlessly with top-notch service. Today, the resort celebrates its grand opening, extending a warm welcome to its first guests who are about to experience extraordinary hospitality.
Santi Rodriguez-Bustelo, the General Manager of Barceló Whale Lagoon Maldives, expressed his excitement, saying, "The Barceló Whale Lagoon Resort is a significant milestone in our global journey, reflecting our commitment to creating exceptional experiences. This enchanting resort perfectly captures the allure and magnificence of the Maldives, providing a sanctuary for discerning travelers seeking unparalleled indulgence."
Guests visiting the Barceló Whale Lagoon Resort can look forward to a wide range of exceptional amenities and activities, including:
Elegant Retreats: Unique villas and suites designed to capture the essence of the Maldives, each offering stunning ocean views and direct access to pristine beaches.

Culinary Excellence: The resort's distinguished restaurants and bars offer a symphony of flavors, allowing guests to savor global gastronomic delights, local delicacies, and creative drinks.

Spa Retreat: The resort's spa is a haven of relaxation, offering a variety of treatments and therapies that promote holistic well-being in serene surroundings.

Marine Adventures: Guests can enjoy a plethora of aquatic activities, including snorkeling, diving, and water sports, giving them the chance to explore the vibrant marine life and stunning coral reefs of the Maldives.

Cultural Experiences: Immersive encounters that celebrate the local culture and heritage of the Maldives, including traditional performances and curated excursions.
To celebrate its grand opening, the Barceló Whale Lagoon Resort is offering an exclusive Special Preopening Flash Offer to travelers seeking an unforgettable escape in the Maldives. This limited-time offer ensures a memorable journey amidst the enchanting beauty of this tropical paradise.