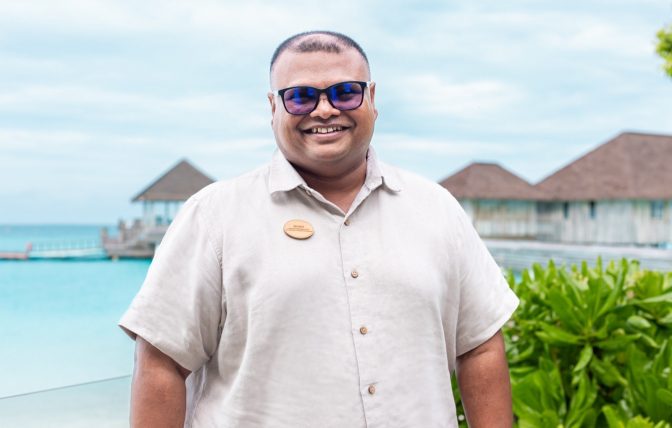 Male' Maldives, 26th October 2023  – Seaside Finolhu Baa Atoll proudly announces the appointment of Hussain Ishan as Resort Manager, a remarkable milestone in his 24-year career journey. From his beginnings as a receptionist, he has evolved into a renowned Hotelier, exemplifying the essence of growth and determination.
Hussain's odyssey in the hospitality sector commenced two decades ago when he embraced the role of a receptionist, stepping into a world filled with infinite prospects. His ascent through the ranks, from reservations manager to front office manager, reflected his unwavering dedication to excellence.
Hussain's success story is a testament to the profound influence of mentors and colleagues who have supported and collaborated with him. It underscores the power of shared knowledge and the positive impact of those who have crossed his path.
Reflecting on his journey, Hussain stressed the significance of listening, which he regards as his first teacher. This fundamental skill, combined with his ability to find silver linings in challenging situations, has been pivotal in his success, and he believes it's the key to surmounting obstacles and achieving remarkable results. He is committed to instilling this optimistic mindset in others, emphasizing that exceptional talent is not a prerequisite for a positive life.
Beyond his professional life, Hussain is a devoted family man, cherishing moments with his wife and children. As the new Resort Manager of Seaside Finolhu Baa Atoll, he is poised to inspire his team and infuse the resort with a fresh, positive perspective. His promotion not only acknowledges his unwavering dedication and hard work but also celebrates the incredible journey that has brought him to this juncture.
Hussain Ishan's narrative serves as an inspiration to those considering a career in hospitality, highlighting that it's more than a profession; it's an opportunity to spread positivity and passion. We extend our heartfelt congratulations to Hussain on his well-deserved promotion and eagerly anticipate the exceptional leadership he will provide in his role as Resort Manager.