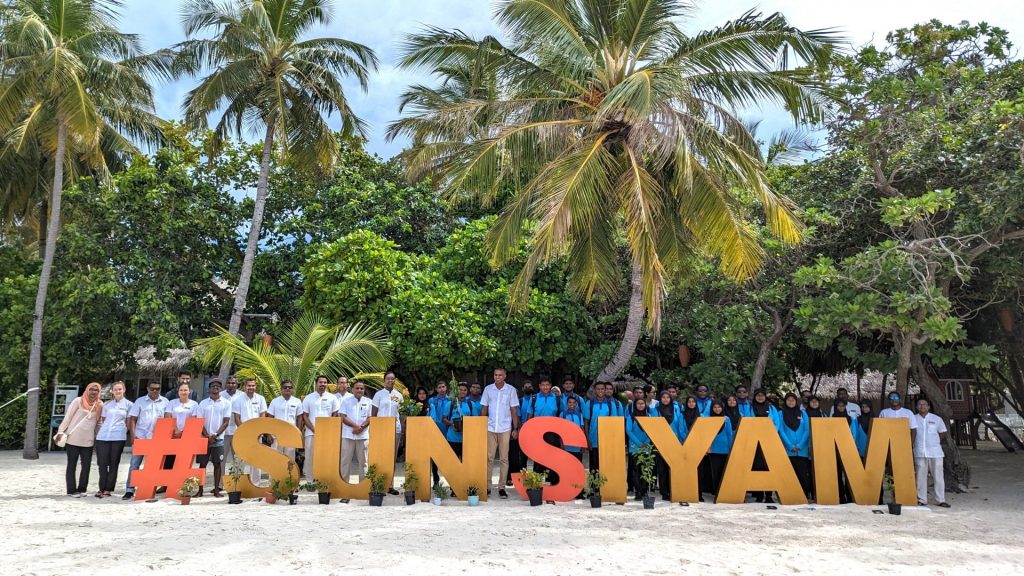 Male' Maldives, 9th November 2023 – As part of its commitment to providing quality education, Sun Siyam Iru Fushi, Maldives welcomed another group of enthusiastic students from Noonu Atoll Education Centre in N. Velidhoo for an opportunity of a lifetime as they embarked on a career exploration trip on the 04th of November, 2023. The excursion aimed to offer students valuable insights into the hospitality industry, specifically focusing on various hotel sections, including front office, food and beverage, housekeeping operations, and providing a comprehensive tour of the resort facilities.
This educational experience was designed to ignite the students' passion for the hospitality sector, providing them with a firsthand understanding of the various aspects of the industry. The students were given a glimpse into the daily operations of Sun Siyam Iru Fushi, offering them a unique behind-the-scenes look at the resort's high-quality service and exceptional amenities.
The visit also emphasized the importance of marine life and environmental protection as part of the Sun Siyam Care program. The students engaged in activities and workshops designed to raise awareness about the fragile ecosystem of the Maldives and the resort's commitment to preserving it.
The highlight of the visit was the announcement that five of the participating students have been selected for an industrial training program with Sun Siyam Iru Fushi. These students will be gaining hands-on experience in the front office, food and beverage service, and housekeeping departments, over the course of six days. This hands-on training will empower them to hone their skills and set a strong foundation for their future careers in the hospitality industry.
Commenting on the initiative, Mr. Mohamed Nizar, the School Principal for Noonu Atoll Education Centre in N. Velidhoo, said, "We are extremely grateful to the Sun Siyam Iru Fushi management team for providing our students with this remarkable opportunity. The exposure to the world of hospitality, the insight into environmental conservation, and the chance to engage in real-world training will undoubtedly have a profound impact on their career choices. We hope this experience will inspire our students to pursue fulfilling careers in the hospitality industry of the Maldives."
Mr. Abdulla Atham, the Resort Manager at Sun Siyam Iru Fushi, expressed his enthusiasm for the partnership, stating, "We are thrilled to be a part of this initiative and to contribute to the educational development of these bright students. At Sun Siyam Iru Fushi, we believe in nurturing young talent and instilling a sense of responsibility towards our environment. We are excited to have five promising students join us for their industrial training, and we look forward to helping them grow and succeed in the world of hospitality."
This educational visit to Sun Siyam Iru Fushi has opened doors to exciting opportunities for many students living in the nearby island of the resort, providing them with a unique and insightful introduction to the hospitality industry while fostering a sense of environmental responsibility.