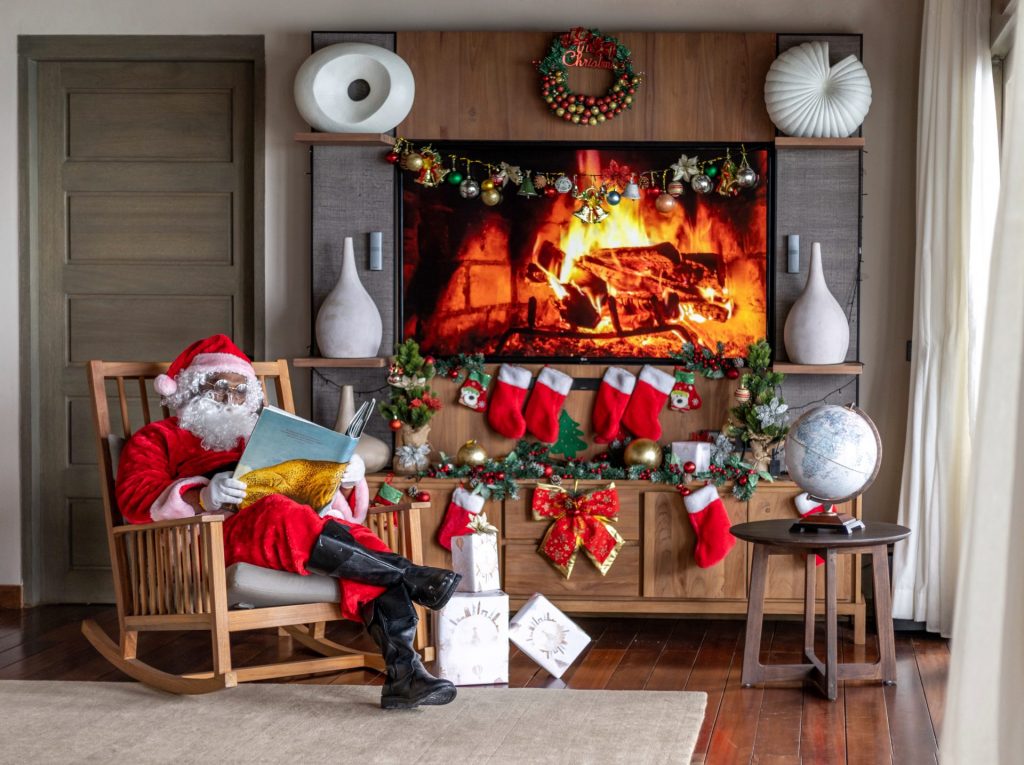 Male' Maldives, 13th November 2023 – As we gear up for the enchanting holiday season, Vakkaru Maldives is all set to roll out the red carpet for its guests, offering a captivating lineup of events, culinary delights, and festive activities that promise to turn your vacation into a memorable celebration. Nestled in the heart of Baa Atoll on a secluded reef island boasting breathtaking ocean views, powdery white sands, and a rich marine ecosystem, our resort is the perfect haven for a sun-soaked holiday escape.
From December 23, 2023, to January 7, 2024, Vakkaru Maldives is unveiling a series of carefully curated programs suitable for guests of all ages. Picture this: a blend of fun-filled games, glamorous galas, and live entertainment to make your festive season truly magical.
ISLAND NOEL: A Seaside Christmas Eve Celebration
On Christmas Eve, Vakkaru Maldives invites its guests to revel in a magical evening on the shoreline in anticipation of Santa's grand entrance. The festivities kick off with an island-style cocktail party on Isoletta beach, leading to a sumptuous gala dinner on Vakku Beach. Picture yourself surrounded by the soothing waves, enchanted by heartwarming carols, and entertained by a saxophonist duo, a four-piece band, fire dancer, DJ, and more.
SANTA'S ARRIVAL: Christmas at Vakkaru
December 25th sees Santa making a stylish entrance in paradise, laden with gifts for the little islanders. Meet Santa and his elves in the morning on Isoletta Beach, followed by thrilling games, prizes, and giveaways under the tropical sun. Tennis enthusiasts, brace yourselves for the Christmas Tennis Tournament, a chance to be crowned Vakkaru's tennis star of the year, hosted by our Resident Tennis Coach.
THE GOLDENEYE GALA: A Bond-style New Year's Eve Soiree
Ring in 2024 with sophistication at The Goldeneye Gala, a James Bond-inspired New Year's Eve celebration. The evening kicks off with a chic cocktail party at Isoletta Beach, leading to a Gala Dinner at Vakku Beach, followed by an electrifying live band, mesmerizing fire and LED dancers, and a DJ that promises to keep you grooving well past midnight.
ORTHODOX CHRISTMAS EVE: Gala Dinner
On January 6, 2024, experience the enchantment of an Orthodox Christmas Eve at Vakkaru Maldives. Indulge in a lavish buffet spread and live stations against the backdrop of a magical beachfront. Throughout the night, be entertained by resident performers as you revel in the festive spirit.
In addition to these splendid events, our holiday-themed offerings include wreath making, coconut painting, wooden snowman crafting, Christmas card painting, and Santa sand art. Throughout the festive period, immerse yourself in various activities such as wellness workshops, evening yoga, eco-friendly arts and crafts, treasure hunts, family-style beach Olympics, and a padel tennis tournament.
Beyond the festive fervor, the resort offers engaging experiences for all age groups, including daily programs at Parrotfish Club and Coconut Club for young guests, tailored spa journeys at Merana Spa, invigorating sports at flood-lit tennis courts and a padel tennis court, as well as immersive excursions and watersports by Splash. And for the wine enthusiasts, indulge in world-class experiences at Vakkaru Reserve, home to one of the few hand-picked wine cellars in the Maldives, featuring a collection worth US$700,000 with 680 labels from the Old and New World.