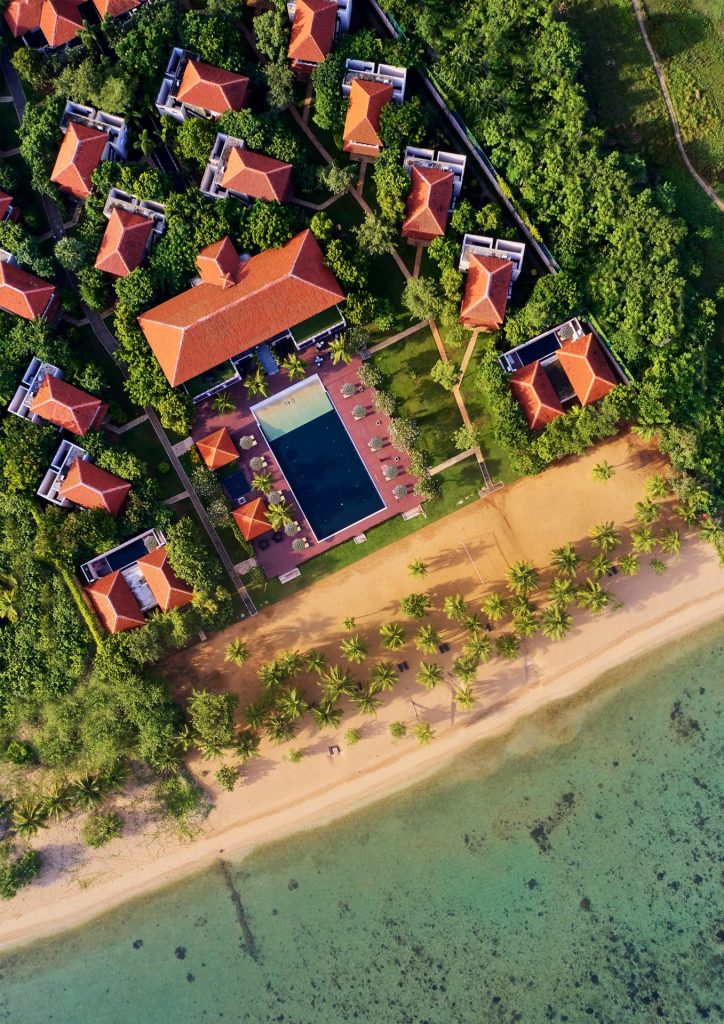 Male' Maldives, 15th November 2023 – Sun Siyam Pasikudah in Sri Lanka, a proud member of the boutique collection under Sun Siyam Resorts, is thrilled to announce its reopening on November 17, 2023 after having undergone an extensive transformation and renovation and now offering guests a breath-taking experience that combines affordable luxury with the cultural richness of Sri Lanka.
Arshed Refai, General Manager at Sun Siyam Pasikudah, expressed his enthusiasm as the resort reopens its doors to the public. He emphasized their strong commitment to supporting and providing opportunities to local communities, particularly in the fields of woodwork and carpentry. Arshed highlighted their extensive use of locally made and sourced products, showcasing their collaboration with local artisans and communities to create bespoke furniture, chandeliers and joinery items. Despite significant changes, everything about the resort has been transformed, from colour concepts and equipment to fittings and offerings, while preserving the property's original structure. This reopening marks a new chapter in Sun Siyam Pasikudah's dedication to offering unforgettable experiences rooted in the beauty of Sri Lanka.
Originally launched in 2014 as Sun Aqua Pasikudah, the property underwent a rebranding in 2020, becoming part of the Sun Siyam Resorts collection and adopting the name Sun Siyam Pasikudah. 
The five-star boutique retreat is located on the unspoiled eastern coastline of Sri Lanka, approximately a six-hour scenic drive from Colombo's Bandaranaike Airport.  Boasting just 34 spacious and contemporary, one-to-two-bedroom, garden or beach pavilions, with or without pools, Sun Siyam Pasikudah ensures an exclusive coastal experience, whether traveling as a couple, a family, or a group of friends. 
Lee McNichol and Jose Rivero, founders and creative directors at Studio Sixty7 who played a crucial part in the interior design revamp said: "Studio Sixty7 are excited to showcase the rebirth of Sun Siyam Pasikudah, working alongside Sun Siyam Resorts, in the enchanting and richness of the Sri Lankan landscape. Our design philosophy for this incredible project was to create a boutique 5* interior with bold monochromatic interiors balanced with rich golden tones. For us, when designing this project, we wanted to create a unique, sophisticated, and chic interior on the magnificent and vibrant coastline of Pasikudah. We were lucky to work with many local artisans and communities in creating bespoke furniture and joinery items throughout the resort, making sure we embrace and showcase the beauty that Sri Lanka has to give.  The project was truly a labour of love for all involved and has re-energised the resort to be 'the' place to be seen in Sri Lanka. We can't wait for everyone to see."
Sun Siyam Pasikudah offers diverse dining experiences, from The Cellar, Sri Lanka's largest eastern coast wine cellar, to the Tea House's extensive tea collection. There's also Slice & Grill for casual poolside dining and the Beach Shack for tropical beach beverages. Guests can explore Sri Lanka's wonders with underwater adventures, jet-skiing, sailing, and romantic dining. The resort also organizes day-long safaris to iconic destinations like Sigiriya Rock, Dambulla Cave Temple, whale-watching trips from May to September, and visits to Polonnaruwa and Minneriya National Park for wildlife enthusiasts. Sun Siyam Pasikudah is an affordable luxury haven where you can embrace Sri Lanka's cultural richness. It's ideal for meetings, weddings, and private events, offering boardroom facilities and beachfront wedding settings.
Deepak Booneady, CEO of Sun Siyam Resorts, commented, "The resort's temporary closure and its subsequent hiatus during the global pandemic, allowed us the valuable opportunity to embark on a comprehensive journey of rebranding and property enhancement. Collaborating with Studio Sixty7, we meticulously redesigned the entire property, preserving its structural integrity while elevating every facet. From the offerings and facilities to the level of service, we have meticulously refined the experience, aligning it with the renowned Sun Siyam vision. We take immense pride in reopening the resort as a distinguished member of the well-known Sun Siyam Resorts boutique collection portfolio, and extend a warm invitation to all guests to discover the magnificence of this remarkable part of Sri Lanka for themselves."