Male' Maldives, 15th March 2023 – Maldives Marketing and Public Relations Corporation (MMPRC/Visit Maldives), under the efforts to support the promotion of local liveaboards and the diving industry, sponsored participation of the National Boating Association of Maldives (NBAM) at Dive MENA Expo 2023. The Expo was held in Dubai Harbour from 1st – 5th March 2023.
Since 2008, Dive MENA Expo has been one of the key dive events held in this region. The five-day event brought together manufacturers, suppliers, yachting elite, and customers seeking dive and liveaboard experiences. MMPRC has sponsored NBAM for Dive Mena Expo 2023 in order to support and provide opportunities for Maldivian diving and liveaboard service providers to promote their products and services globally.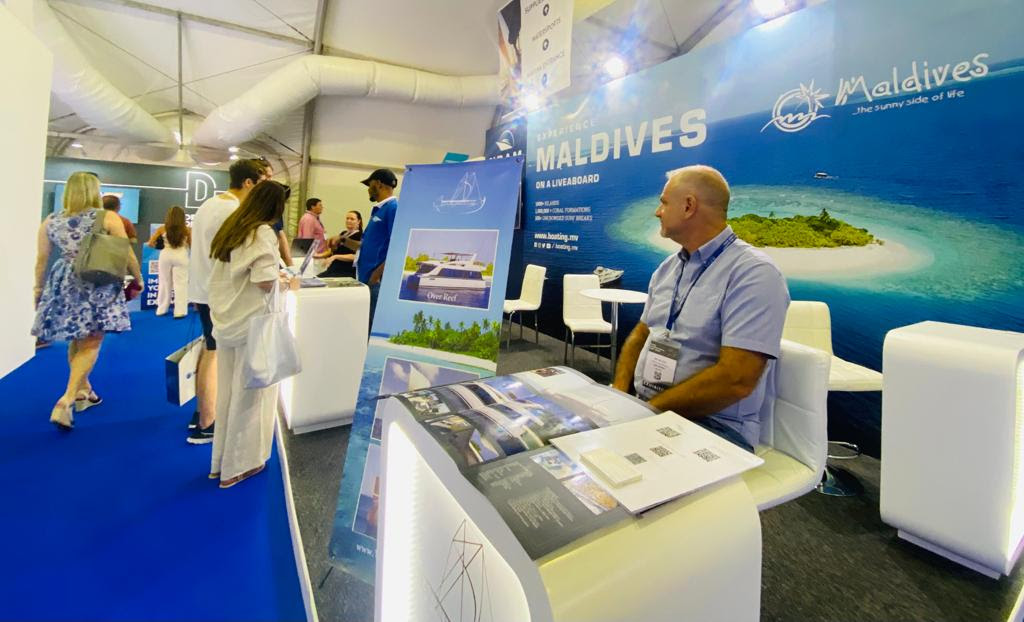 The Middle East consists of countries which are key markets to the Maldives which record over 1,675,303 arrivals to Maldives from January – December 2022. MMPRC has been holding several activities for these markets last year, including participation in major fairs and marketing campaigns with travel trade. Ongoing activities for the Middle East include Cozmo Travel Campaign and Emirates Agents Incentive. More activities are planned ahead for Middle Eastern countries by MMPRC for this year including Media Fam trips, Print Advertisements, Campaign with Tour Operators, participation in major fairs such as ATM 2023 and RTF 2023.
In 2022, MMPRC conducted 178 marketing activities. This included over 90 marketing campaigns, attending 44 fairs, hosting 06 roadshows, 10 virtual events, 18 familiarization trips, and 10 other events executed worldwide. The national tourist arrivals target set by H.E President Ibrahim Mohamed Solih for the year 2022 was also reached in December 2022, as the Maldives welcomed our 1.6 millionth visitor for the year two weeks ahead of the end of the year. In addition to this, the Maldives secured the title of the 'World's Leading Destination' for the third year in a row in 2022 at World Travel Awards. MMPRC was also awarded the prestigious title of 'World's Leading Tourist Board' for the first time in our nation's history in 2022.