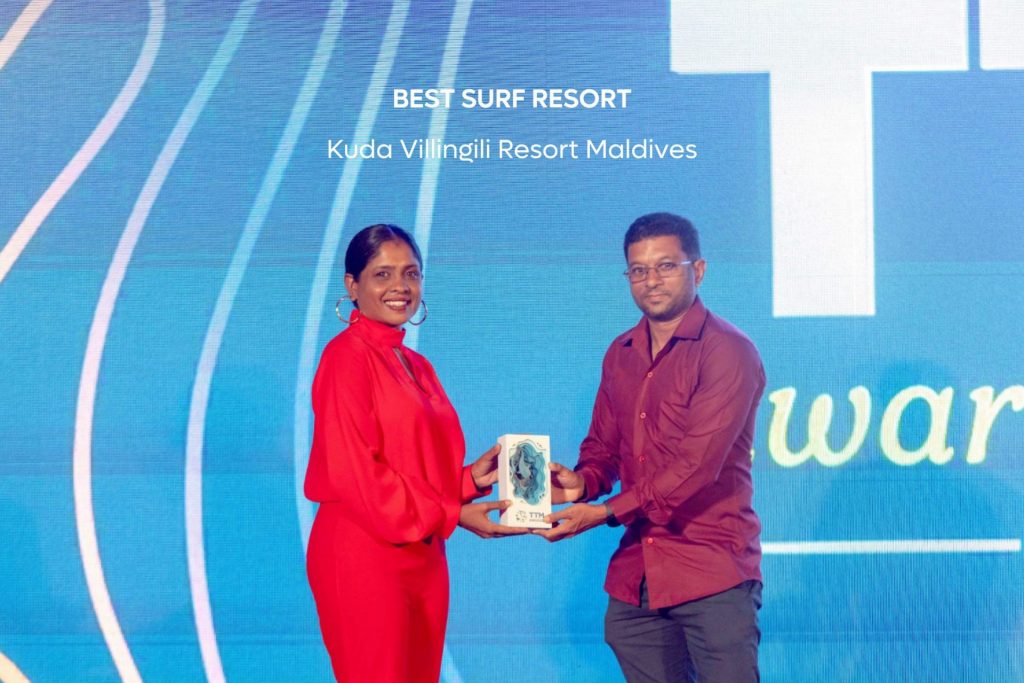 Male', Maldives, 31st August 2023 – In a dazzling night that celebrated excellence in the travel and hospitality industry, Kuda Villingili Resort Maldives emerged victorious as it clinched the prestigious title of "Best Surf Resort" at the Travel Trade Maldives (TTM) Awards 2023. Situated in the picturesque Maldives, Kuda Villingili Resort is renowned not only for its exceptional surfing experiences but also for its unmatched luxury and hospitality.
The Travel Trade Maldives Awards, held annually in this idyllic island nation, are a testament to the dedication and commitment of travel and tourism professionals. This year, Kuda Villingili Resort Maldives stood out, thanks to its unwavering commitment to delivering a world-class surfing experience amidst the breathtaking Maldivian paradise.
Deepa Manuel, the General Manager of Kuda Villingili Resort, expressed her delight, saying, "We are honored to receive this prestigious award. This recognition encapsulates the relentless dedication of our team to not only provide exceptional surf opportunities but also curate an all-encompassing luxury experience that invites our guests to fully immerse themselves in the essence of Kuda Villingili."
Indeed, Kuda Villingili Resort Maldives has perfected the art of combining luxury and adventure. Nestled amidst crystal-clear turquoise waters, the resort offers a mesmerizing backdrop for surf enthusiasts and leisure travelers alike. With world-renowned waves, including the Maldives' longest left-hand barrel at Chickens Point, and other premier surf spots around the island, it's a sanctuary that captivates all who visit.
What truly sets Kuda Villingili Resort apart is its commitment to providing tailor-made surf experiences for all levels of surfers. Whether you're a novice eager to catch your first wave or a seasoned pro seeking the thrill of challenging swells, the resort has something for everyone. Surfers can relish an impressive 500-meter-long surf break with waves towering over 10 feet right at the resort's doorstep.
To ensure guests have the ultimate surfing adventure, the resort offers expert guidance, top-of-the-line equipment, and exclusive access to some of the planet's most coveted surf breaks. For those looking to improve their skills while on holiday, the resort boasts a team of expert surfing coaches available for lessons at the resort's Watersports & Dive Centre – Ocean Fanatics.
Kuda Villingili Resort Maldives' triumph at the TTM Awards 2023 is a testament to its dedication to excellence. It stands as a beacon in the world of surfing and hospitality, inviting travelers from across the globe to experience the perfect blend of adventure, luxury, and the natural beauty of the Maldives. As waves crash against the shores of this paradise, Kuda Villingili Resort continues to ride the wave of success, offering guests an unforgettable experience that will leave them longing to return to this enchanting destination.