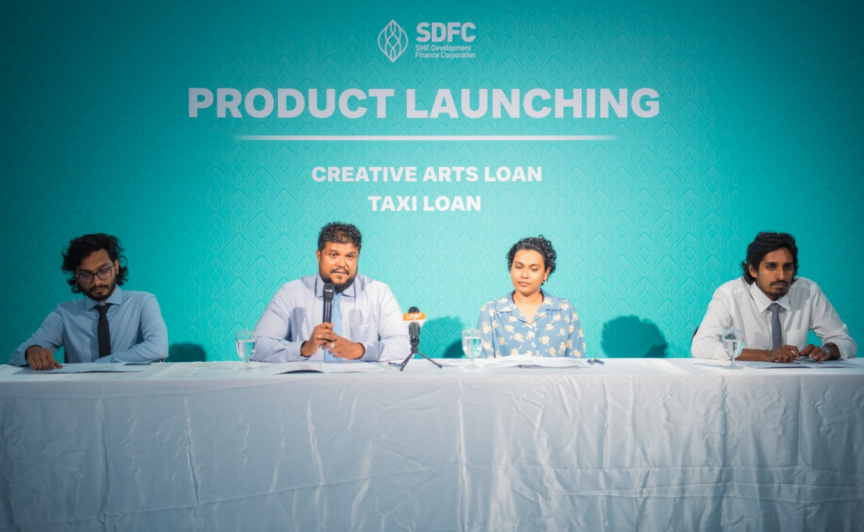 Male', Maldives, 31st August 2023 – The SME Development Finance Corporation (SDFC), a government institution dedicated to providing financial products and support to Micro, Small, and Medium Enterprises (MSMEs), has unveiled a set of special loans tailored to benefit creative artists and taxi drivers. These initiatives, announced on Wednesday night, are poised to invigorate the creative arts and transportation sectors, extending vital financial lifelines to individuals in these fields.
The 'Fannuveringe Nafaa' loan, revealed during the announcement, is exclusively available to creative artists registered with the Arts Ministry, provided they have been actively engaged in their respective fields for at least one year. Eligible candidates for this loan category include musicians, music and creative arts instructors, authors, singers, painters, animators, and designers.
Under this scheme, loans ranging from MVR 50,000 to MVR 250,000 will be granted, with the loan amount determined by the artist's income. An important distinction of these loans is that they do not necessitate any equity from the applicants. Interest rates for these loans range between six and eight percent, and recipients will have a generous grace period of six months before they need to commence repayments. This initiative is expected to provide crucial support to artists seeking financial backing for their creative endeavors.
In contrast, the taxi loans program will be divided into two categories. The first category is for licensed taxi drivers with a minimum of one year of experience who do not own a car but aspire to purchase one. The second category is for licensed taxi drivers who have been operating their own vehicles for at least a decade and intend to acquire a new car.
Taxi drivers under these categories can apply for loans of up to MVR 300,000, with the vehicles they purchase acting as collateral. This endeavor, crafted to ease the financial burdens faced by taxi drivers, is also designed to enhance the quality of transportation services in the Maldives.
During the press conference held to announce these loans, SME Bank's CEO, Nazim Habeeb, shared insights into the extensive efforts undertaken to bring these initiatives to fruition. He explained, "We have held a great number of meetings with individuals in the creative arts industry in various locations. These meetings helped us understand the difficulties they face." Nazim further emphasized that many artists have already benefited from existing loans offered by the bank.
Regarding the taxi drivers' loans, Nazim mentioned that the formulation process commenced three years ago, and the collaboration with the Transport Ministry was instrumental in addressing the challenges faced by taxi drivers.
SDFC's commitment to supporting MSMEs in the Maldives has yielded significant results, with approximately 1,400 loans disbursed, amounting to MVR 1.7 billion. These loans have played a pivotal role in stimulating economic development across numerous islands in the Maldives, contributing to the nation's growth and prosperity.