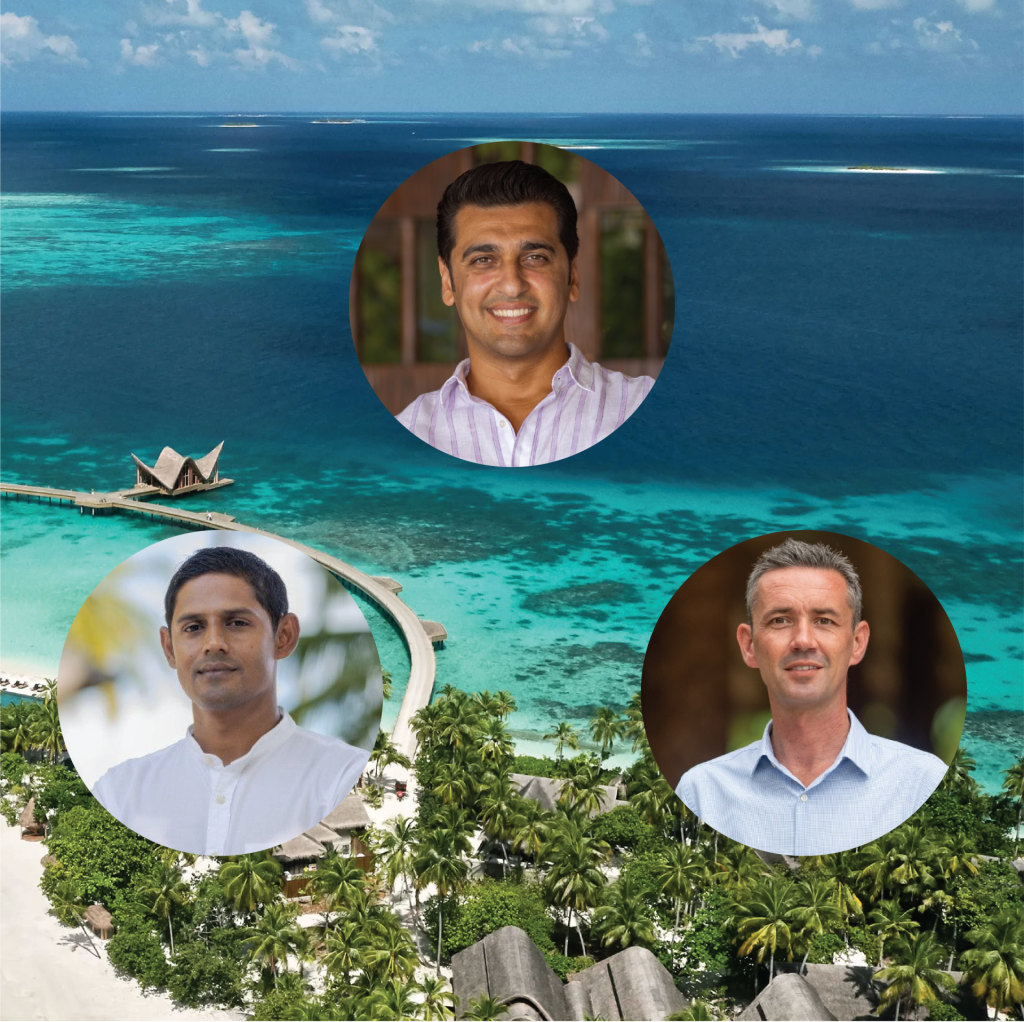 Male', Maldives, 5th September 2023 – JOALI, a luxury lifestyle brand in the hospitality sector, is pleased to announce significant leadership changes effective September 1, 2023, marking a new era of opulence and innovation.
Enver Arslan is appointed as Area General Manager, overseeing JOALI Maldives, JOALI BEING, and BIJAL Turkey, leveraging his extensive hospitality experience.

Shifaz Hassan takes on the role of General Manager at JOALI Maldives, bringing a decade of dedication and expertise to enhance guest experiences.

Graeme Freeman is promoted to General Manager at JOALI BEING, aligning with the brand's mission to redefine wellbeing in the Maldives.
Enver Arslan Rises to the Helm as Area General Manager
Enver Arslan, whose illustrious journey with JOALI began even before its Maldives property opened its doors, ascends to the position of Area General Manager. In this prestigious role, Enver will assume leadership over JOALI Maldives, JOALI BEING, and BIJAL Turkey, marking a significant step in his career.
Enver's odyssey in the realm of hospitality commenced with Four Seasons Hotels and Resorts, catapulting him to diverse corners of the globe – from the snow-covered peaks of the Grand Teton to the neon-lit streets of Las Vegas, followed by the enchanting deserts of the Middle East, and eventually landing on the pristine shores of the Maldives.
His affiliation with JOALI dates back to 2017, when he joined the pre-opening team as Resort Director, overseeing various operational facets. Enver's warm personality and unwavering work ethic quickly endeared him to guests, colleagues, and industry peers alike, earning him a promotion to General Manager of JOALI Maldives in 2021.
Shifaz Hassan Assumes the Mantle of General Manager at JOALI Maldives
As Enver steps into his new role, Shifaz Hassan, who has been a steadfast presence at JOALI Maldives since 2018, takes over as the General Manager. Shifaz's decade-long dedication to the Maldivian hospitality scene has been nothing short of exceptional. Starting as a Front Office Manager, he steadily climbed the ranks to become Rooms Divisions Manager in 2020 and subsequently assumed the role of Resort Manager in 2022.
Shifaz brings with him an acute attention to detail and a wealth of experience in guest services and rooms division. His profound understanding of the Maldivian hospitality landscape, coupled with his ability to connect with individuals from all walks of life, underscores his commitment to providing unparalleled service and crafting indelible memories for JOALI Maldives' discerning guests.
Graeme Freeman Elevates Wellbeing at JOALI BEING as General Manager
Over at JOALI BEING, Graeme Freeman, who has been instrumental in pioneering a new era of wellbeing in the Maldives, has earned a promotion from Resort Manager to General Manager. Graeme's voyage in the hospitality industry embarked with a pivotal role at Karma Group, an internationally celebrated travel and lifestyle brand renowned for its excellence.
His career unfolded across diverse locales, from Hua Hin, Thailand, where he oversaw operations at Aleenta Resort & Spa, to the luxurious haven of Six Senses Laamu in the Maldives, where he served as Resident Manager. Graeme's expertise spans an array of vital competencies, including orchestrating day-to-day operations, crafting engaging guest experiences, and nurturing professional growth within his team.
Graeme's dedication to talent development and business expansion aligns seamlessly with JOALI BEING's mission to redefine wellbeing in the Maldives.
A Bright Future Beckons for JOALI
These appointments herald an exciting chapter for JOALI, poised to embrace an exhilarating festive season. Over the years, JOALI has consistently garnered acclaim as a top luxury destination, offering unrivaled hospitality. With Enver, Shifaz, and Graeme at the helm, the coming year promises to be nothing short of memorable.
Hakan Öztürk, Tourism Group General Director of Gurok Group, expressed his confidence in the new leadership, stating, "At JOALI, we believe in fostering talent from within and providing opportunities for growth. The newly appointed leadership will undoubtedly play a pivotal role in shaping the future of JOALI as we continue to thrive in this highly competitive industry."
As the holiday season approaches, JOALI invites you to embark on an extraordinary journey of luxury and indulgence. For further details and reservations, visit joali.com. Your next unforgettable experience awaits at JOALI.
Renowned for their stunning settings and cutting-edge amenities, the fifth installment of Amazing Hotels guarantees an inside look into the operations of these picturesque getaways. Guests can enjoy unparalleled relaxation and connect with nature. Hosts Monica Galetti and Rob Rinder join resort teams to provide viewers with a sneak peek into the enchantment that occurs within the resorts. These locations are reachable by boat and are just a brief 20-minute journey away from each other.
"We're beyond thrilled to be featured in one of the episodes of the new BBC series. Being a fan of Amazing Hotels for quite some time, we're honored to join the ranks of incredible locations they've showcased worldwide," Hakan Ozturk, the Tourism Group Managing Director of Gurok Group, the holding company of Joali, expresses his perspective. "Having the team on-site, getting an insider's look at our operations, was an exciting experience."
In addition to their remarkable facilities and memorable offerings, Joali resorts emphasize their strong bond with the local community. The "Joy of Caring" initiative reflects their commitment to creating a positive influence. Through targeted grant programs and endeavors like education, sustainable farming, and women's empowerment, Joali showcases how luxury can contribute to and uplift the community, building lasting relationships and confidence.
The JOALI Reef Restoration initiative plays a vital role in rehabilitating the coral reef after the severe coral bleaching event of 2016, which resulted in the loss of 85% of the Maldives' coral population. Through a two-step gardening approach, the resort nurtures corals in an intermediate water nursery before reintroducing them to the reef. The resort's eco-friendly design is harmonized with the surrounding environment, safeguarding over 1,000 trees during the reconstruction process. Furthermore, the island enforces a strict prohibition on single-use plastics.
The BBC programme about luxury hotels? A British documentary TV series, introduced in 2017.The show focuses on luxury hotels, with each episode delving into the inner workings of a specific hotel. This interactive approach is reflected in the show's subtitle. The series airs on BBC Two.
As audiences embark on the captivating voyage presented by BBC's Amazing Hotels, they will uncover the extraordinary opulence and steadfast commitment to sustainability and community that characterize both Joali Maldives and Joali Being. Come along on this enchanting adventure to witness the seamless fusion of luxury and environmental stewardship in the breathtaking Maldivian Archipelago.