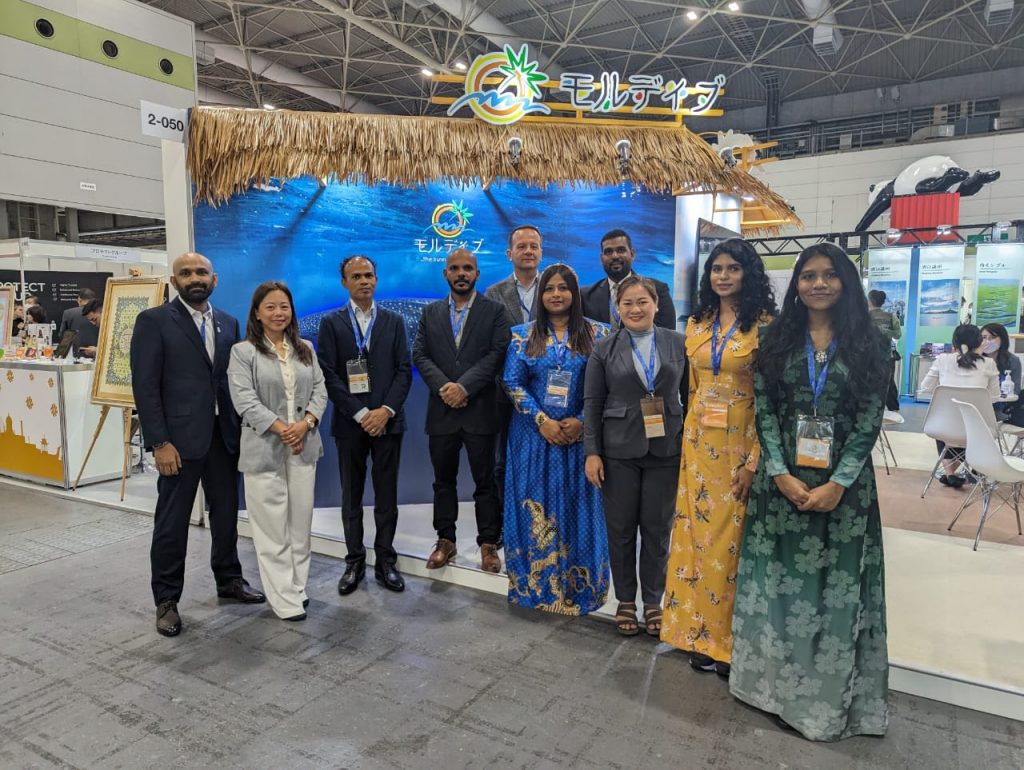 Male' Maldives, 30th October 2023  –  The Maldives Marketing and Public Relations Corporation (MMPRC), widely recognized as Visit Maldives, made a notable mark as it participated in Tourism Expo Japan 2023. This exciting event unfolded its grandeur in Osaka from October 26th to October 29th, 2023, where MMPRC joined forces with 10 co-exhibitors to showcase the Maldives' enchanting "Sunny Side of Life."
Organized by the Japan Association of Travel Agents (JATA), Tourism Expo Japan 2023 took the stage as one of the world's largest annual travel festivals. It was a global hub where countries and tourist destinations from all corners of the world convened in Japan. Beyond offering exceptional opportunities for travel networking and business ventures, the festival also served as a wellspring of inspiration for travelers, reflecting the ever-evolving tapestry of lifestyle trends. It provided a valuable platform for industry partners to unveil their unique products and experiences.
At the heart of this event, designed to cater to both business-to-business (B2B) and business-to-consumer (B2C) audiences, was MMPRC's commitment to promoting their destination and invigorating the influx of Japanese tourists to the Maldives. Their focused emphasis was on dive holidays, acknowledging their paramount importance in this market. The event was integral to MMPRC's strategic initiatives, offering the Japanese travel trade the latest updates in the world of travel. Simultaneously, it presented the perfect stage to elevate the "Visit Maldives Japan" presence across Japanese social media channels and establish a resilient database for future travel trade and consumer promotions.
MMPRC's booth was a bustling center of activity, offering meetings with travel trade professionals, surveys, the distribution of promotional materials, a social media contest, and engaging spinning wheel activities. Visitors were also treated to an authentic immersion into Maldivian culture through the display of cultural props like libaas, feyli, and fahtaru. An LED screen was set up to captivate visitors with the awe-inspiring beauty of the Maldives, virtually transporting them to this tropical paradise.
Reflecting on the numbers, by the end of September 2023, Japan had solidified its position as the 9th top source market for tourists visiting the Maldives. Impressively, over 14,218 travelers from Japan had been warmly welcomed. MMPRC's unwavering commitment to strengthening the Maldives' presence in the Japanese market was evidenced through a range of marketing initiatives. Before the Expo, they had collaborated with Asahi TV for an exclusive program and hosted a JTB training webinar earlier in the year. Their efforts extended to the realm of social media, where they actively engaged in sustained interactions in the local language. These marketing endeavors played a pivotal role in maintaining brand recognition and ensuring that the Maldives remained the dream destination for Japanese travelers.